Authentic German Food in Portland's St Johns Neighborhood : Urban German
We've known about the Urban German Wursthaus for a long time. So when we found ourselves just blocks away from this St Johns treasure, we had to give it a try.
My husband Brian was raised in the US Midwest in a very German area, and he also spent a year in Passau, Germany his junior hear of college. So he knows his German food! He quickly declared that Urban German is "spot on" for authentic German cuisine.
We ordered our food at the bar in the fun-but-not-too-kitschy interior of the restaurant. Quirky decor includes flags, steins, signs, pictures, and posters. For the family set, the restaurant has a large collection of colorables and crayons. (I was tempted.)
After ordering, we took our drinks to the large outdoor deck, which has an unbelievable view of the St Johns Bridge.  See my This is Travel Treasure article about visiting Cathedral Park in St Johns. From this park you can truly appreciate the scale of St Johns Bridge – a local cultural & architectural treasure – https://www.thisistraveltreasure.com/cathedral-city-park-and-st-johns-bridge-a-travel-treasure-in-portland-oregon/
Brian ordered a Dunkels from the tap. I saw they had an Aperol Spritz, and I suddenly felt a longing for a bit of Italian flavor with our German lunch. Both were just what we wanted.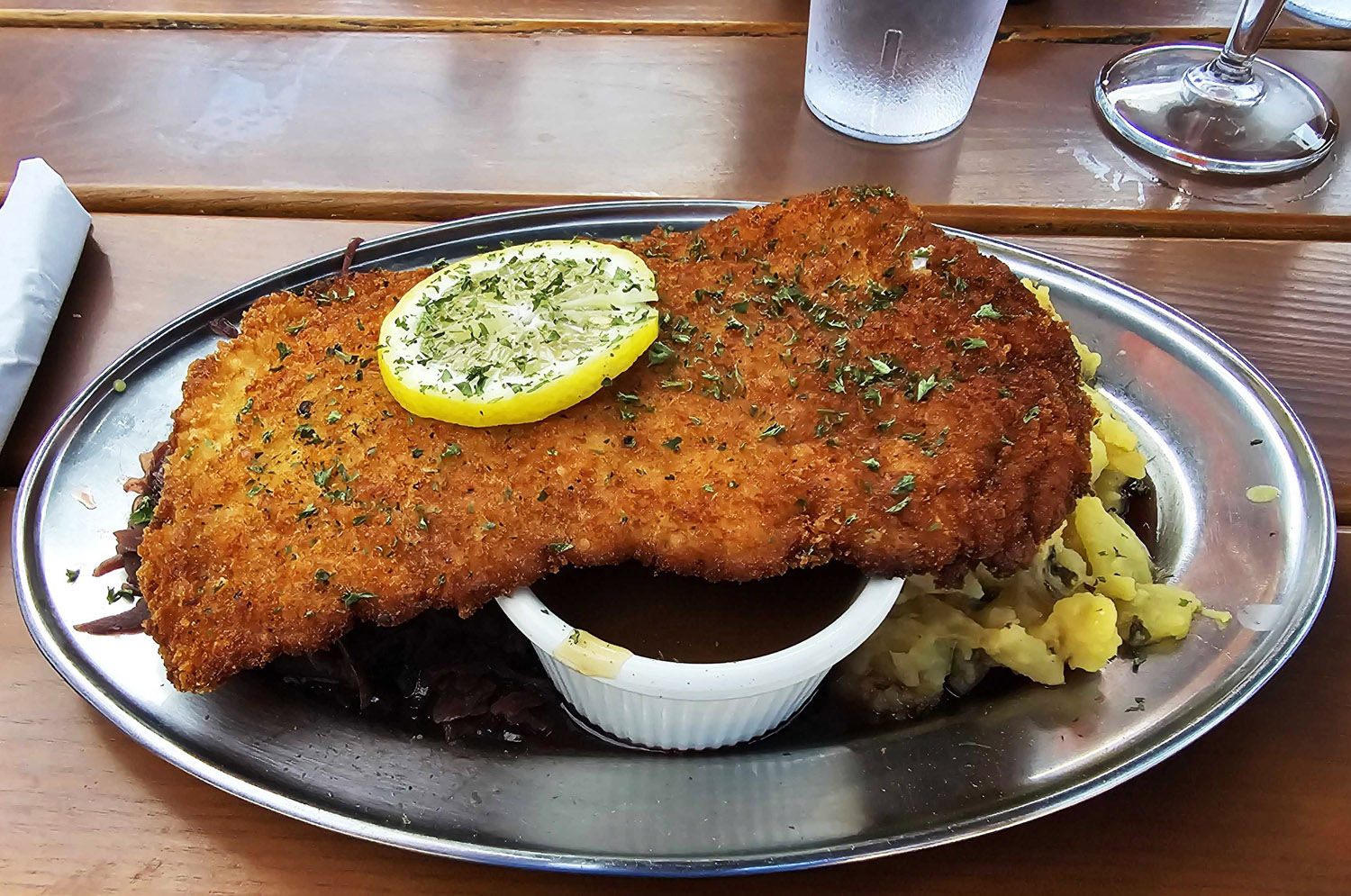 True German Food in Generous Portions
The pork schnitzel was both crispy and juicy, with a great crunch and perfect flavor. The potato salad, served hot, was nicely acidic and smooth. The red cabbage was just as good as we hoped it would be, balancing nicely against the other flavors in the meal.
We also had the Bavarian Spicy Bierwurst with spätzle, which was a savory surprise. The wurst was rich and juicy, and paired really beautifully with the spätzle. Unlike what we think of as a more "traditional" spätzle–which is more like tiny dumplings–this was much more like flat noodles. Still, it was still creamy and delicious, with a perfect amount of onion cooked in.
It was probably poor planning on our part, but our visit to Urban German happened after a large, hearty breakfast at St Johns' nearby Your Inn Tavern. We had tried to walk off breakfast before sitting down for lunch, but we were still very full. But even if we hadn't been full, we felt that we probably would still have had leftovers. The serving sizes were not too big, but they were definitely generous.
A Perfect German Strudel
So we packed up the leftovers, but I wasn't quite done yet. With the main course and sides being this good, I had to try a desert as well. I ordered the apple strudel, and we were NOT disappointed. Brian raved that this was the perfect German strudel, texture, layers, flavor and all.
by This is Culinary Treasure Contributor Arthur Breur
@ArthurBreur 
Urban German Wursthaus
Visit
6635 N Baltimore Ave UNIT 201, Portland, OR 97203
Follow
Website https://urbangerman.com/ 
Facebook https://www.facebook.com/urbangermangrill
Instagram https://www.instagram.com/zurbangerman/
Photos of Urban German Wursthaus