One Magnificent Dish After Another – Friendly Waves Kauai
Goodness. I ate at Friendly Waves two different times during my last trip to Kauai and both times I ordered dish after dish and each and every one of them was magnificent!
Three items where so off the charts good that they each deserved their own article –  The Stash Cocktail, The Pork Belly Pupu, and The OG Burger. You can find those articles above and below this article.
Eating at Friendly Waves reminded me of three other restaurants I absolutely love – Blacksmith Italian in Bozeman, Montana, Hapa PDX in Portland, Oregon, and Hapa Kauai in Koloa on the enchanting Island of Kauai.
I have eaten at Blacksmith Italian, Hapa PDX, and Hapa Kauai many times and I can't wait to go back to each of those magnificent restaurants. The food at each of those places is amazing. Friendly Waves belongs in their category.
Friendly Waves describes itself as a premier sports restaurant and if you take a quick glance, you might think that their menu is comprised of standard sports bar fare – burgers, nachos etc.
There is nothing standard about the food at Friendly Waves. Yes, they do have sports up on some TVs, however it is nothing like your run of the mill sports bar. Don't let the "sports bar" component keep you from enjoying some wonderful food and fantastic cocktails.
If you consider yourself a "Culinary Tourist", or a "Foodie" make your way to Friendly Waves and thank me later.
All right enough of that lets get to the food and the cocktails!
In this article I am going to go over the High Tide Tonic Cocktail, the Ginger Scallion Wings, The Upland Burger made with a vegan patty, Nachos with both Kauai Shrimp & Carnitas, and the  Small Island Sour Cocktail.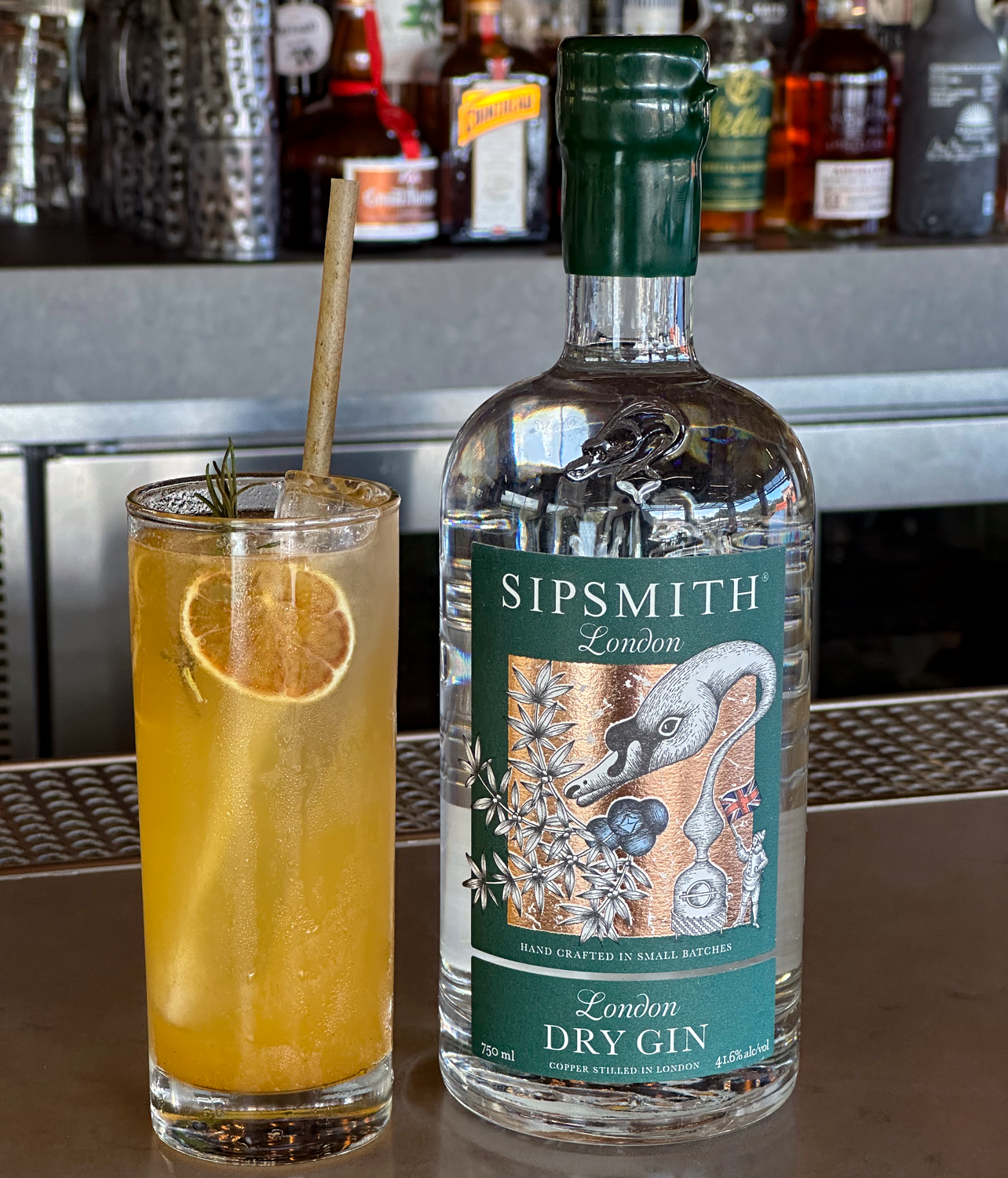 The High Tide Tonic Cocktail
The High Tide Tonic Cocktail is comprised of Sipsmith London Dry Gin or Ocean Vodka, house made rosemary tangerine tonic, and lime. I got mine with gin and goodness this is a dangerous cocktail!  Sooo smooth and easy to drink.
The High Tide Tonic is a perfect warm weather cocktail!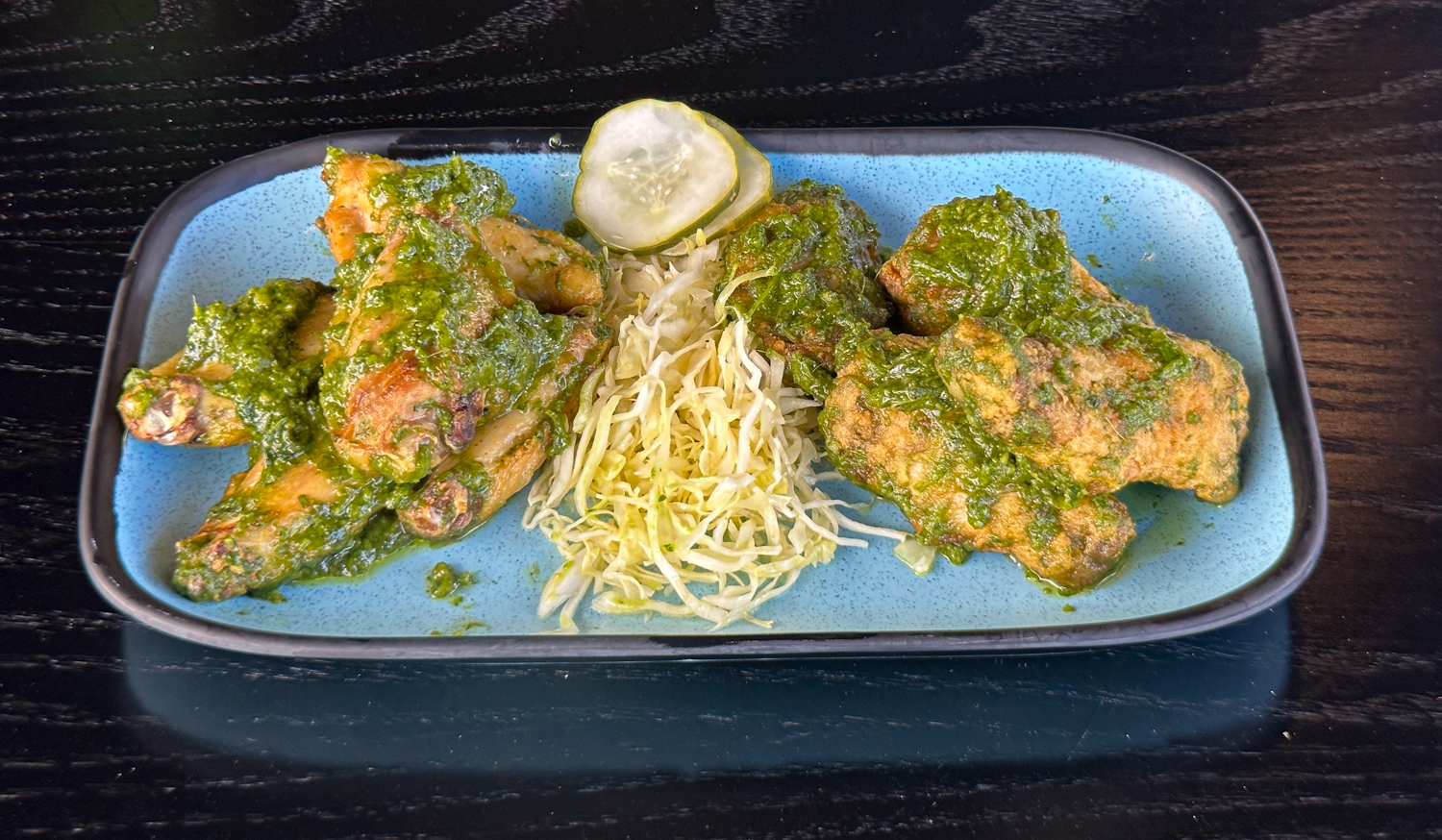 The Ginger Scallion Wings
Theses wings come with the most amazing ginger sauce. Due to the scallions this sauce is bright green and looks very similar to chimichurri. If you like ginger these are the wings for you.
I will tell you the terrific ginger/scallion sauce aside – the wings themselves were amazing. I wanted to get their Koloa Rum BBQ wings, the Coconut Basil wings, and their Pops BBQ wings.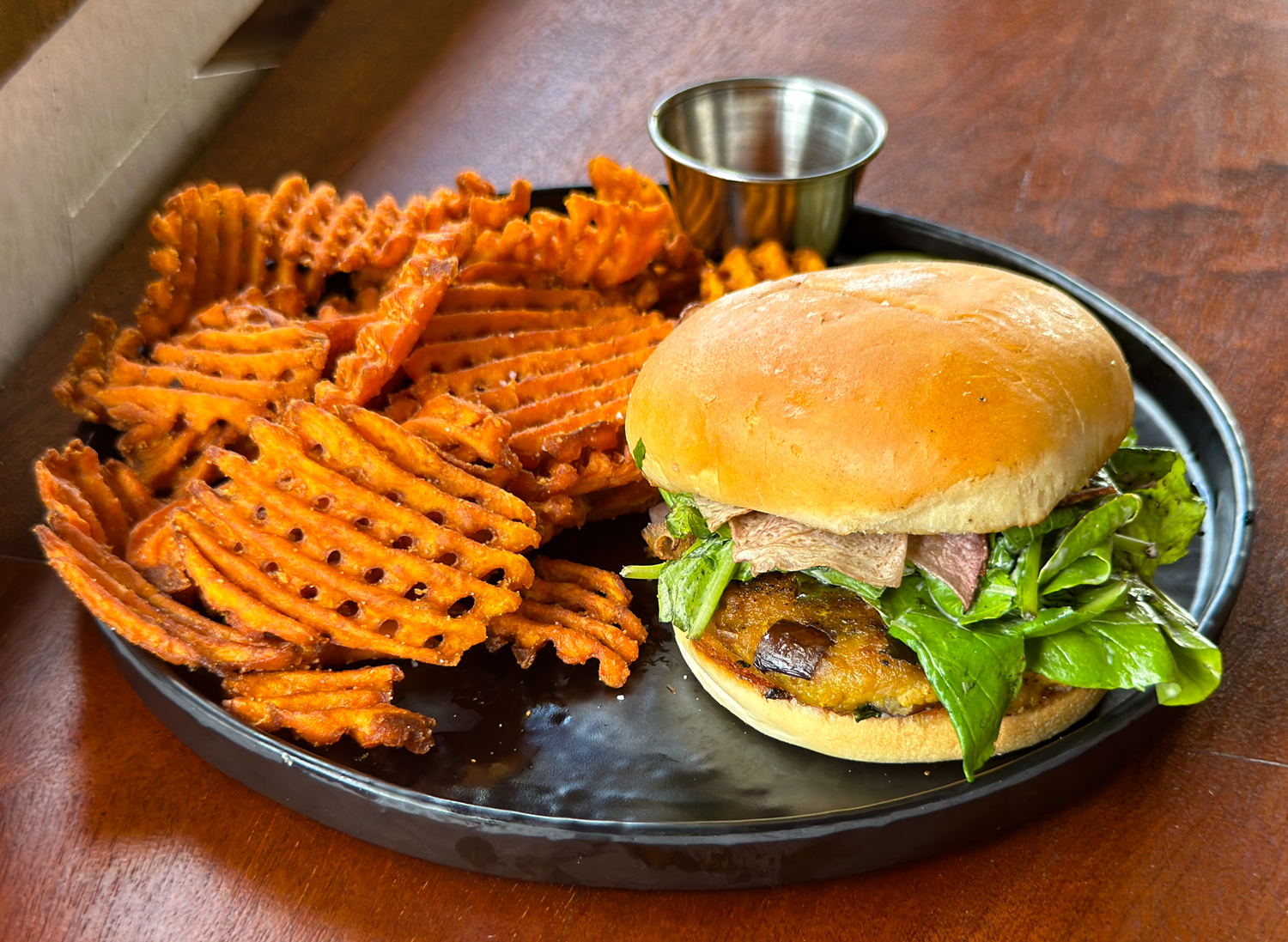 The Upland Burger
All of the burgers I saw come out of the kitchen looked amazing. I had two different burgers during my visits to Friendly Waves – the OG, and the Upland. I wrote a separate article about the OG –
The Upland comes with arugula, shiitake mushroom, guava aioli, and  root chips. I got my Upland with the optional vegan patty. This burger just works – the shiitake mushrooms bring the umami, the arugula a great little kick, the guava aioli a little sweetness, and the root chips bring a delightful crunch.
I personally prefer a beef patty on my hamburgers, however I wanted to give their vegan patty a try because I had a sneaking suspicion that it was a going to be very good. It was all that I hoped for and more.
Now to be clear – if you want meat, you should not order their vegan patty. However – if you are vegan or a  vegetarian who does not want meat on your burger – you will find their vegan patty to be delightful!
By the way – I got my Upland Burger with their sweet potato fries and they were perfect.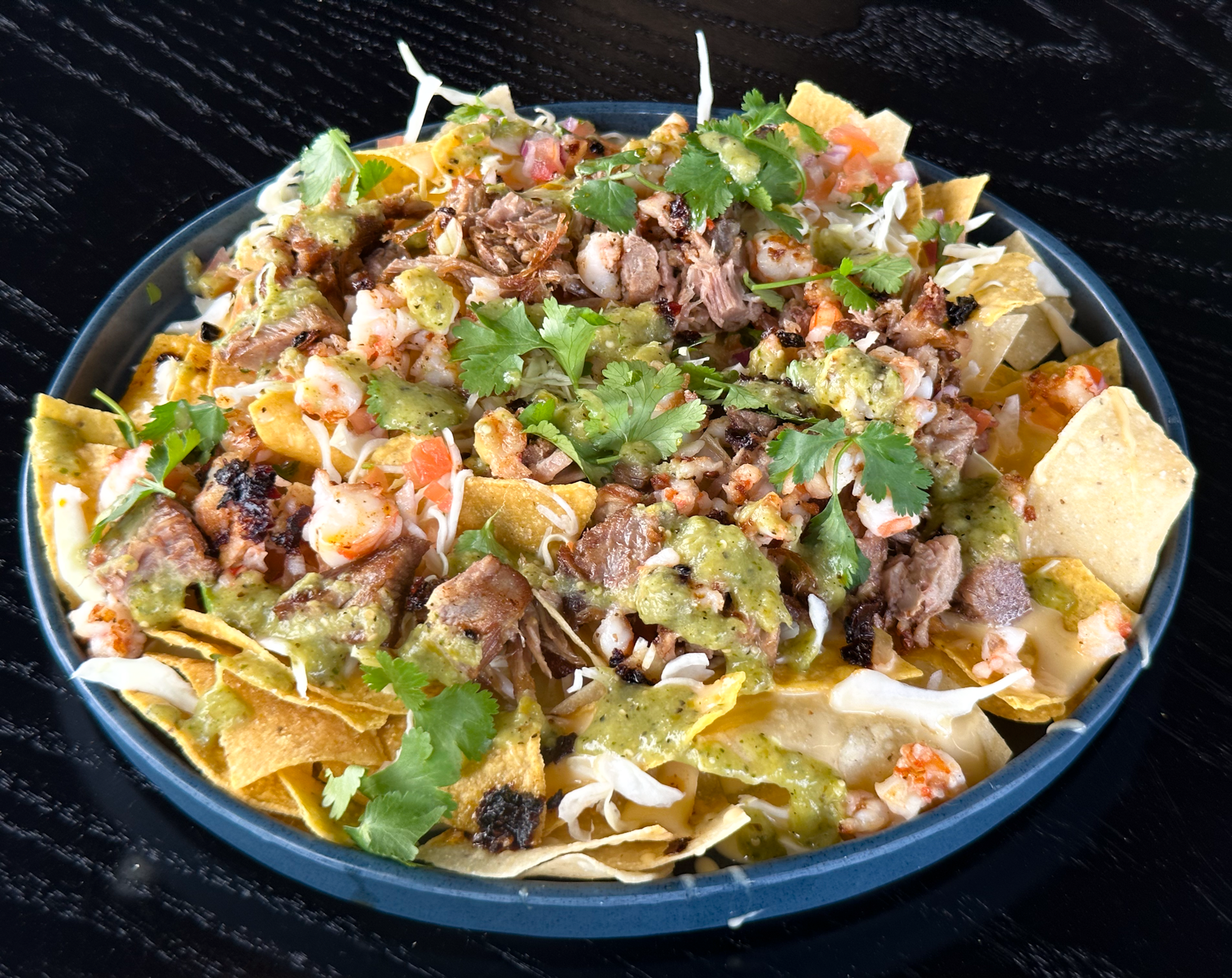 Kauai Shrimp and Carnitas Nachos
They have 6 different kinds of nachos at Friendly Waves – Carnitas, Steak, Kauai Shrimp, Poke, Chicken, and Garden (Vegan).
The nachos come with a house blend cheese OR coconut miso "cheese" and are topped with pico de gallo, fresh cabbage, and cilantro over fresh fried corn tortilla chips OR west side root chips. The tortilla chips are made in house from Sinaloa Tortillas made in Honolulu on the island of Oahu.
The fun thing is that you can more than one topping on your nachos. I got Kauai Shrimp and Carnitas on mine and they were soo good. I still think about them on a regular basis. They are seriously elevated nachos.
Also, check this out –  Chef Arzamendi purposely choose the big plates they serve their nachos on so they you get cheese and toppings with every bite you take.
Nachos are often stacked like a tower and about halfway down you are left with dry chips with no cheese and no toppings. That does not happen with the Nachos at Friendly Waves.
Also – I got  a small bowl of their vegan coconut miso "cheese" to give it a try, and I'll be damned – it was really good!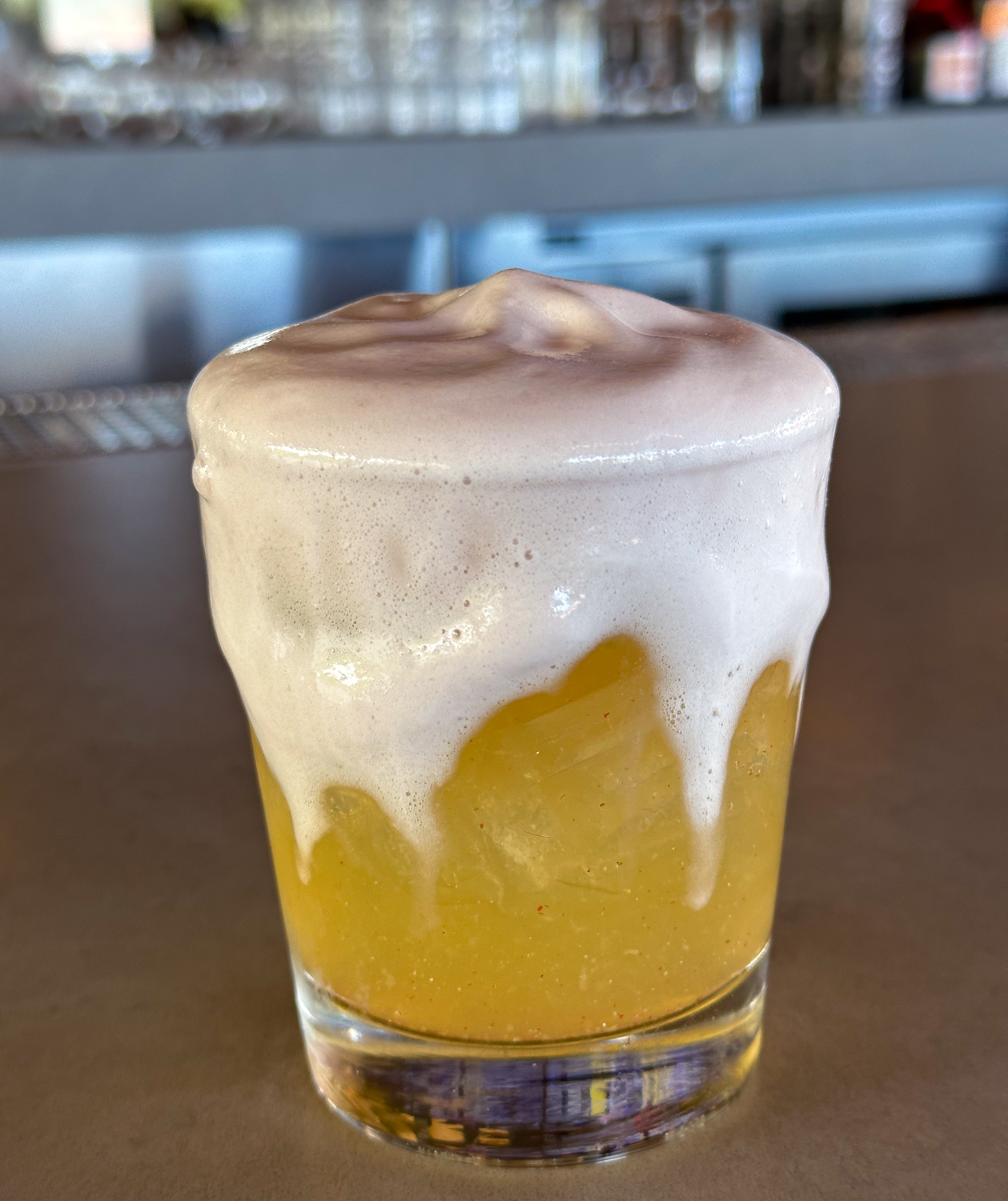 The Small Island Sour
Templeton 4-year rye whiskey, Kaua'i lemon, bitters, and Luxardo cherry foam.
I have never had Luxardo cherry foam until this cocktail – and wow! So amazing!
I love rye whiskey cocktails and the small island sour is fantastic! All the flavors from the cherry foam to the rye whiskey to the lemon and bitters – they work together so well.
Again, the food at Friendly Waves on Kauai is incredible and you need get yourself there ASAP.
Cheers!
Scroll down to see more 38 photos I took when I was at Friendly Waves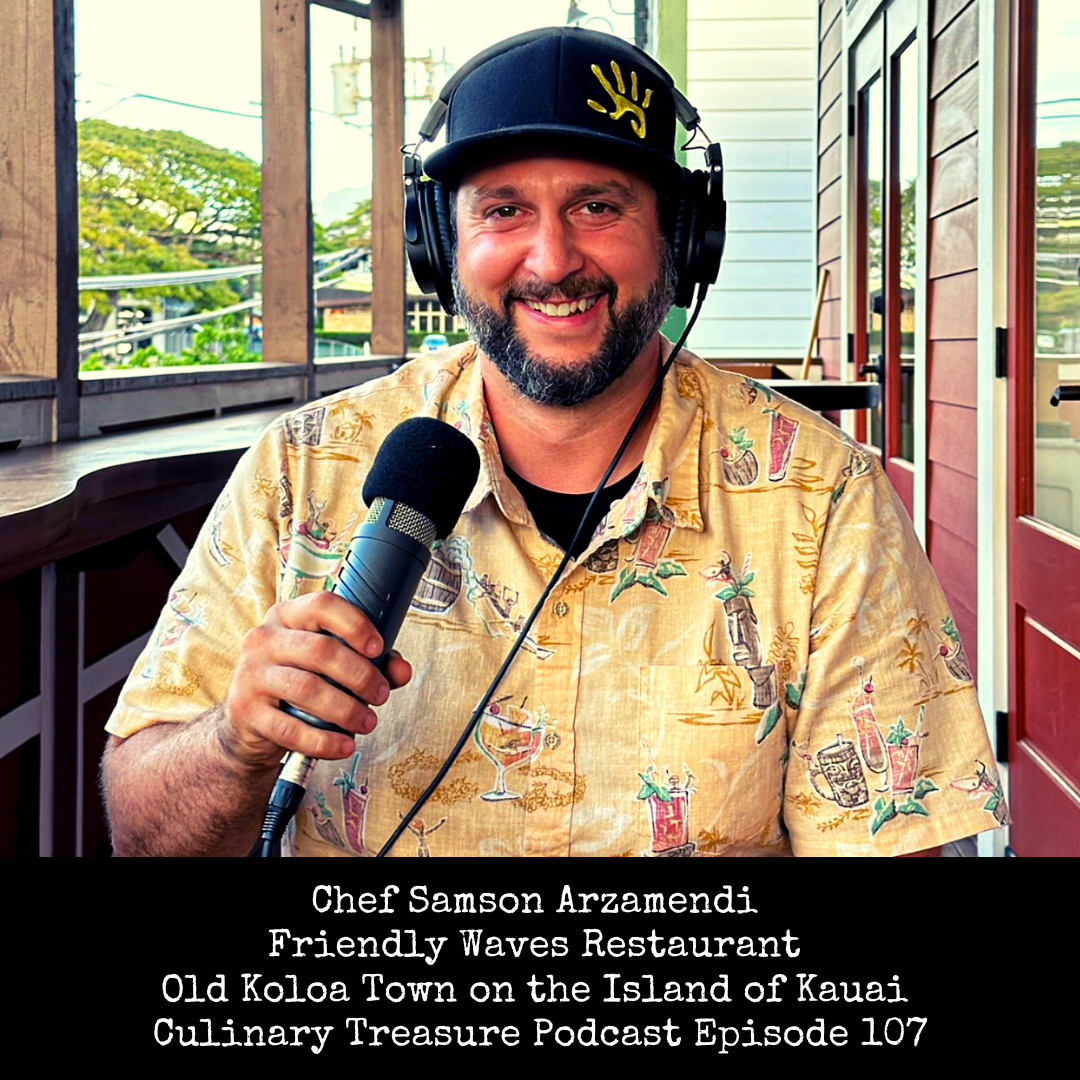 For More Info about Friendly Waves Check Out:
Culinary Treasure Podcast Episode 107 Chef Samson Arzamendi Friendly Waves Restaurant Old Koloa Town on the Island of Kauai  https://www.culinarytreasurepodcast.com/chef-samson-arzamendi-friendly-waves-restaurant-old-koloa-town-on-the-island-of-kauai-culinary-treasure-podcast-episode-107/
You Can Listen to the Culinary Treasure Podcast on Apple Podcasts, iHeartRadio, Spotify, Pandora, Audible, Google Podcasts, Amazon Music / Amazon Podcasts, Stitcher, Audacy, Deezer, Gaana, JioSaavn, the Samsung Podcast app, Resso, YouTube (audio only), Boomplay, and many other podcasts outlets.
Visit Friendly Waves on Kauai
5460 Koloa Road B201
Koloa, HI 96756
Follow Friendly Waves on Kauai
Website https://friendlywaves.com/
Facebook https://www.facebook.com/profile.php?id=100085423870135
Instagram https://www.instagram.com/friendly_waves/