A Magnificent Meal at the Bistro in Kilauea on the Island of Kauai!
Wow! During one my recent trips to Kauai (Dec 2022) I took a drive to the North Shore. On my to-do list was a quick stop in Hanalei and dinner at the Bistro in Kilauea.
I was only in Hanalei for about an hour. I stopped at Black Pot Beach Park, and I have to say – while I was there – I took one of my all-time favorite photos. This photo right here: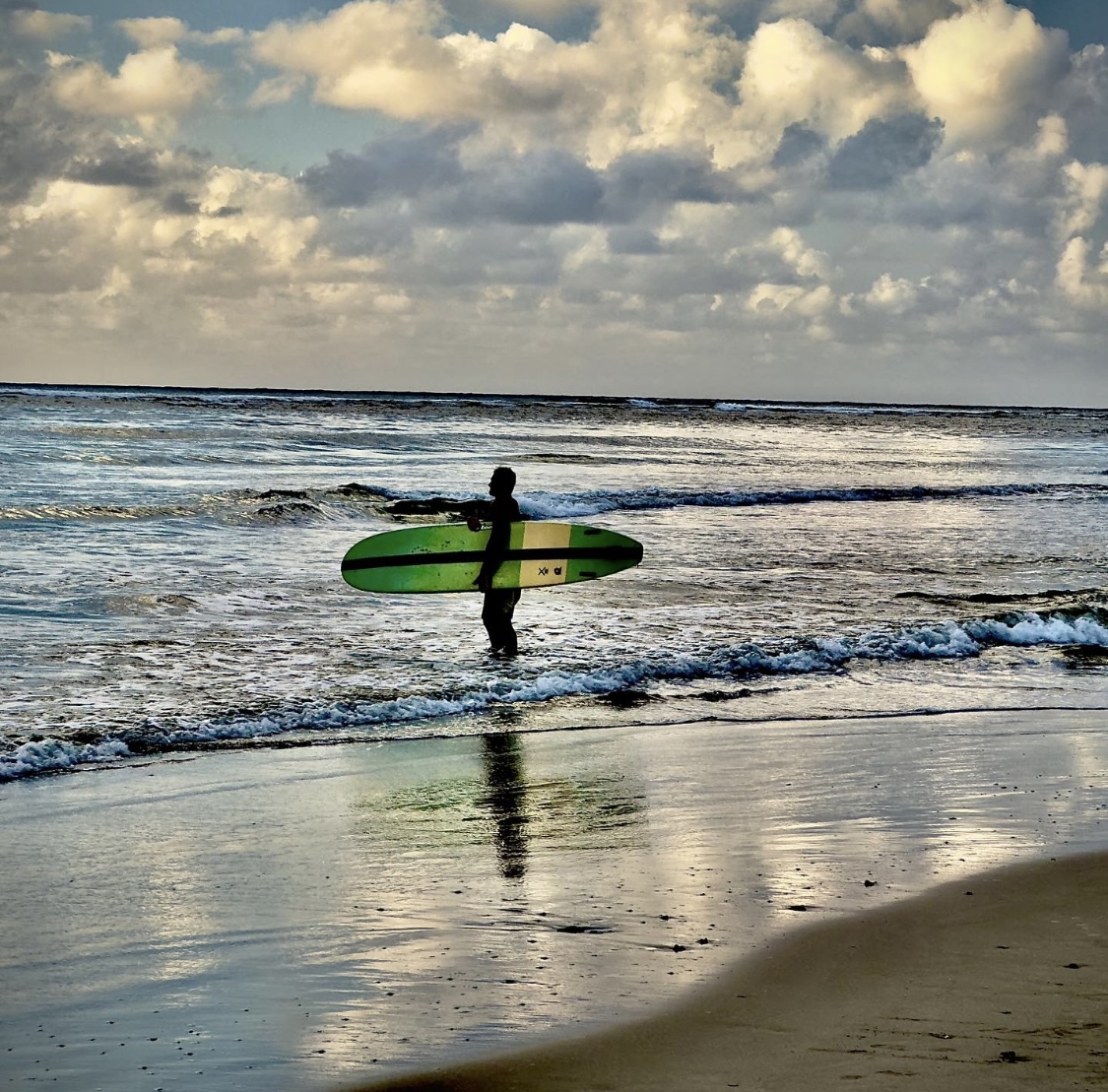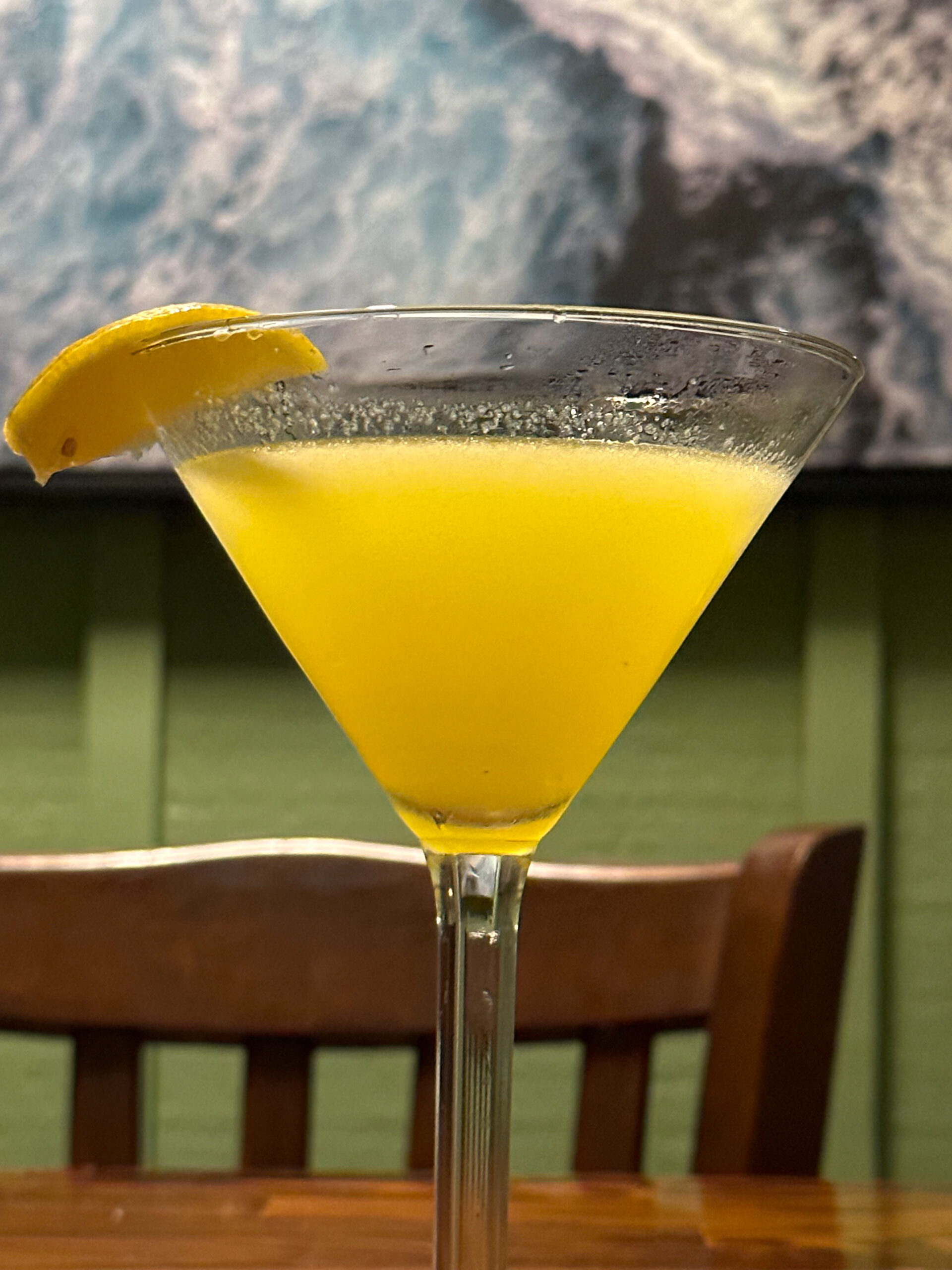 My Meal Was Stellar!
Following my visit to Hanalei I drove up the hill to Kilauea to have dinner at the Bistro.
Goodness! My meal was stellar! Many thanks to my server Jenny. Each one of Jenny's recommendations was spot on!
My meal began with the Lilikoi Lemon Martini – Hanson Mandarin Vodka, fresh lemon, and passionfruit puree. This was a delightful cocktail, not too sweet with lots of brightness from the lemon.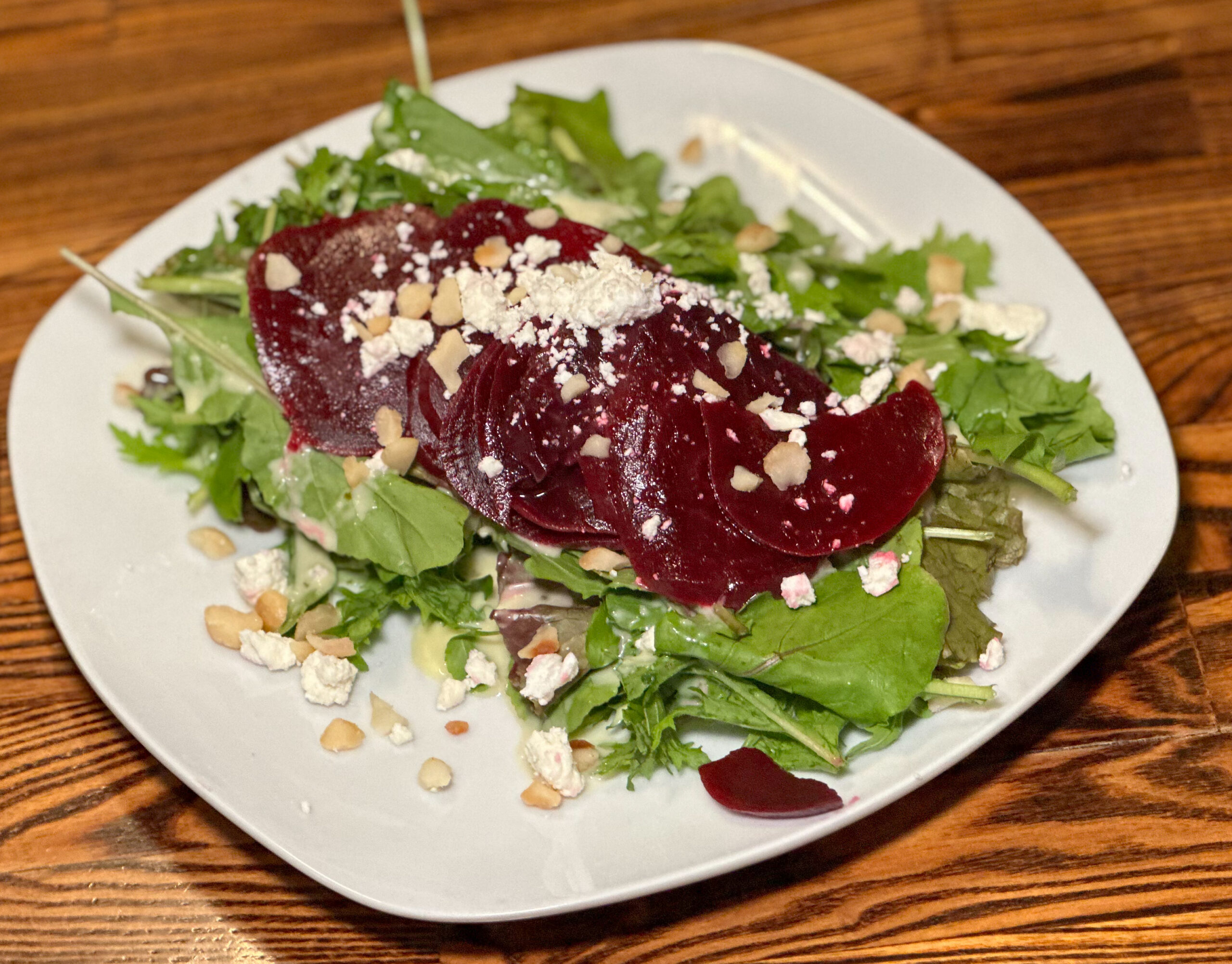 From there I moved on the Fresh Beets Salad – beets, greens, feta cheese, "mac-nuts" and a very pleasant lilikoi vinaigrette. The beet salad was good, and I would order it again , however for me it needed a little something more – maybe some acid like a squeeze of lime or lemon.
Next up was two appetizers: the Fish Rockets, and the Prosciutto and Goat.
I really liked the Fish Rockets. This a very briefly deep fried or "flash fried" dish and the crunch of the outer lumpia wrapper played very well with the still cool ahi inside. The "wasabi" aioli was spot on. I would definitely order this dish again. I would have loved to also have a small ramekin of spicy aioli, perhaps one made with sriracha to dip my Fish Rockets into.
So far, two dishes in, I am having a very good dinner. The next three dishes were outrageously good!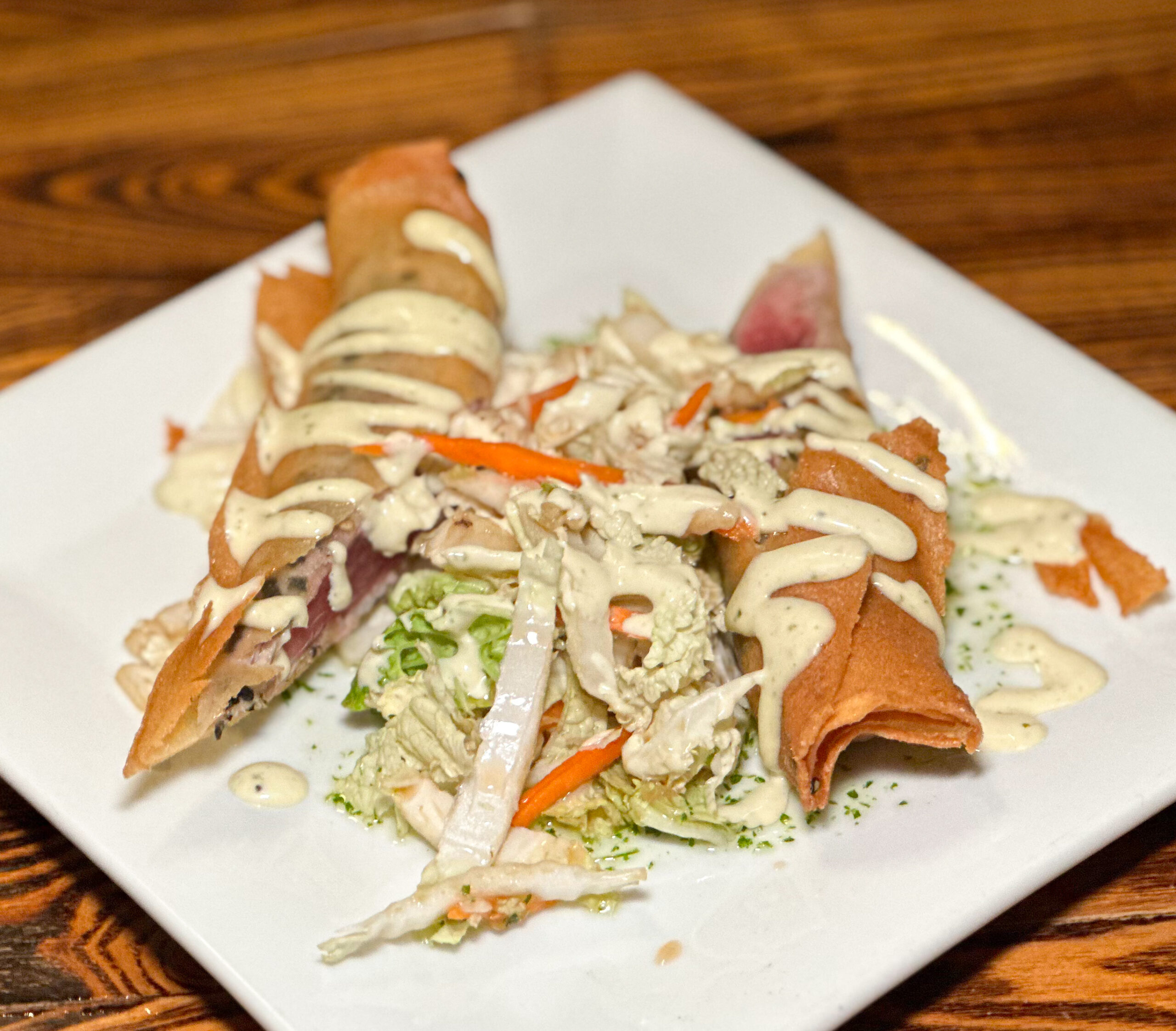 The Prosciutto and Goat!
The Prosciutto and Goat is goat cheese wrapped in prosciutto and served with pecans and honey. I almost did not order this dish – it sounded kind of boring to my foolish ears. I sought Jenny's advice, and she said that I had to get them. I am so glad I listened to her!
Wow! This dish was so incredibly rich and flavorful! When I am at a restaurant working i.e., eating for a possible article, it is pretty rare that I eat all of a dish – even if I love it. If I ate everything that I order & enjoy when I am reviewing a restaurant, I would weigh 400 lbs.
I kept trying to stop eating this dish and it kept calling me back.  That particular plate went back to the kitchen with nothing on it. I devoured every last bite. Since that evening I have found often myself thinking about and craving Bistro's Prosciutto and Goat.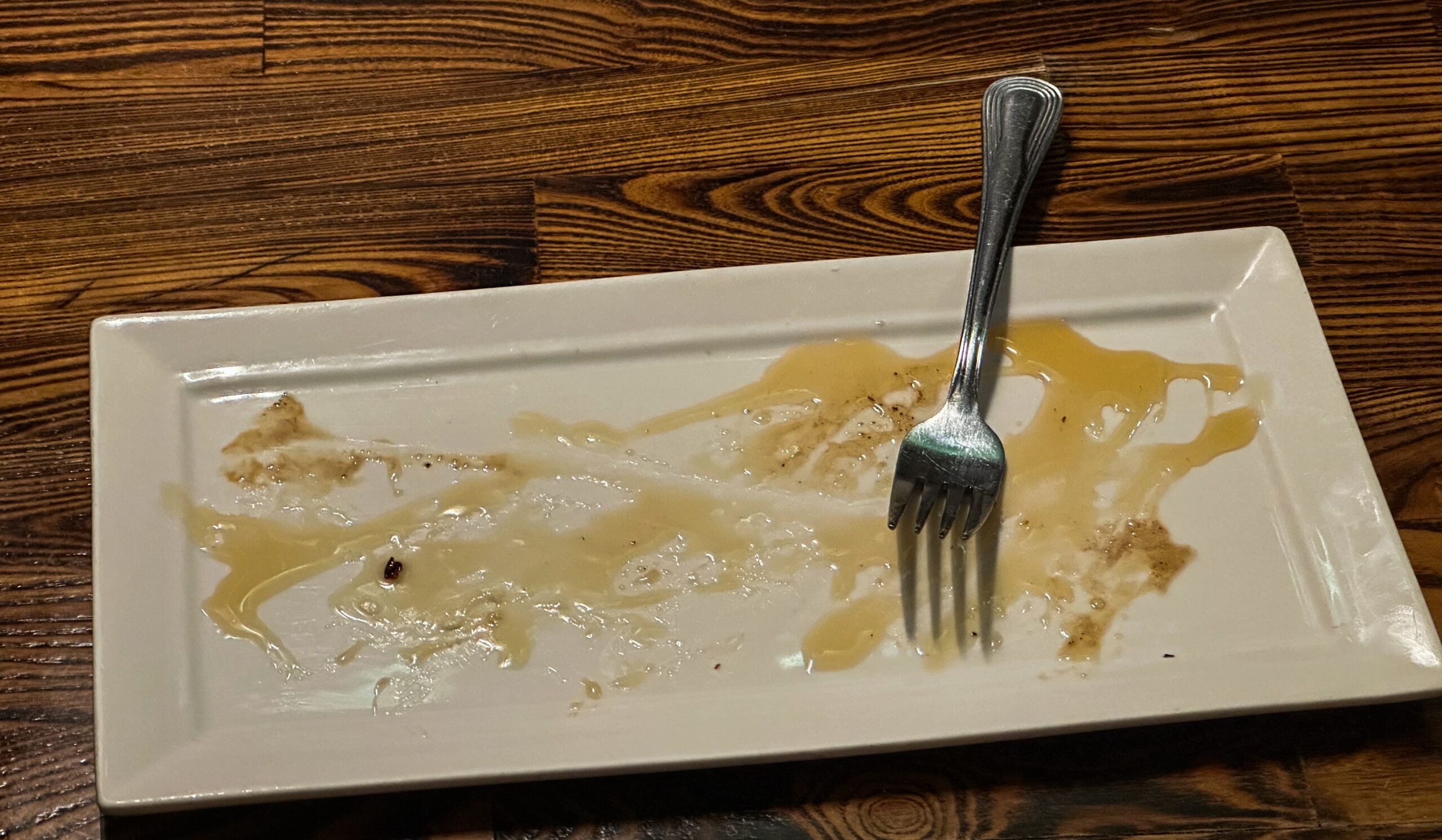 Chef John-Paul Makes Culinary Magic Happen With a Ribeye!
On to the Ribeye Steak with a Red Wine Reduction & Delmonico sauce, and Mashed Red Potatoes.
When I am working on a possible restaurant review article, I  almost NEVER order one of the specials. 99.9% of the time I stick to the regular menu. I like writing about dishes that my readers can order and enjoy. Specials tend to be one-time things that won't be on the menu again any time soon – if ever.
When Jenny told me that the special for that evening included a ribeye steak I was sorely tempted –  #1 – I love ribeye steaks and #2 on a previous visit to Kauai I had enjoyed a stellar ribeye at Table at Poipu…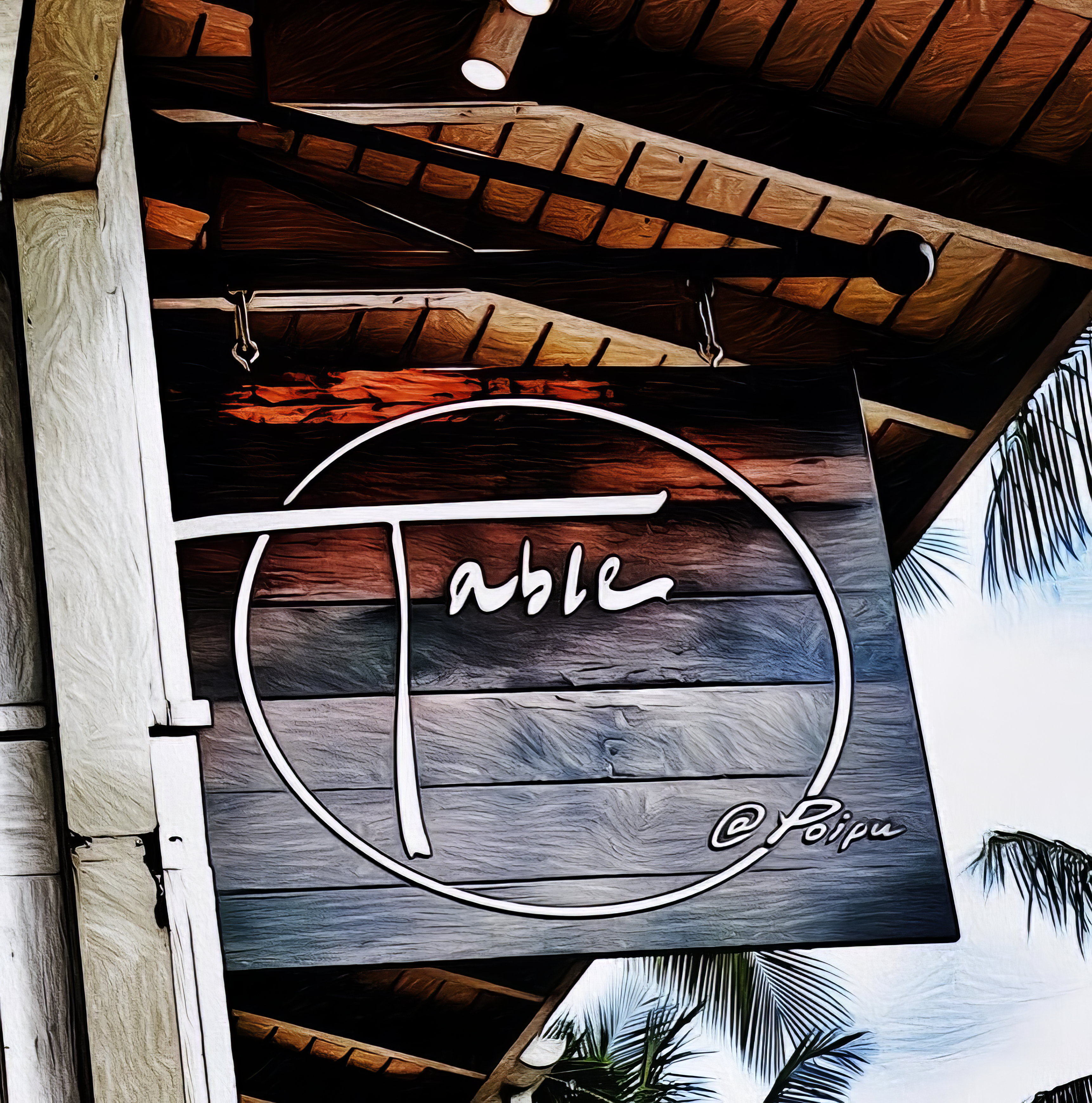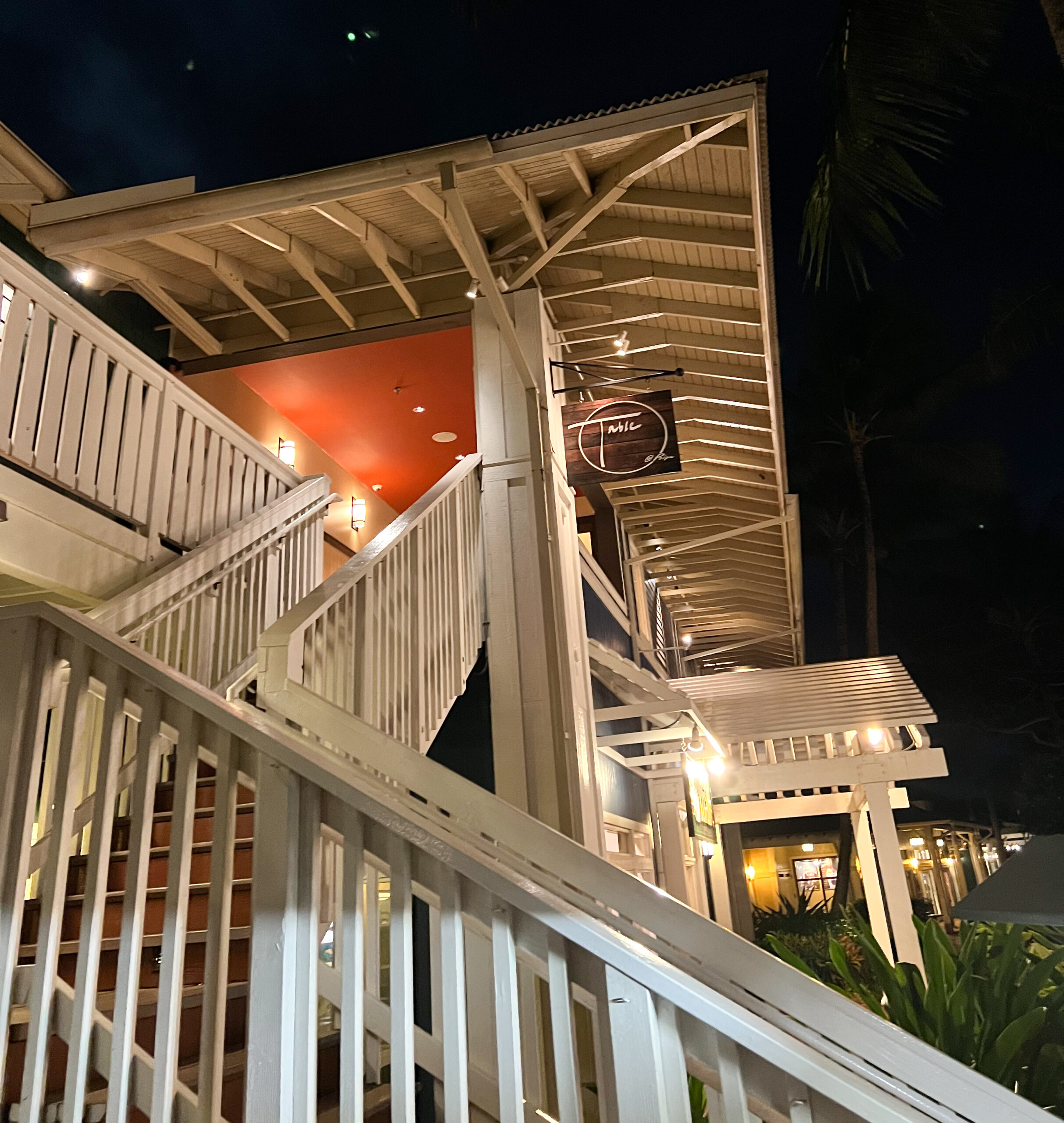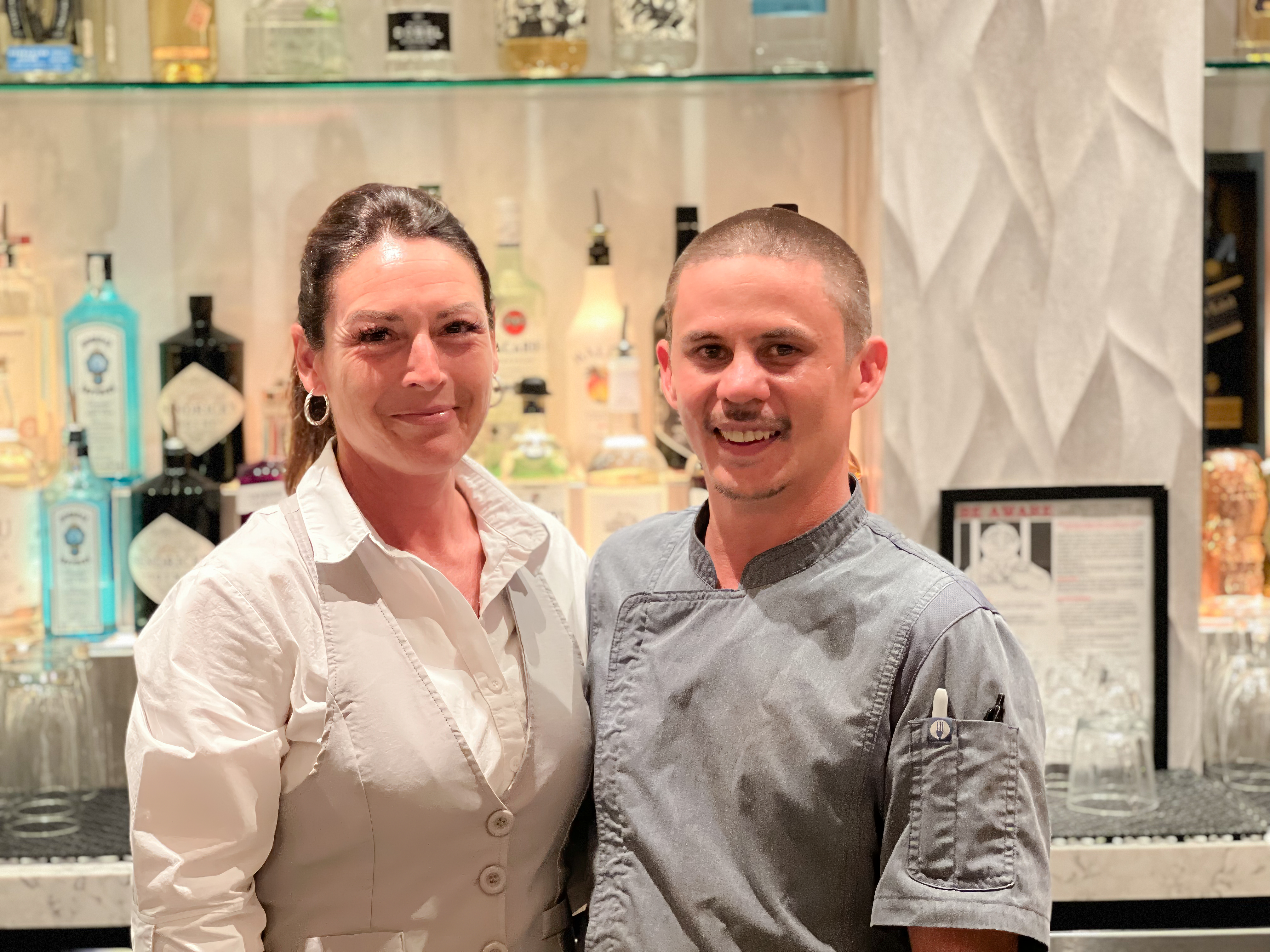 The Bistro in Kilauea is owned by Chef John-Paul Gordon and his wife/partner Josie Gordon. I first met John-Paul and Josie at Table at Poipu  – the other Kauai restaurant they own. Table is located in the South Shore area in The Shops at Kukui'ula and right now – January 2023 it is closed for remodeling.
Because of my dinner at Table at Poipu, I know firsthand that Chef John-Paul makes culinary magic happen with a ribeye.
Back to my dinner at the Bistro. When it  came time to order my entrée, I so wanted to order the ribeye special. I told Jenny (my aforementioned amazing server) that I very rarely order specials and why.
Please know that at this point in the meal, based on the number of photos I was taking of my food, Jenny had surmised that I was either a lunatic or a writer of some kind.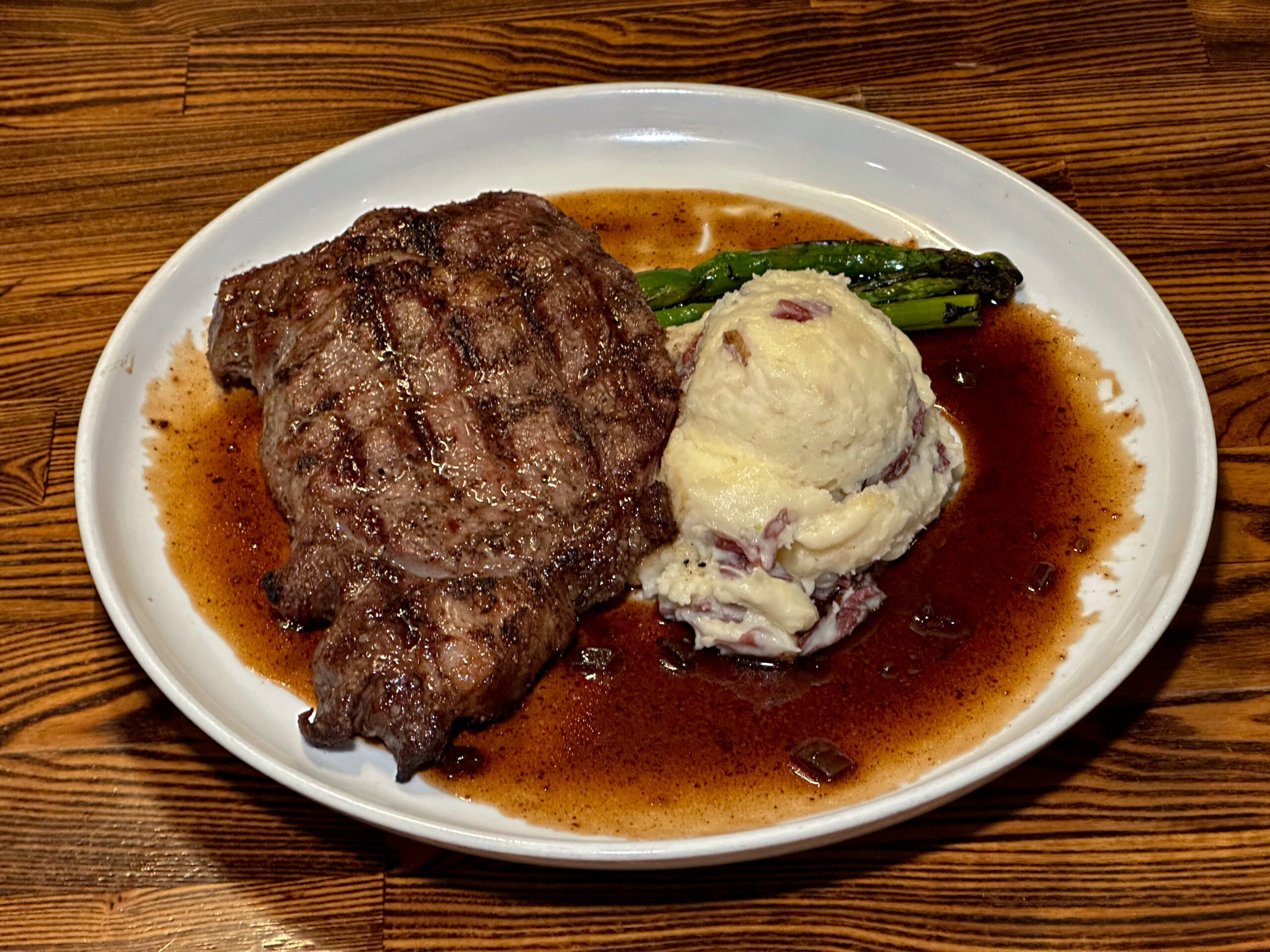 Jenny then told me some glorious news! She shared that Chef John-Paul intended to have the ribeye special with the red wine reduction & Delmonico sauce be a regularly recurring special. BOOM! With that –  I ordered the ribeye instead of the Grilled Fish or the Pork Chop.
At Jenny's suggestion I also got a glass of the Malbec and it paired perfectly with my ribeye.
My ribeye was everything I hoped for & more, and the mashed red potatoes were alluring in their own right.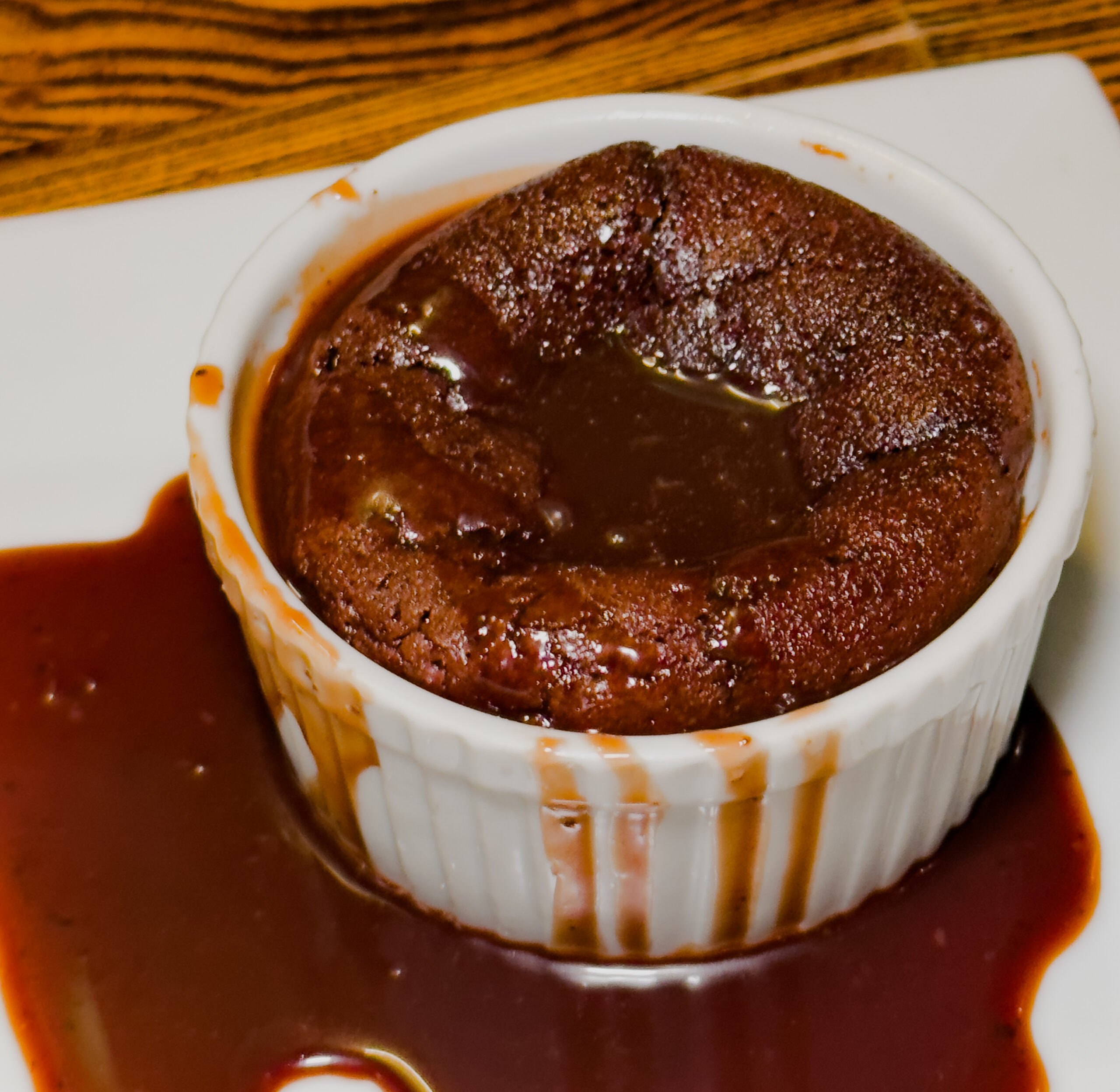 Chocolate Decadence!
My dessert was luscious! I ordered the Chocolate Decadence with my ice cream on the side. Just fantastic! I wanted to order a whiskey or a port to go with it, however I was driving.
This dessert was even better than it looks in the photos I took, and the ice cream did not disappoint. It's always sad when you order a dessert that come with ice cream and the restaurant serves you a low rent ice cream. The ice cream that came with my chocolate "cake" was top shelf.
All in all, I had a Magnificent Meal at the Bistro and regardless of where you are staying on Kauai, I highly encourage you to get yourself to Kilauea and enjoy a meal there!
Below is some helpful info about the Bistro and 35 more photos from my visit there.
Cheers,
#GoHaveMagnificentMeals #ThisIsCulinaryTreasure
The Bistro in Kilauea Address:
2484 Keneke St, Kilauea, HI 96754
Follow The Bistro in Kilauea
Website – http://www.thebistrohawaii.com/
Facebook – https://www.facebook.com/profile.php?id=100049376932481
Please note that currently and unfortunately the Facebook page link on the Bistro in Kilauea's website takes you to a restaurant in Nepal that is called Light House Bistro.
Instagram – Not applicable. No Instagram account  that I can find as of Jan 30, 2023
35 More Bistro in Kilauea Photos