Rhode Island's Coffee Milk is Worth Exporting (to the rest of America)
Fans of the Big Lebowski should flock to Pawtucket, Rhode Island, where Smug Brewing made what they called "The Dude's Cocktail," curiously described as a malt liquor with oat milk and "local coffee." It was made with brown goop from many a squeeze-bottle or plastic jug found in groceries across the Ocean State called Autocrat Coffee Syrup and since you'd be hard pressed to find it on shelves outside the state, it certainly qualifies as local. Meanwhile, clear across the state in Westerly (meaning nearly an hour's drive), Gray Sail Brewing brews Dave's Coffee Porter, made with beans sourced from local roaster, Dave's Coffee.
Then there's largest brewery in the smallest state, Narragansett Brewery in Providence, which makes a delicious beer called Autocrat Coffee Milk Stout. It's the only beer currently in production that hits the New English nail on the head. It isn't so much a coffee milk stout as it is a coffee milk stout. And what is coffee milk? The official state drink of Rhode Island (since 1993), of course!
So while it was beer that brought me to Rhode Island, I couldn't help falling in love with coffee milk. Devin Kelly, co-founder of The Guild Brewing Co. said, "Everyone's done one,"  a coffee milk stout, as if it was a Rhode Island gimmick. But when it's got this much—forgive this obvious but necessary pun—providence to it, why wouldn't every brewery embrace it?
Coffee Milk is Rhode Island
Rhode Island is much more than coffee milk but coffee milk IS Rhode Island. And you'd be hard pressed to find coffee syrup in any neighboring state like Massachusetts or Connecticut.
Shop the coffee syrup section of any grocery store—yes, it's a whole section astride chocolate syrup—in the Ocean State and you're sure to find Autocrat Coffee Syrup, the largest manufacturer, and probably Eclipse Coffee Syrup, which debuted in 1938 thus beating Autocrat to market by a few years, but Autocrat bought Eclipse over 30 years ago. Lest you think Autocrat's got a monopoly on the coffee confection, remember that Dave's Coffee Porter? Well Dave's Coffee also makes an artisanal take and, like craft beer, it's so worth the extra duckets.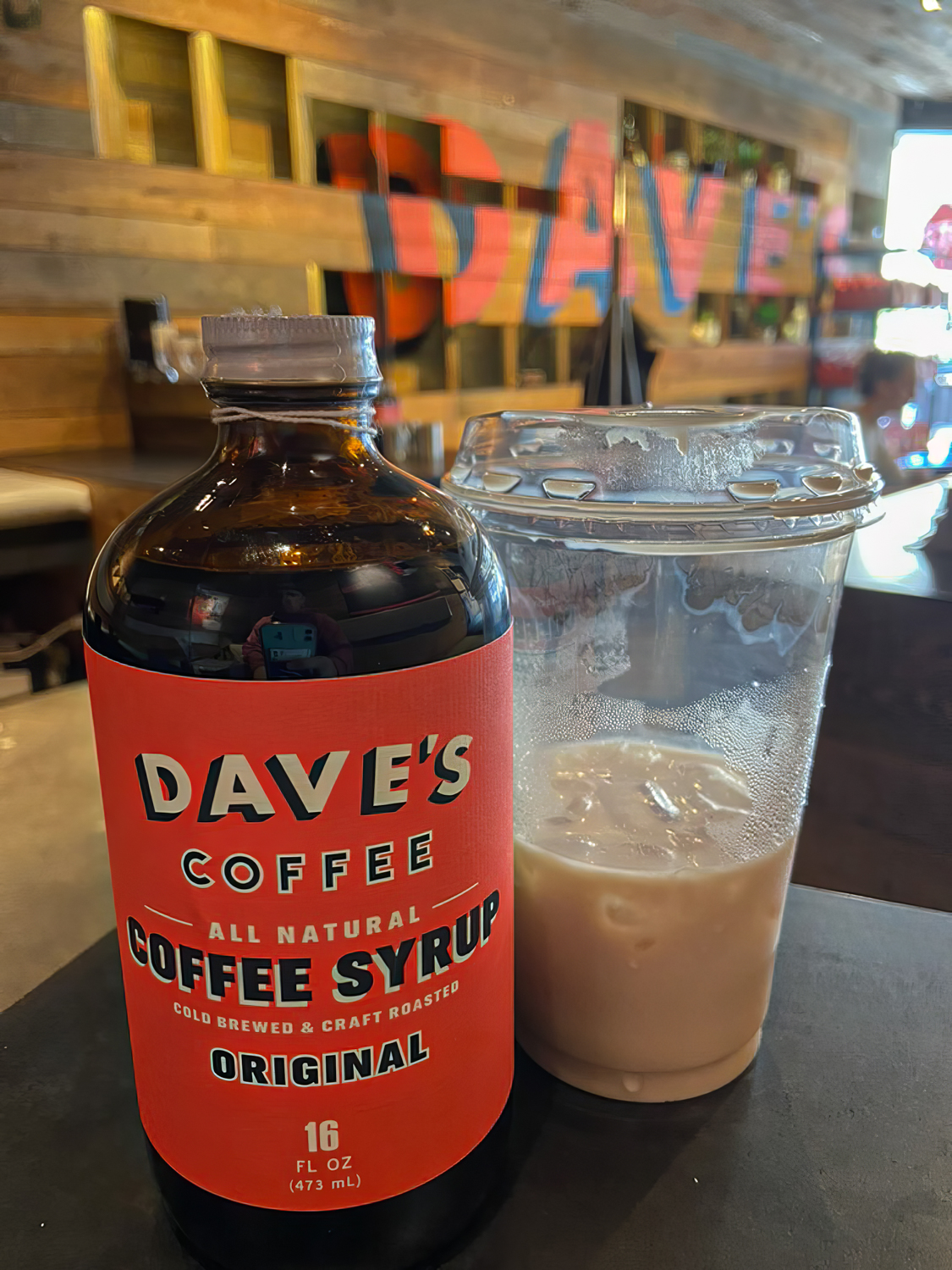 Dave Lanning's Coffee Syrup 
Dave Lanning, the creator, is a silver-haired, dapper native of Providence. The New England accent proves it. He opened his eponymous coffee shop in 1998 in Charlestown in Southwestern Rhode Island, far, far (OK, 50 miles) from his newer store in Providence in Northeastern Rhode Island. Originally, Dave's Coffee was simply a coffee shop. After a decade of buying coffee beans, Lanning started roasting his own. Then, he joined the coffee syrup club and while it's immensely popular, it's all relative since Lanning says he bottles some 1,200 "stubby" bottles (for you pioneering beer fans) every other week.
"I've drank coffee milk my whole life," says Lanning. Here, it must be noted, despite the flavoring, it's not just for adults. In fact, as Lanning explains, "It was invented in a pharmacy at a soda fountain. The soda jerk tried to use leftover coffee by mixing it with sugar and then put the syrup in milk to appeal to kids." Some native Rhode Islanders feel they've grown out of it considering it's offered alongside whole, skim, and chocolate milk in school cafeterias.
A century ago, sure, you could get away with feeding something with coffee to kids. That said, coffee milk isn't is all that caffeinated. Whereas a cappuccino or latte make a great morning pick-me-up (or a Ristretto or Cortado if you really fell far short of eight hours), coffee milk is perhaps more of an afternoon treat to get you through that last hour of work (or, again, elementary school). The average cuppa joe contains 95 milligrams of caffeine. A double shot of espresso is closer to 130. But a tall glass of coffee milk tip-toes in at around 15 mg.
Whereas a 32-ounce squeeze bottle of Autocrat costs five dollars and change, the 16-ounce bottle of Dave's runs nearly $13. That said, Autocrat's ingredients are high fructose corn syrup, more corn syrup, coffee extract, and coloring and preservatives. Dave's ingredients are cane sugar, cold brewed coffee made with a Brazilian coffee sourced specifically for its low acidity, and tapioca syrup made from cassava root as a thickener. "If just one grain of coffee got in there, it'd crystalize. So cassava root homogenizes the sugars," explains Lanning.
The syrup's designed to add to milk—Lanning suggests two table spoons per eight ounces of your preferred milk or milk substitute although he's a purist and recommends whole milk for flavor and mouthfeel
Incidentally, he also wants to do a coffee syrup cookbook that must be written by a native Rhode scholar. A sample recipe of his would feature sweet potatoes baked with carrots, turnips, other such root veggies, and they'd be candied with coffee syrup. Move over Thanksgiving yams! Furthermore, he notes it can be the secret ingredient on oatmeal in lieu of honey, or shaken into cocktails.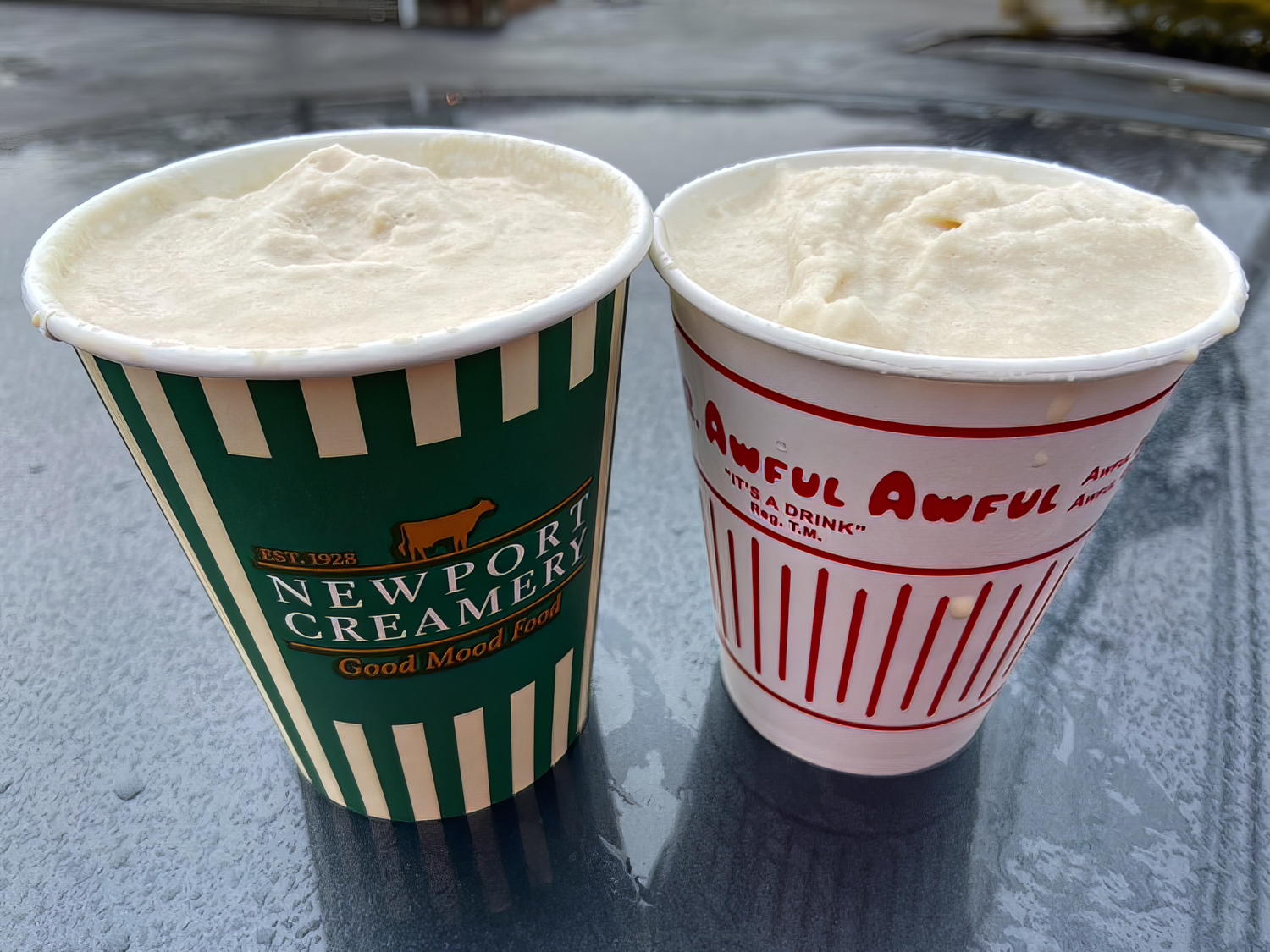 Awful Awful
Cookbook aside, some people in Rhode Island pour coffee syrup over a bowl of ice cream. Which is sorta funny since the drink already tastes like coffee ice cream. If you're a fan of that, when in Rhode Island do not miss out on a coffee cabinet. That's the local vernacular for ice cream (coffee or vanilla) blended with milk and coffee syrup. Don't dare call it a coffee milkshake! Additionally, Rhode Island's Newport Creamery makes a concoction called a "coffee awful awful." It's not a milkshake either because in lieu of ice cream, it uses ice milk giving the concoction a lighter body and drinks like a frozen latte.
Cheers,
Brian Yaeger
Follow Brian Yaeger on Instagram https://www.instagram.com/brianyaeger/
Link to see all of Brian Yeager's This is Culinary Treasure Content – https://www.culinarytreasure.com/brian-yaeger-culinary-treasure-network-contributor/
.

Visit Rhode Island 
For more info about Rhode Island we recommend Visit Rhode Island
Website https://www.visitrhodeisland.com/
Facebook https://www.facebook.com/VisitRhodeIsland
Instagram https://www.instagram.com/visitrhodeisland/

Dave's Coffee
Website https://www.davescoffee.com/pages/daves-locations
Facebook https://www.facebook.com/davescoffee
Instagram https://www.instagram.com/davescoffee/
Purchase Dave's Coffee Syrup https://www.davescoffee.com/products/original-coffee-syrup
.

Follow Brian Yaeger
Website – https://brianyaeger.com/
Instagram – https://www.instagram.com/brianyaeger/
Twitter –  https://twitter.com/yaeger