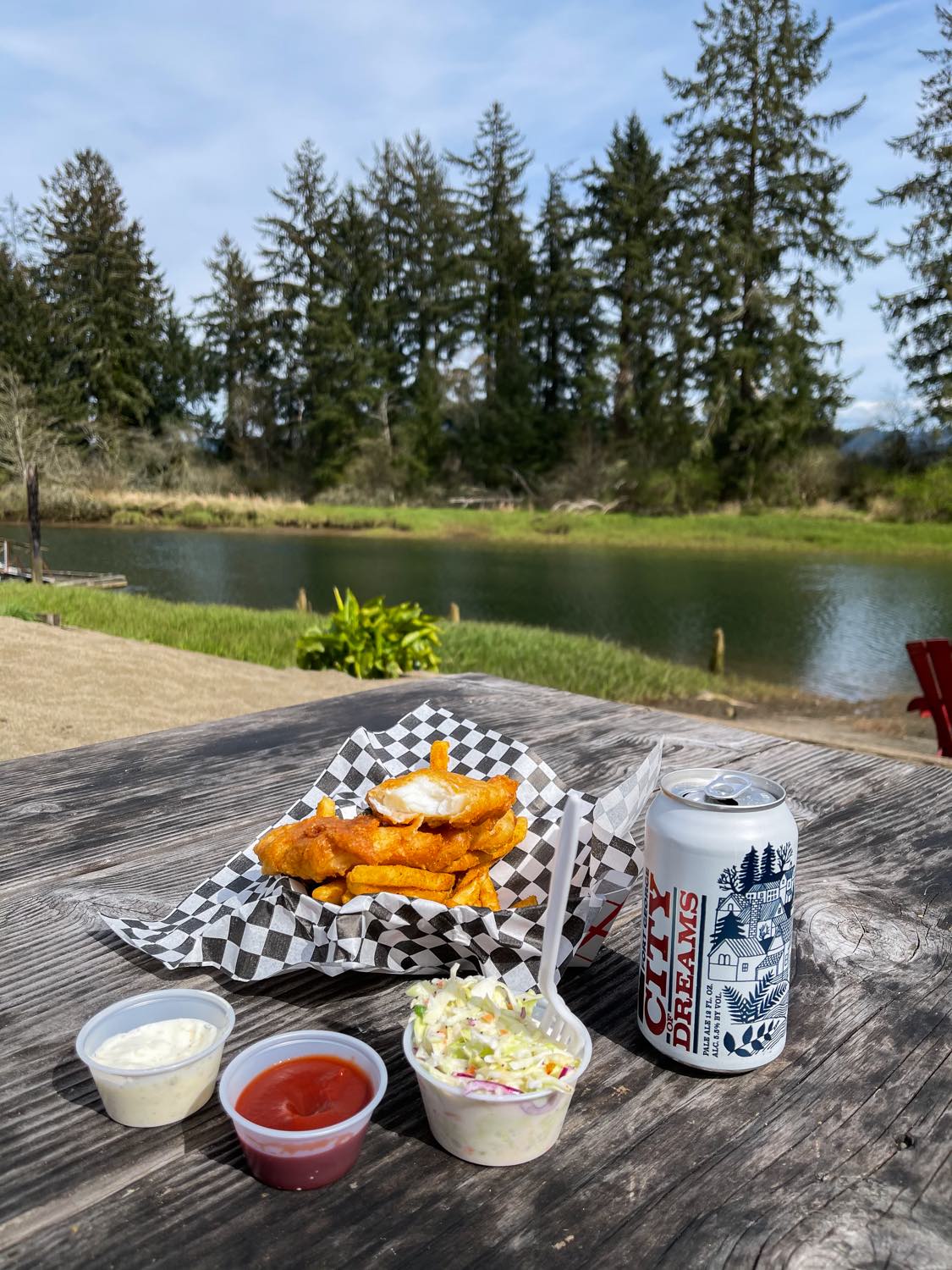 Simply Stellar! Riverside Fish & Chips Nehalem Oregon on the Oregon Coast
A few weeks ago, I spent a few days on the Oregon Coast creating content for the Culinary Treasure Network.
On this particular day I had spent the morning in Tillamook at de Garde Brewing recording an episode of the Craft Beer Podcast with de Garde Co-founder Trevor Rodgers.
By the time I was leaving de Garde it was lunchtime, and I was more than ready to eat.
I decided to head North to Nehalem and check out Riverside Fish & Chips. I am sooo glad I did!
The food was exquisite, and the setting was so very pleasant.
It is my current understanding that Sharon and Gordy have been running Riverside Fish & Chips for 6 years now. I have also heard that maybe they had had some help getting started from a local Oregon Coast culinary luminary. I would love to have them as guests on the Culinary Treasure Podcast and hear their story.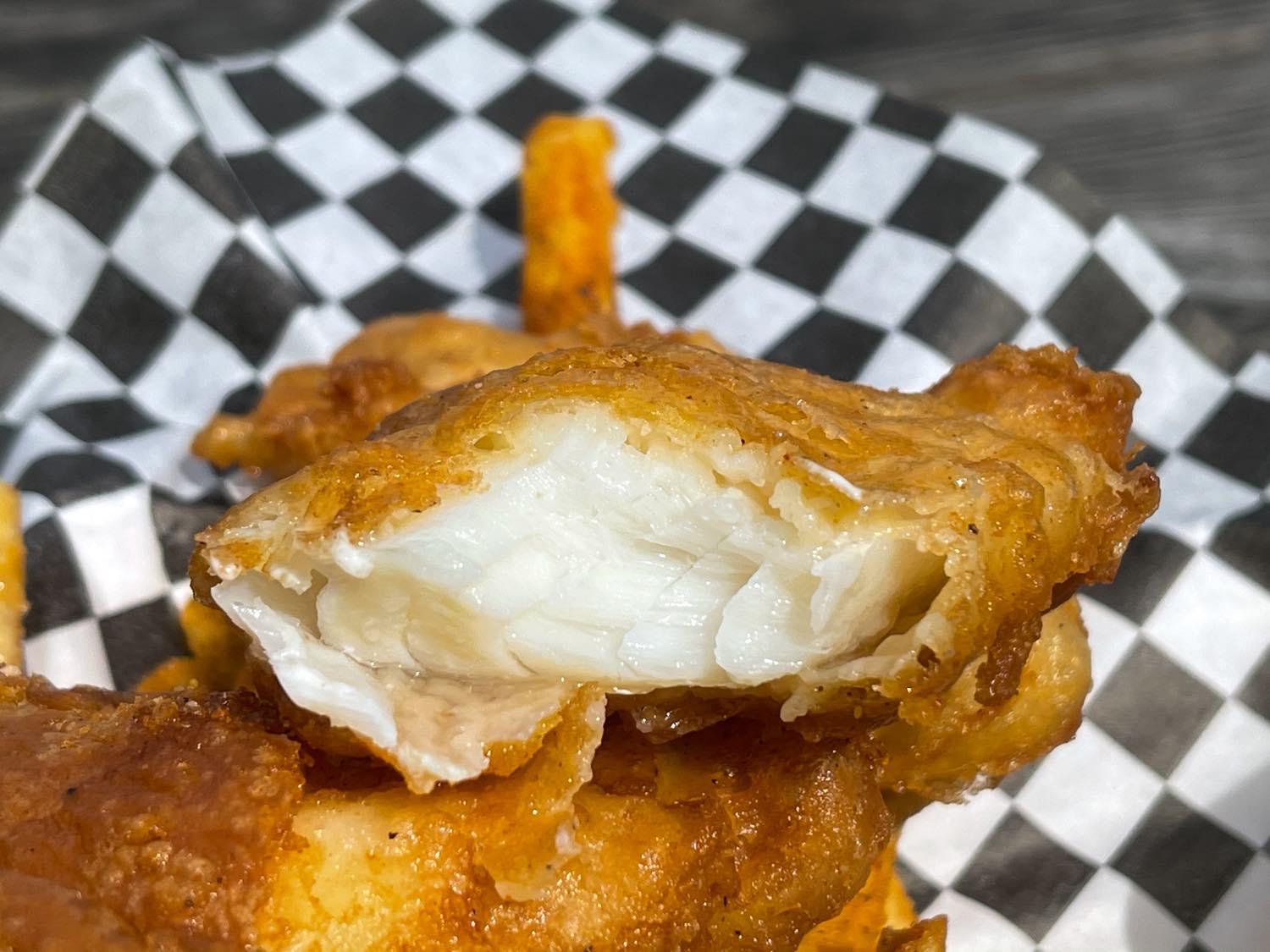 The Fish
I got the 3-piece basket (cod) and goodness the fish was perfect. I get the joy of eating quite a number of meals while I am on my culinary and travel adventures, and one of the ways I gauge how much I enjoyed a certain meal or dish is by how often I think of it days later.
I have thought of this meal quite a number of times since that day, and even right now I wish that I had a Riverside Fish & Chips 3-piece basket it in front of me. I would devour it.
Scroll to end of this article and check out the photos I took. The fish tastes even better than it looks in those photos.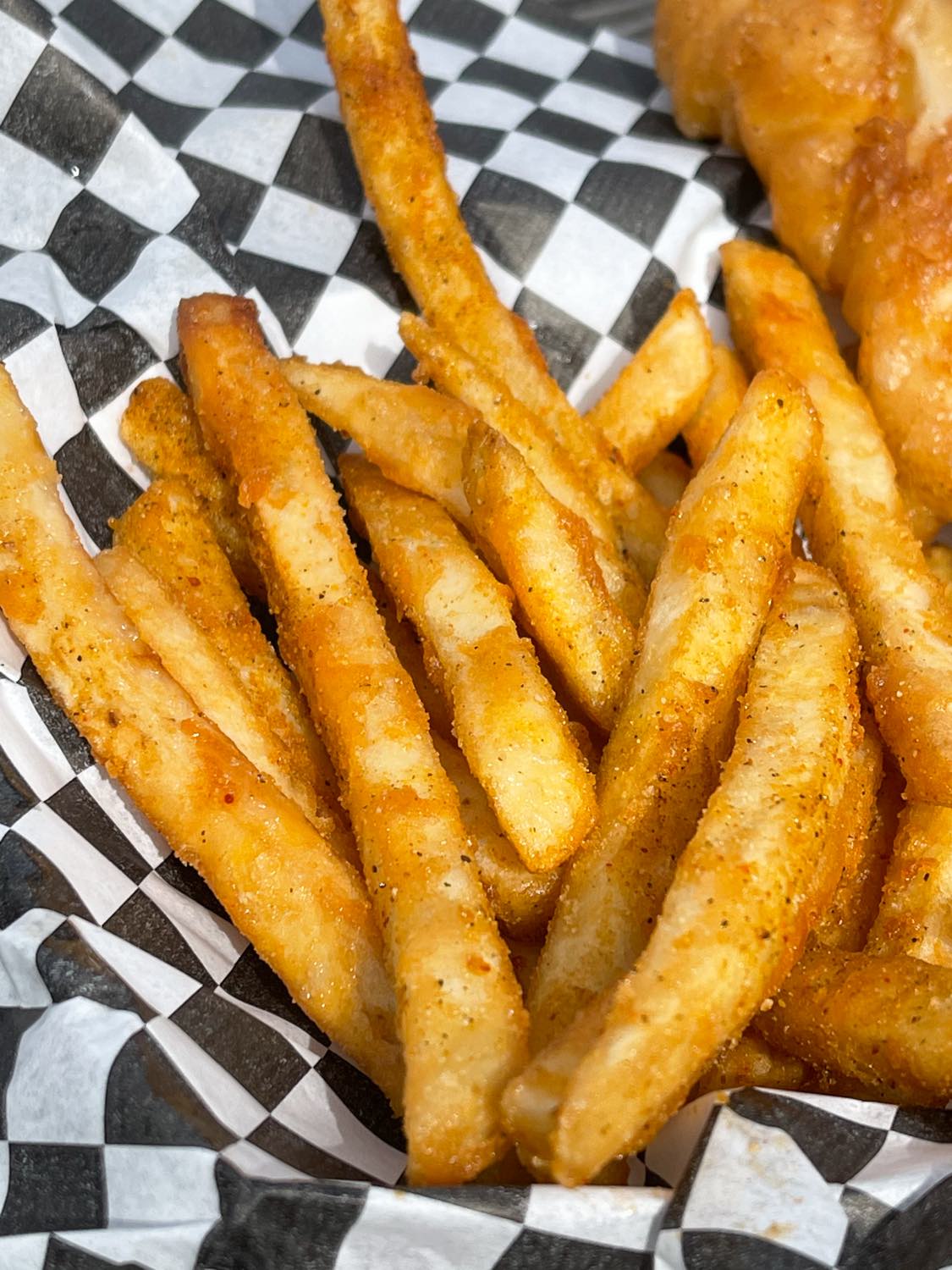 The Chips
I do love me some good fries. True confession time – I ALWAYS add salt to my fries. I even add salt to McDonalds' fries. These fries were perfectly seasoned. Not salty per se, just really well seasoned. Fantastic flavor.
Oh, I was fully prepared to add salt to them, however for the first time as far back as I can remember I didn't add want to add anything to these fries. Additionally, they were a perfect complement to the fish.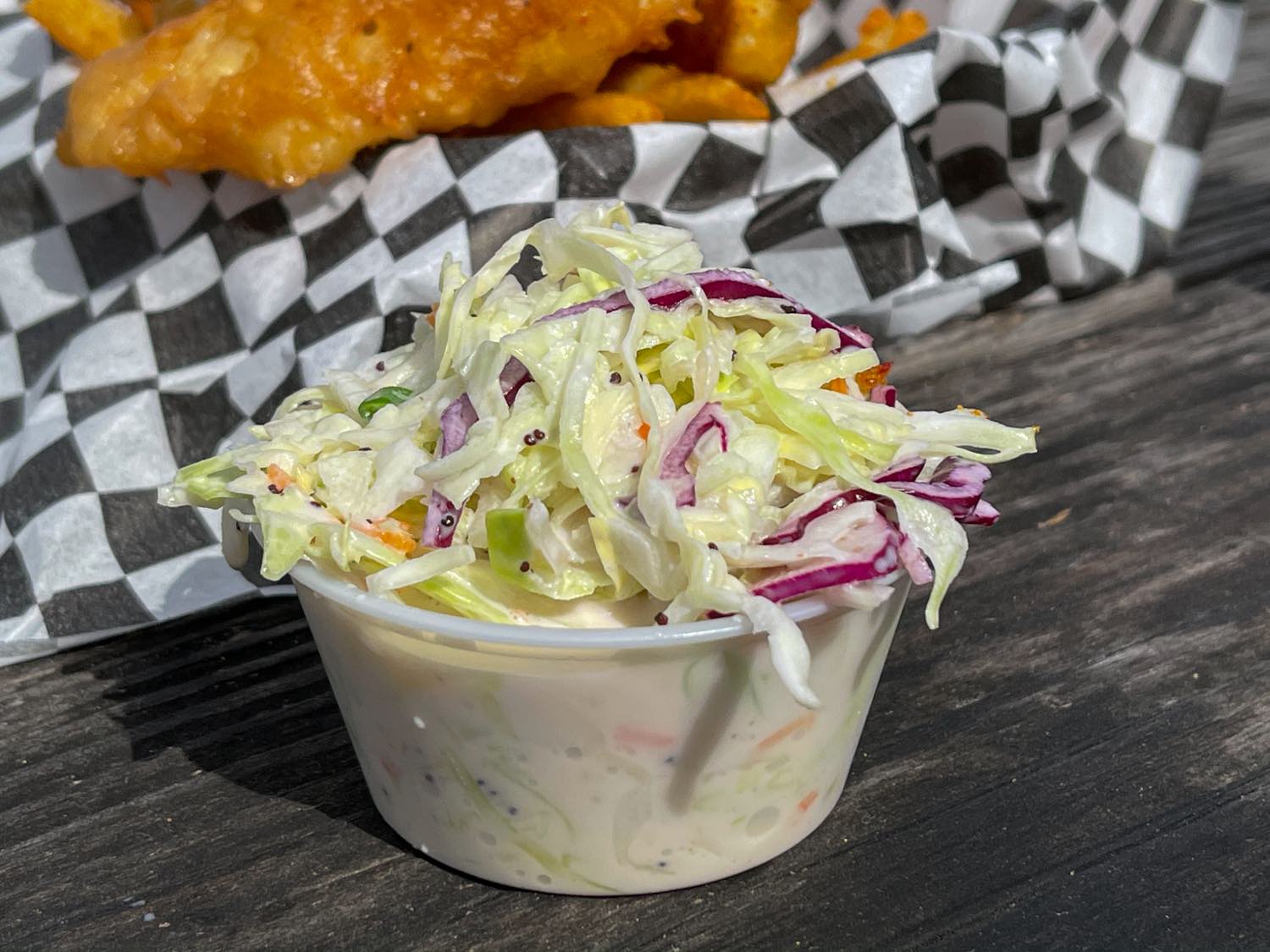 Tartar Sauce ~ Coleslaw ~ Ketchup
I do love a good tartar sauce and the tartar sauce they serve at Riverside Fish & Chips is as good as any that I have ever had.
The coleslaw was terrific, and I began to suspect that they were not simply selling premade food purchased from a food wholesaler that they scooped out of a big plastic container.
I did see that the menu had the word "homemade" next the word "slaw", however not every place that makes the "homemade" claim is really doing homemade.
One clue that they really were making things from scratch was that my wonderful coleslaw had craisins in it. Such a delightful addition!
I was thrilled to see that the ketchup that they were serving was Portland Ketchup Company ketchup. A good ketchup makes all the difference and Portland Ketchup Company makes top shelf ketchup.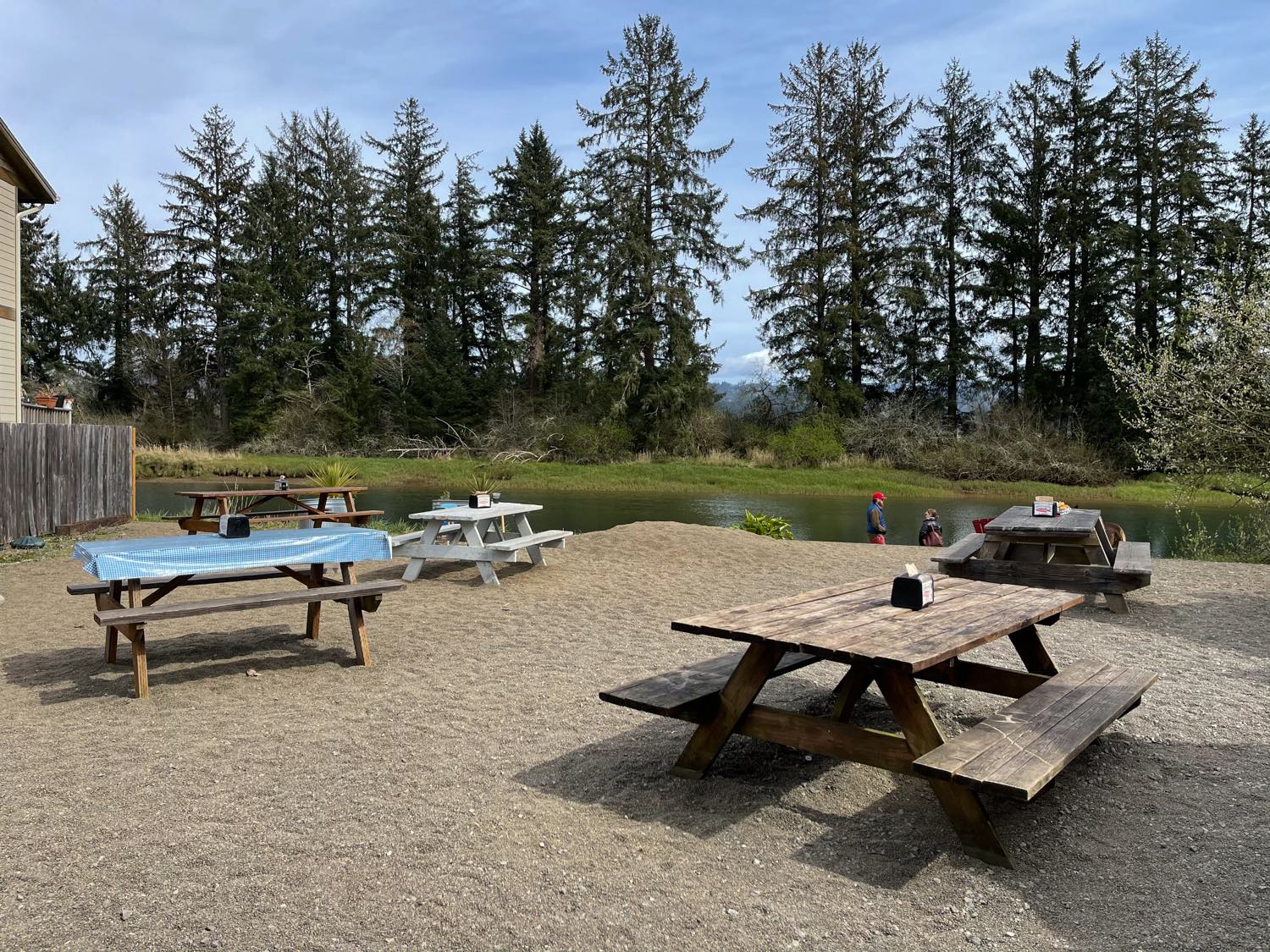 The Setting
The setting is so lovely. First of all, you get to follow a special path through a narrow alley to get to Riverside Fish & Chips.
After you place your order, you can take a seat at one of the picnic tables sitting out in the sunshine. Do that and you will find yourself right next to the Nehalem River and the view looking out toward the river is just enchanting.
They also have a few tables under cover for those very few days that it rains on the Oregon Coast. Yes – that's a joke. I know that it rains A LOT on the Oregon Coast. If you are headed to the Oregon Coast, bring layers and a good rain jacket just to be safe.
My kids were quite young when we moved to Portland in 2004 and I can't tell you how times I said to them as they were getting into the car as we are heading out – "do you have a little jacket with you?"
If they didn't, they had to go back into the house and get one. They didn't have wear it, but they had to have one with them. The ONLY exception to this was if the forecast called for the temperature to be 100 degrees or more that day.
Like I said if you are going to the Oregon Coast, make sure that you bring a little jacket with you.
How Good Was Riverside Fish & Chips?
have had a number of really good fish & chips meals on the Oregon Coast – to date the best fish & chips meal I have had on the Oregon Coast was at Riverside Fish & Chips in Nehalem, Oregon.
PHOTOS – Scroll down to see more than 20 photos from my visit to Riverside Fish & Chips in Nehalem, Oregon on the Oregon Coast
Address
Riverside Fish & Chips is located at 35915 Hwy. 101 N. Nehalem, OR 97131
Follow Riverside Fish & Chips
Website – N/A
Facebook – https://www.facebook.com/riversidefishnchips
Instagram – N/A
That's all I have for now!
Cheers,
This is Culinary Treasure – Discovering and Celebrating Culinary Treasure You Will Love
#GoHaveMagnificentMeals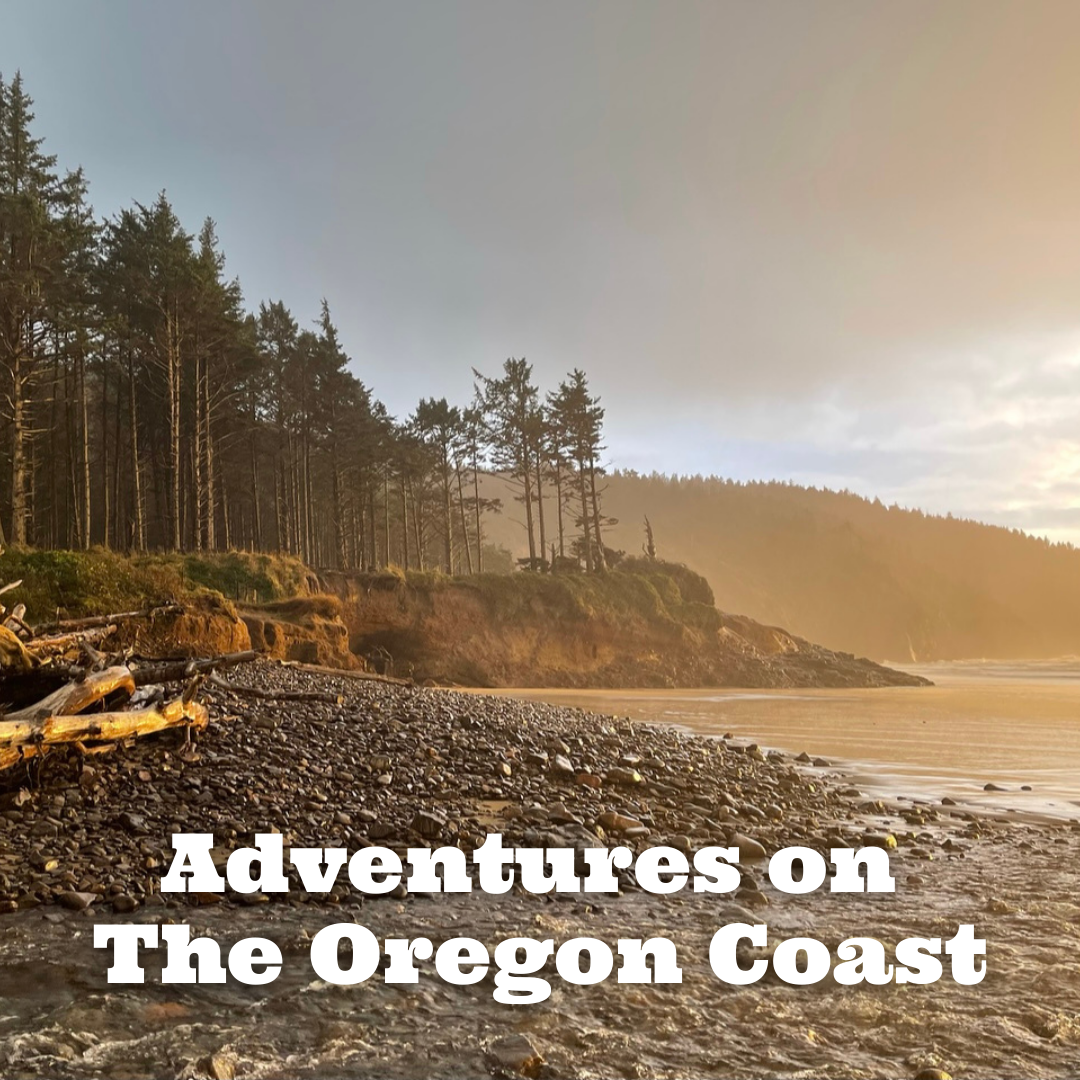 Adventures on The Oregon Coast
To see all of Steven Shomler's Oregon Coast content – Culinary Treasure Podcasts, Craft Beer Podcasts, as well as Travel articles and This is Culinary Treasure articles go to www.AdventuresOnTheOregonCoast.com
PHOTOS
I invite you to enjoy these photos from my visit to Riverside Fish & Chips in Nehalem, Oregon on the Oregon Coast: