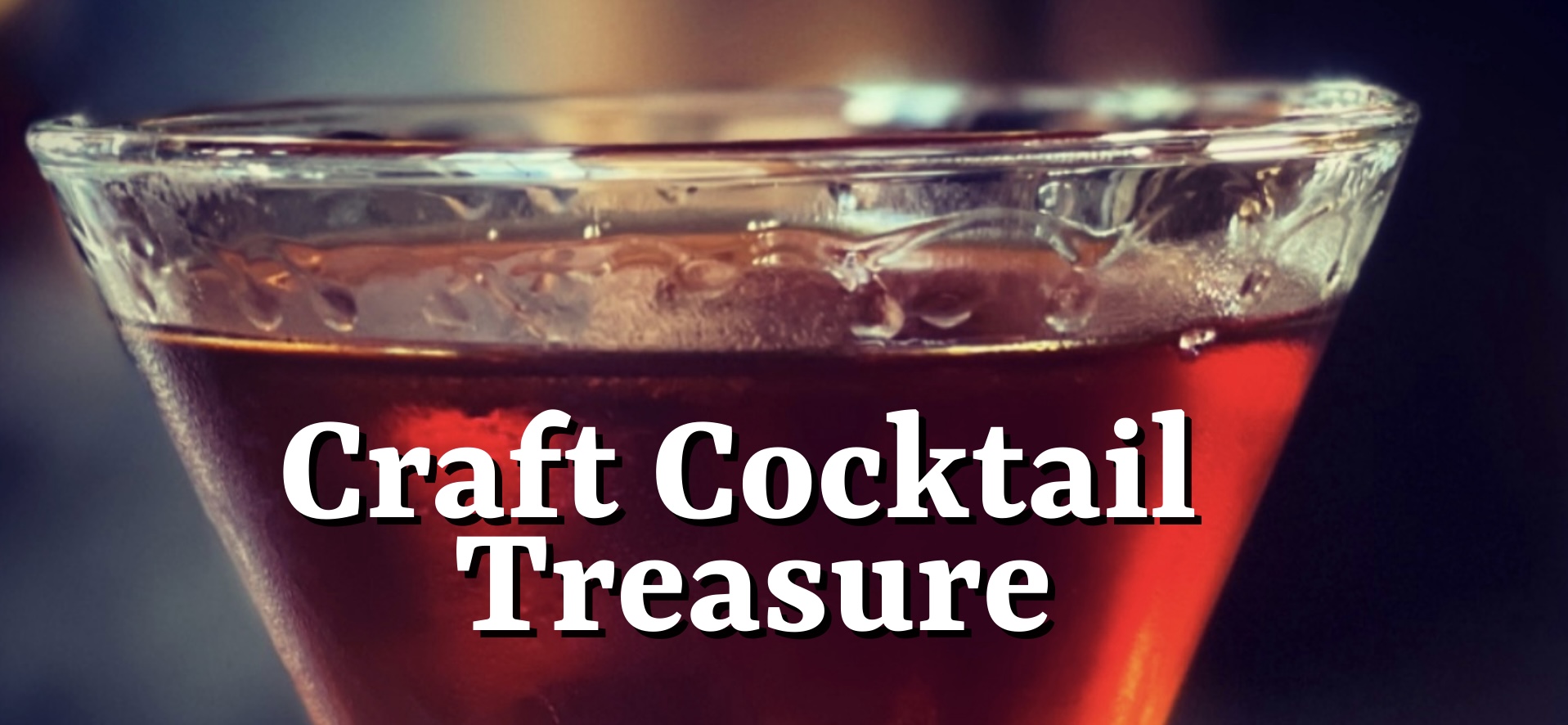 A Rush and a Push Cocktail Created by Dan Marchese at Aragosta On Deer Isle Maine – Craft Cocktail Treasure!
Aragosta is a phenomenal restaurant located on Deer Isle on the Maine Coast.  The setting is stunning, the food is out of this world, and to top it off – the cocktails are stellar. 
During my recent 11-day Culinary Treasure Network trip to the Maine Coast I ended up having cocktails at Aragosta on two different evenings.
I had a number of great cocktails on both of those evenings including an exquisite Old Fashioned that Dan Marchese crafted for me. He even told me his brilliant secret for making Old Fashioneds. I wish I could tell you but I am sworn to secrecy… that being said, if you make the trek out to Aragosta and chat Dan up yourself, he might just share that secret with you.

The A Rush and A Push Cocktail
They have a wonderful rotating cocktail list at Aragosta and you can't go wrong ordering off of it. However if Dan happens to behind the bar the night you are visiting and you get the chance, I highly suggest that you tell Dan what your favorite spirit is and let him make you a cocktail of his choosing.
I did that very thing and my reward was getting to savor a fantastic cocktail. The A Rush and A Push is a delightful, complex, ethereal cocktail that Dan created. I had told him that I love gin especially local gin, and goodness – he delivered a cocktail that blew my mind.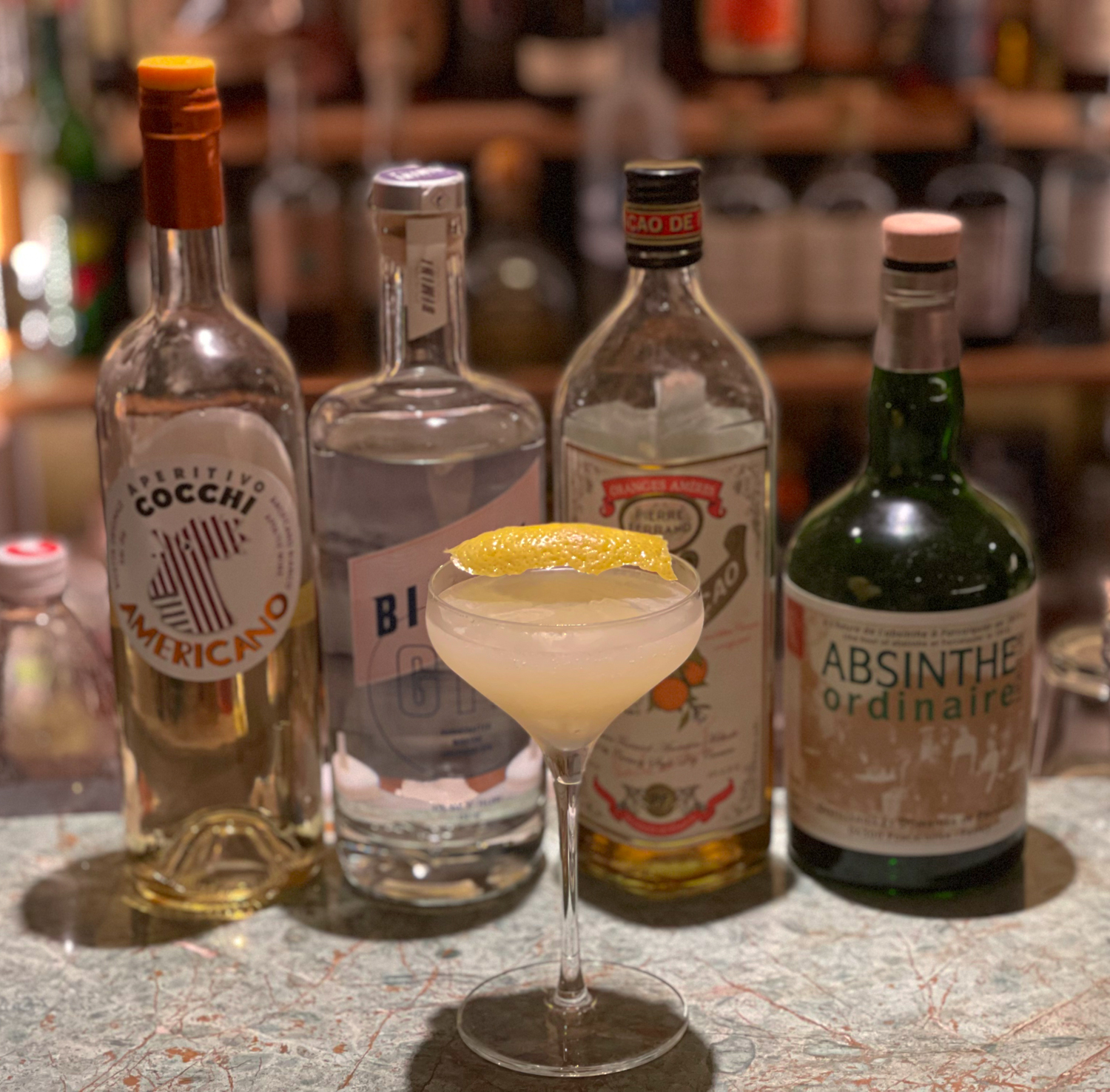 Gin, Cocchi Americano, Curaçao, Absinthe
The A Rush and A Push cocktail is made with Bimini Gin, Cocchi Americano,  Pierre Ferrand Dry Curaçao, and Absinthe Ordinaire.
I have no idea what kind of wizardry it was that led Dan combine those four spirits but they work together so incredibly well!
If you love complex, amazing cocktails my advice is that you get yourself to Aragosta as soon as possible and order the A Rush and A Push.
Scroll down for more cocktail photos and for more info about the four spirits f
eatured

in this c

ocktail.

Cheers!

Steven Shomler for Craft Cocktail Treasure part of the Culinary Treasure Network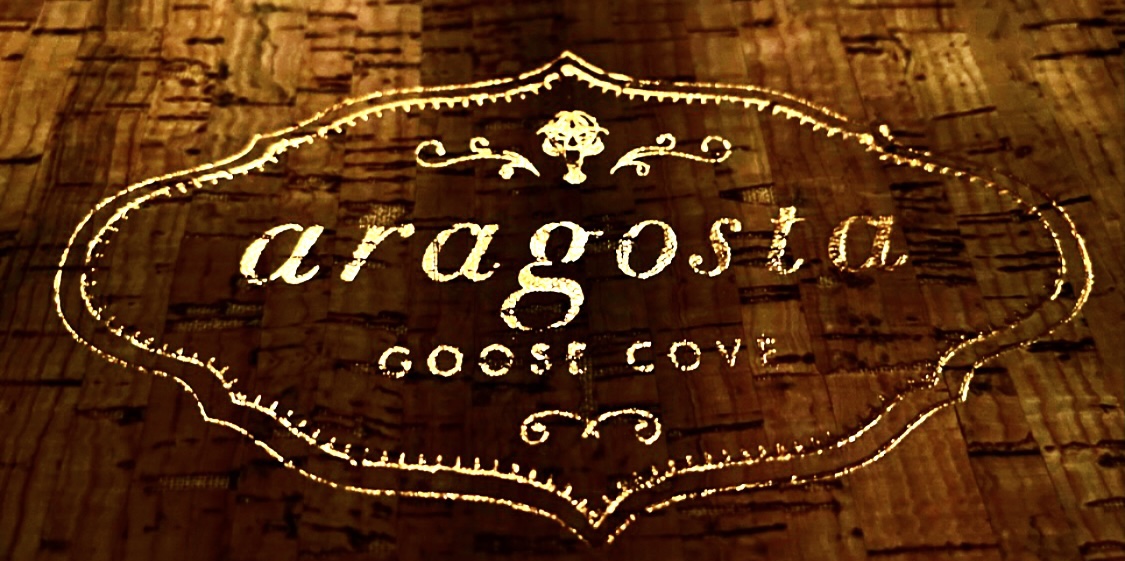 Follow  Dan Marchese
Instagram – https://www.instagram.com/falsegrails/ 
Follow Aragosta
 Website – https://aragostamaine.com/
 Facebook – https://www.facebook.com/aragostamaine
Instagram – https://www.instagram.com/aragosta.maine/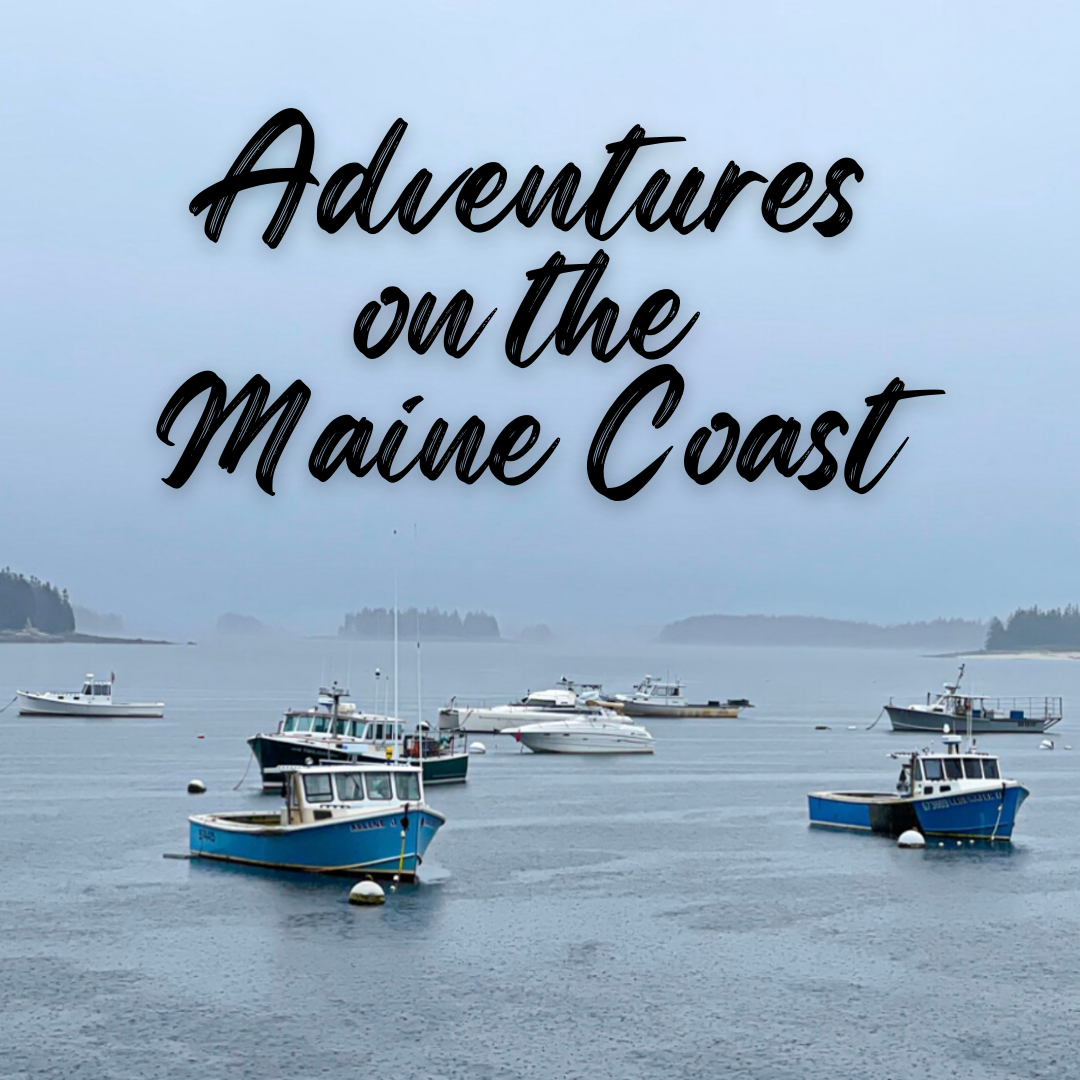 Adventures On the Maine Coast
To see all of the Culinary Treasure Network's Maine Coast content – Podcasts, Shows as well as This is Travel Treasure articles, and This is Culinary Treasure articles go to
www.AdventuresOnTheMaineCoast.com

Info on the Featured Spirits For Those Who Don't Know:
 Bimini Gin is a local Maine gin distilled by Round Turn Distilling in Biddeford, Maine. From their website: "Bimini Gin is handcrafted using a few familiar key botanicals— grapefruit zest, hops, coriander seed—that taste bright and citrusy with a beautiful floral aroma that you'll continue to savor after the glass is empty. Bimini was made to taste good on a warm sunny day. Period." Bimini Gin  https://www.biminigin.com/Round Turn Distilling https://www.roundturndistilling.com/
Cocchi Americano is an aromatized wine made by Cocchi in Asti – the heart of Piedmont region of northwest Italy. From their website "Cocchi Americano is an aromatized wine created in 1891 by Giulio Cocchi and since then produced without interruption according to the original recipe.The name "Americano" is both due to the alcohol made bitter ("amaricato") by the addition of herbs and spices and to the American habit of drinking vermouth with ice and soda." Cocchi https://www.cocchi.it/en/wines/americano/
Pierre Ferrand Dry Curaçao is an orange liqueur produced by Maison Ferrand in France. From the Maison Ferrand website: "Classic cocktails demand classic liqueurs and no liqueur is more classical than the Pierre Ferrand Dry Orange Curaçao. Crafted in consultation with cocktail historian David Wondrich and based on a 19th century recipe, it is a traditional French "triple sec" – three separate distillations of spices and the "sec" or bitter, peels of Curacao oranges blended with brandy and Ferrand Cognac. The result is a rich, complex and balanced liqueur that will bring new sophistication to your Punches, Slings, Fizzes and, of course Cocktails. It is also delicious straight up or on ice." http://maisonferrand.com/en/content/pf-dry-curacao-1/
Absinthe is an anise-flavoured spirit and Absinthe Ordinaire is distilled by Distilleries et Domaines de Provence in Forcalquier, France and imported to the US by Crillon Importers LTD. From the Crillon website: "Named after the creator of the first absinthe recipe in 1793, Dr. Pierre Ordinaire, this legendary drink recalls one of the most original and successful recipes from the Belle Epoque days in Paris. Made from natural, traditional absinthe botanicals that provide an extraordinary taste experience, Absinthe Ordinaire has a lower alcohol by volume level (46% abv and 92 proof), more flavor and serves better with many cocktails." https://crillonimportersltd.com/brand/absinthe/?bottle=3 Distilleries et Domaines de Provence – https://www.distilleries-provence.com/en/
A Rush and A Push Cocktail Photos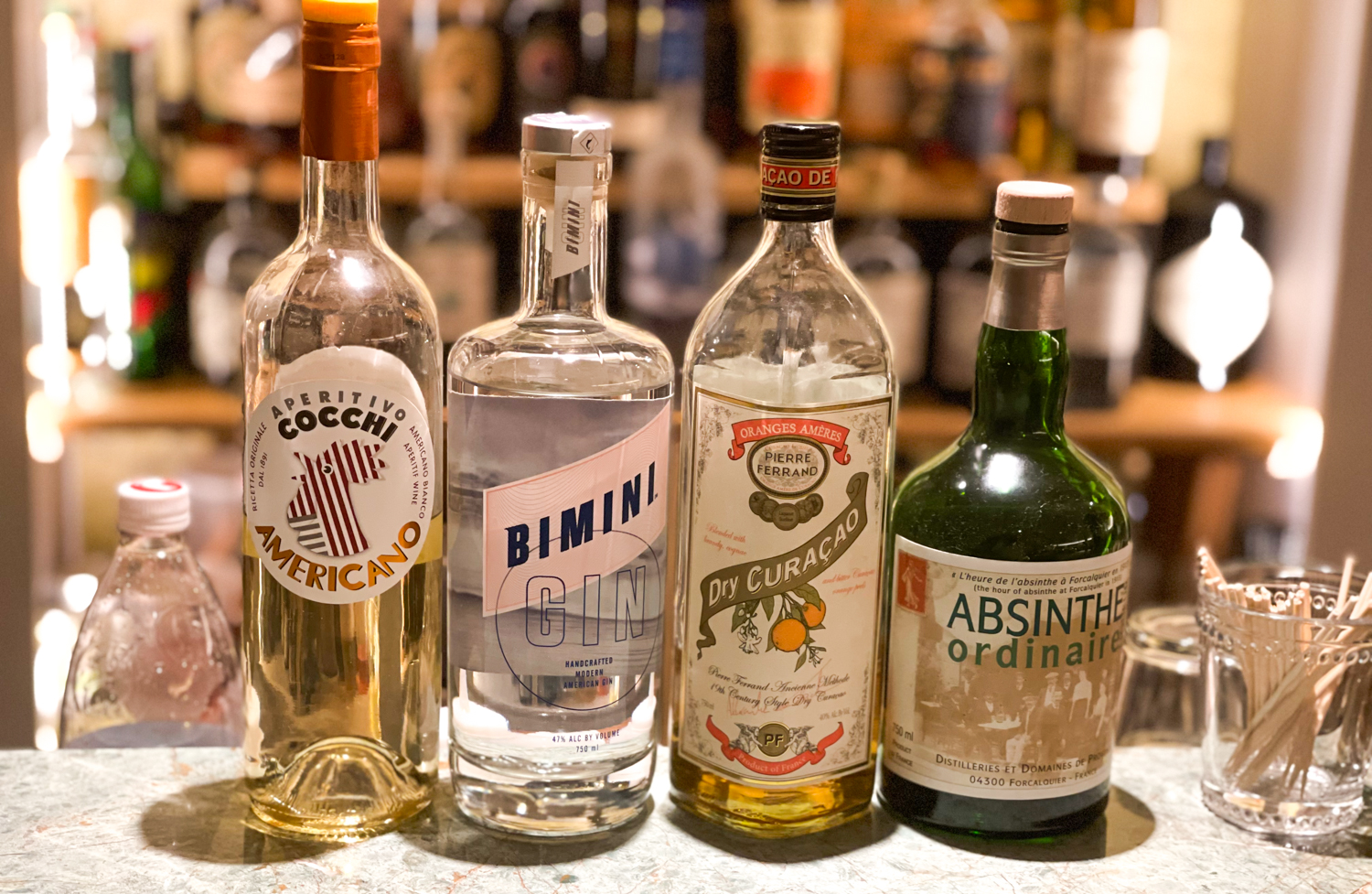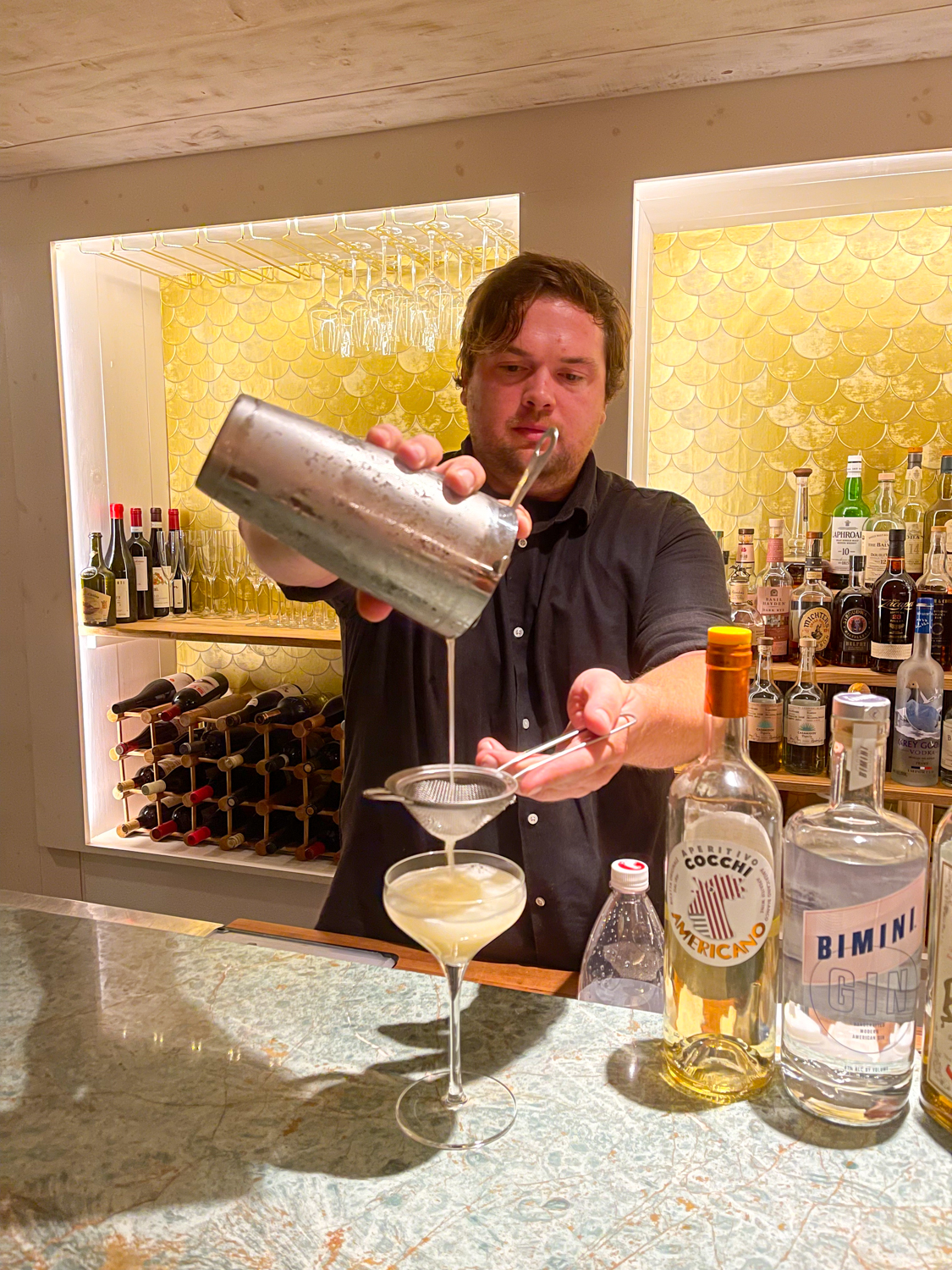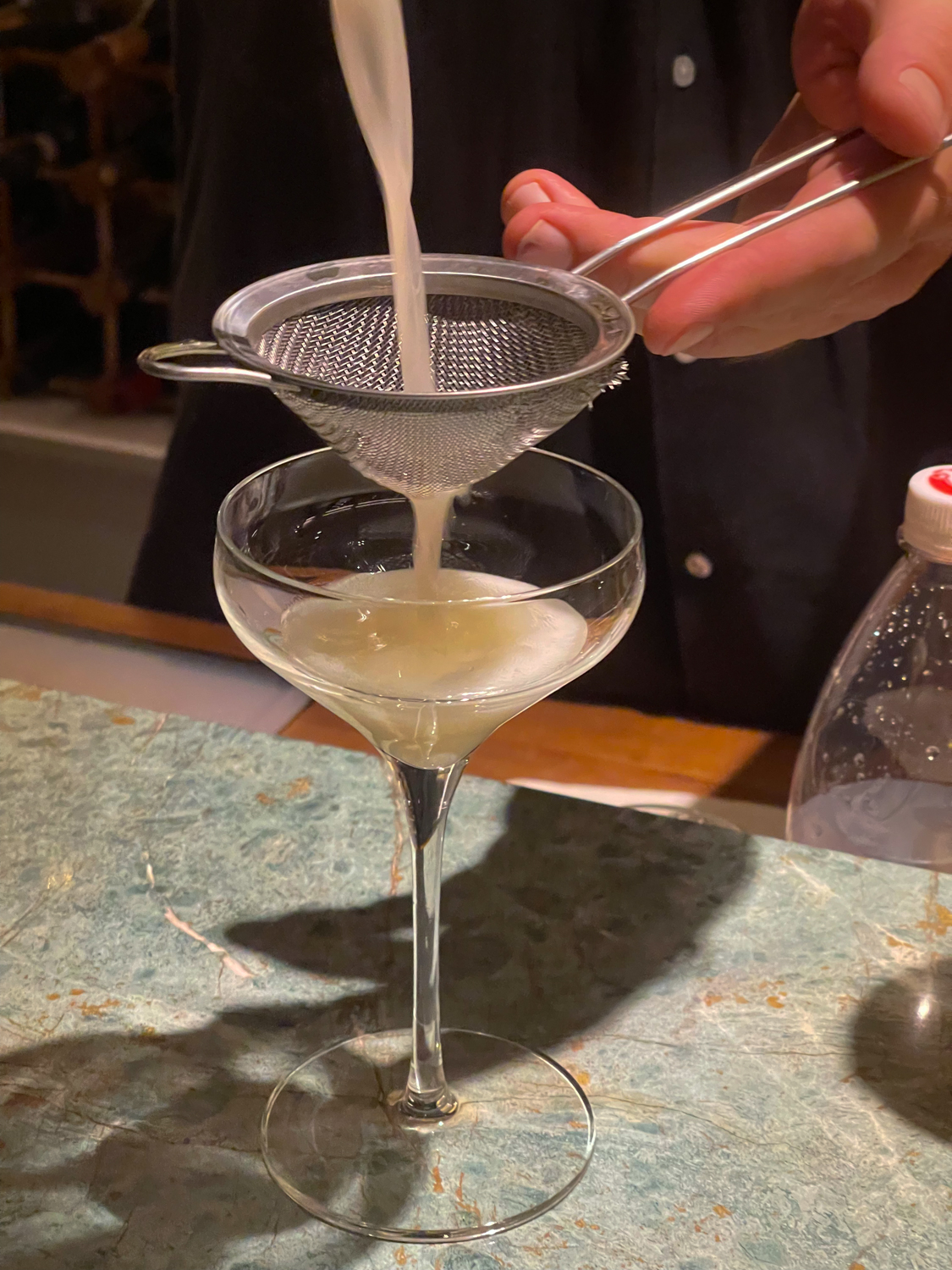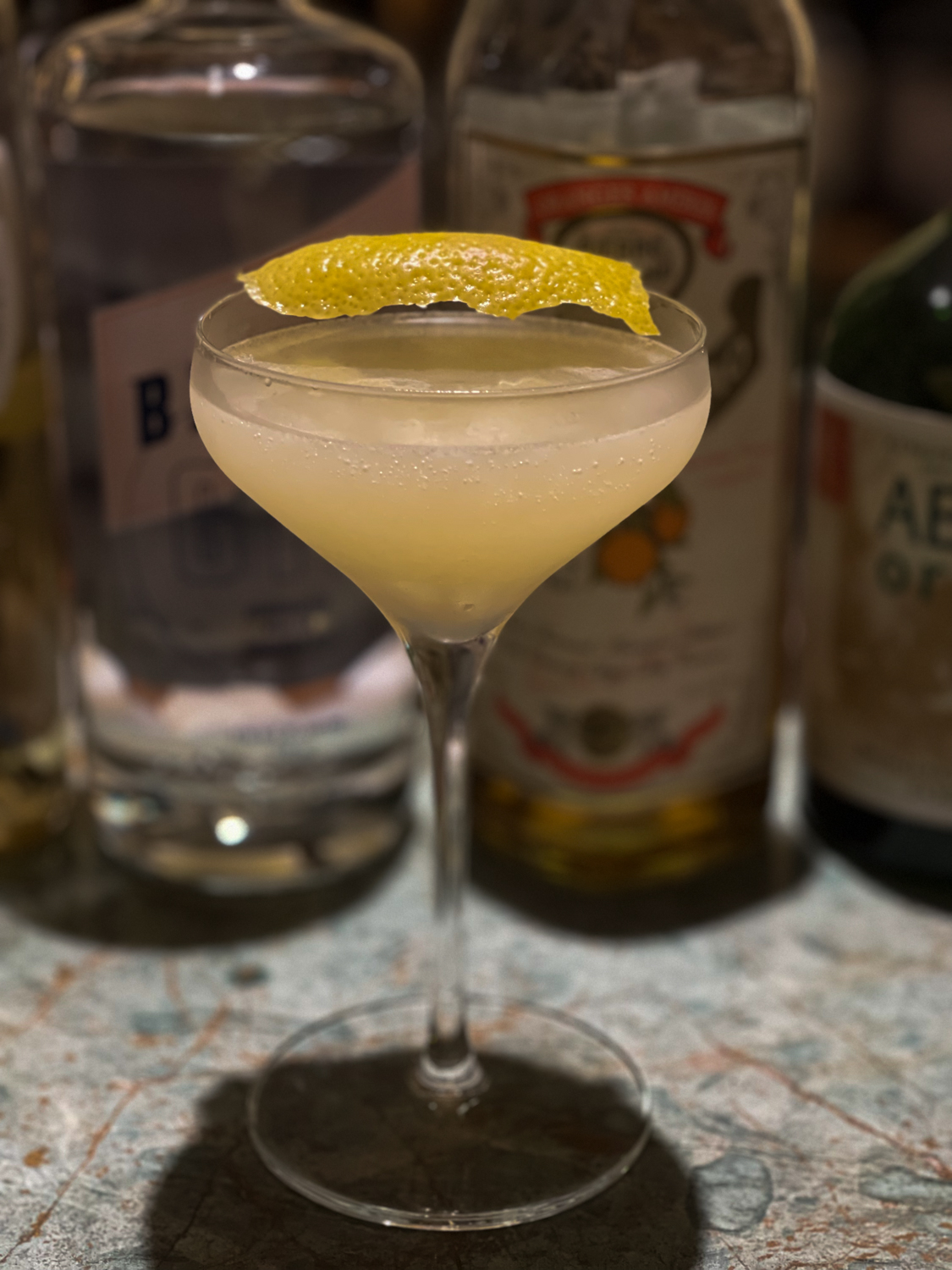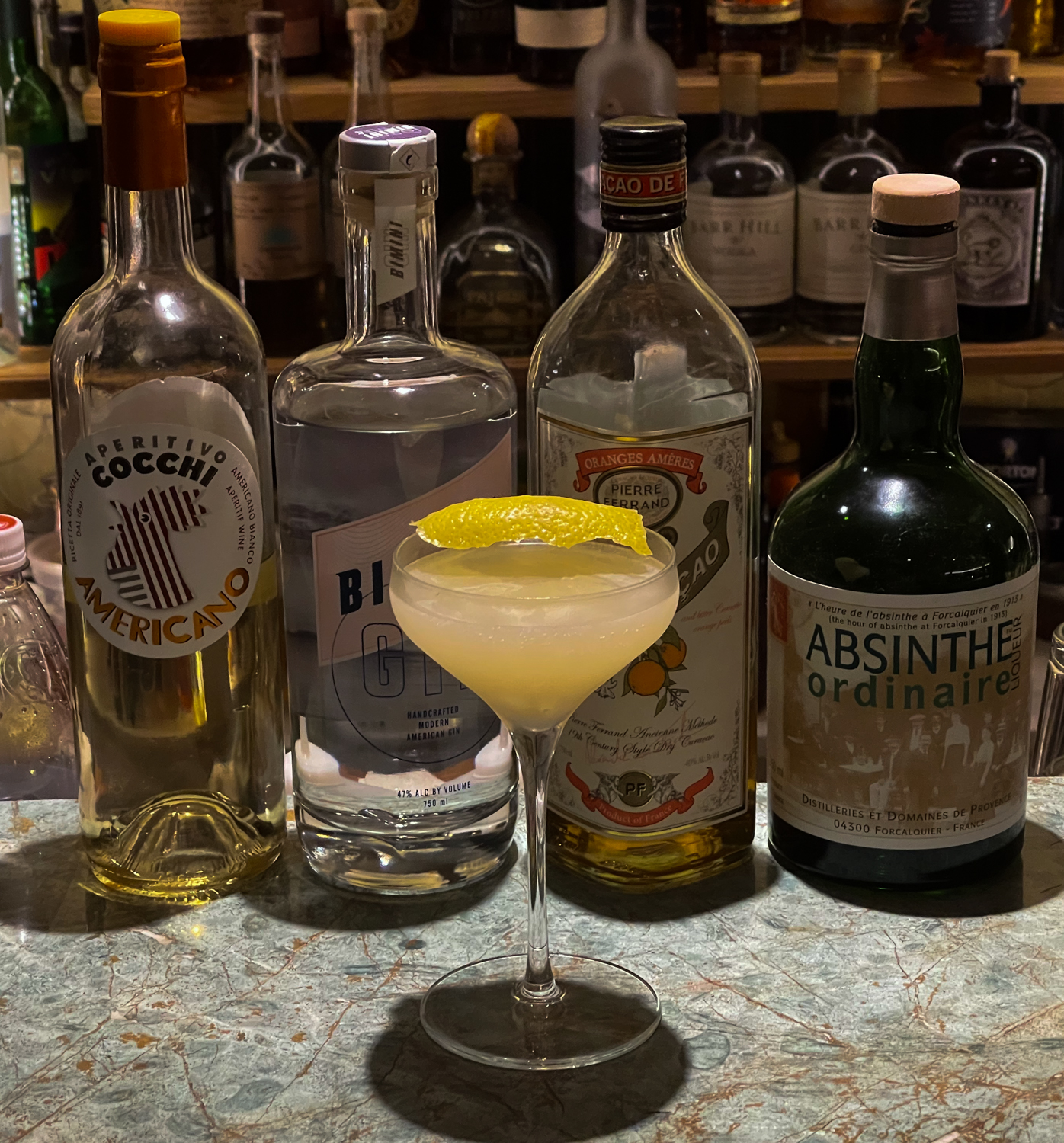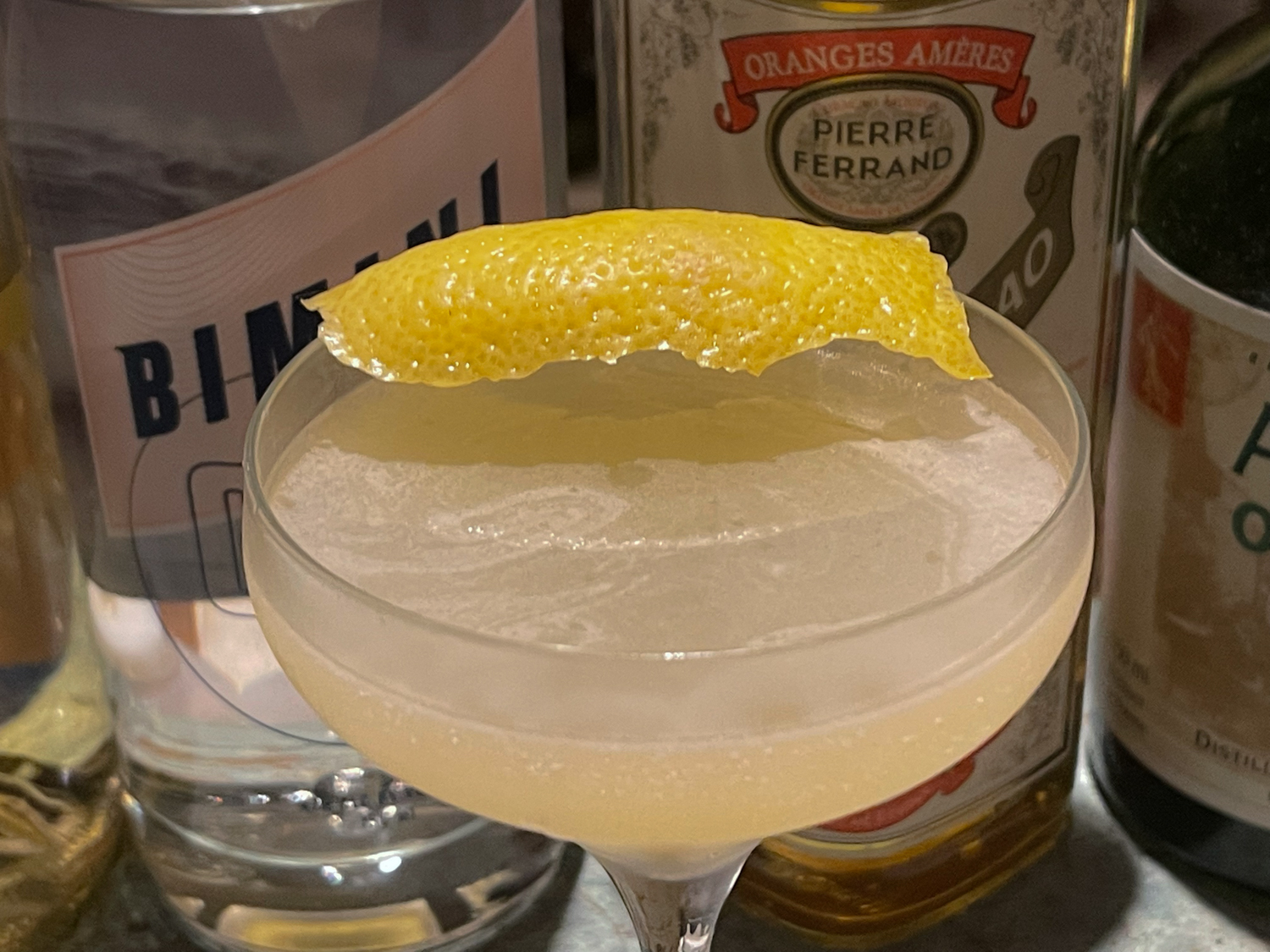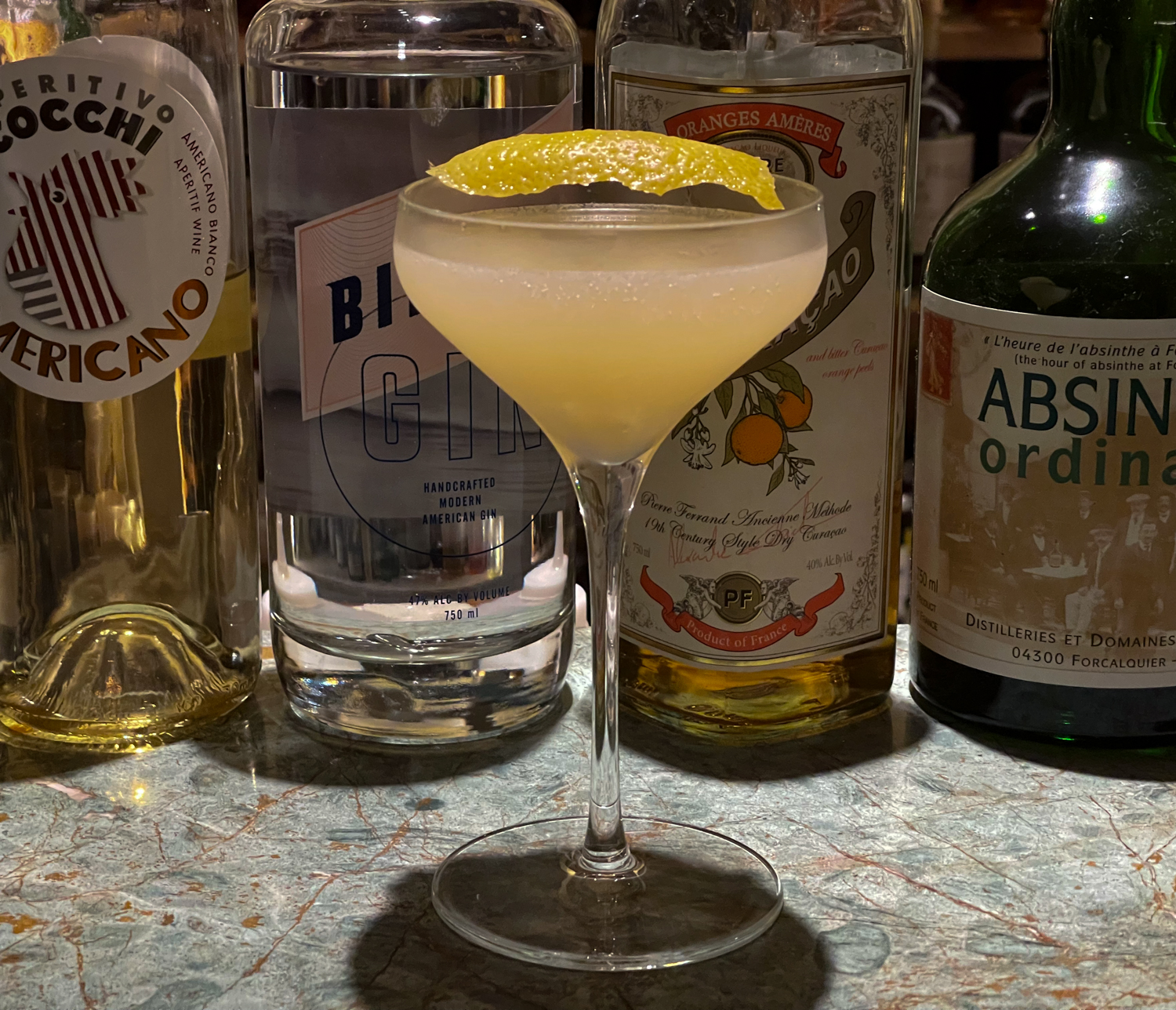 Aragosta Photos