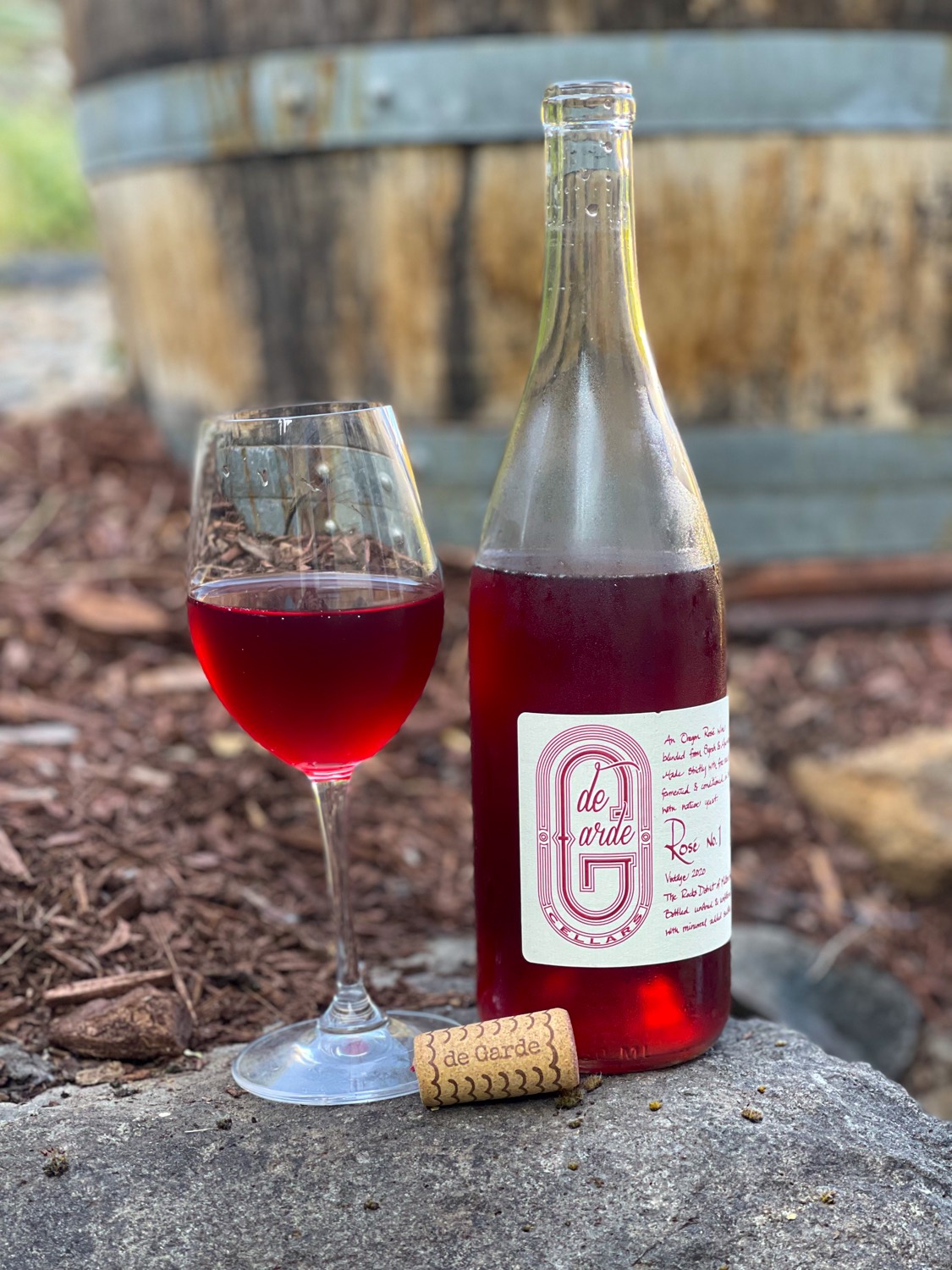 Rose No. 1 From de Garde Cellars – The Review & The 411
 Rose No. 1 – The Review
Many times, people scoff at Rose as déclassé, but that is a mistake. Rose doesn't have to be cheap, sickeningly sweet, or just a basic boring white wine cloaked in pink color for looks. Roses can have depth and interest and character – like Rose No. 1 from de Garde Cellars.
Brand new on the market, their first offering is a delight to behold and to drink. The color is not the bubble gum pink of the grocery aisles or the salmon color of southern French roses, but a light rosy red that has depth and intrigue.
When I drink this wine, I am transported back to summer trips to Spain, France, and Portugal where young and vigorous wines like this are plentiful and made for day drinking.
Spontaneous fermentation gives Rose No. 1 a slightly effervescent charm and wild quality that makes it authentically American; Bold, but not unrefined and would pair well with a European style picnic. Think charcuterie and stinky cheeses on a sunny patio at 4 pm – this wine can stand up and hold it's own.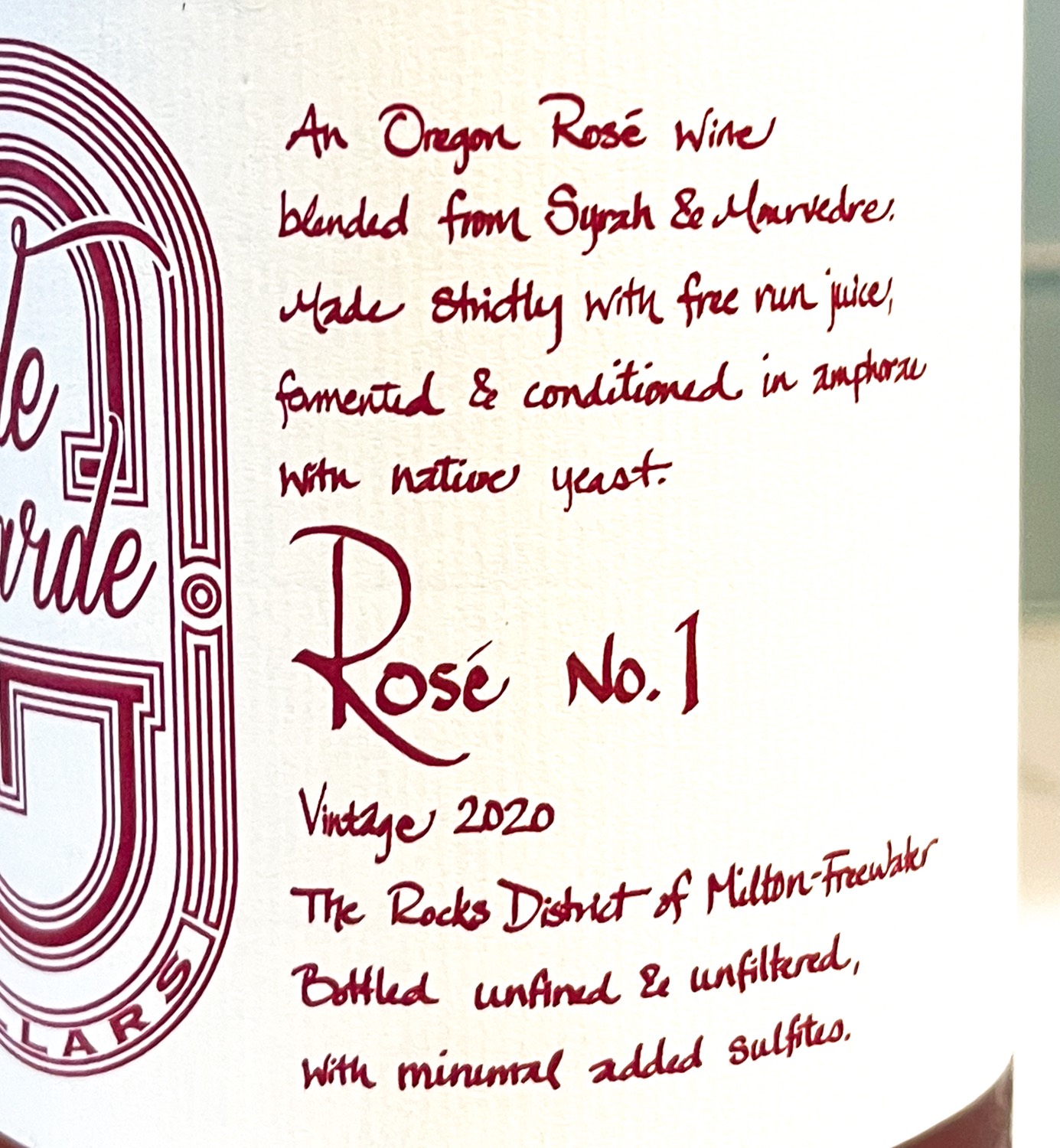 Rose No. 1 – The 411
On Thursday July 22, 2021, de Garde Cellars debuted their very first wine – Rose No. 1. 
See this link to read The Noteworthy Wine Journal article about de Garde Cellars:
de Garde Cellars – A Brand-New Winery on The Oregon Coast  https://www.culinarytreasure.com/de-garde-cellars-a-brand-new-winery-on-the-oregon-coast/
The grapes for Rose No. 1 come from the Rocks District of Milton-Freewater AVA on the Oregon side of the Washington border. The Rocks District of the Milton-Freewater AVA is a sub-appellation of the Walla Walla Valley AVA, which itself is a sub-appellation of the Columbia Valley AVA.
Rose No. 1 is only available at the de Garde Brewing taproom in Tillamook, Oregon on the Oregon Coast.
I spoke with Trevor Rogers about Rose No. 1, and it is his current opinion that this wine will be best enjoyed either right now or in the next 1 -2 years.
Trevor speculates this wine will still be very drinkable in 4 or 5 years, however it will most likely be a "different" wine in 4 or 5 years when compared to what it is right now.
Rose No. 1 Notes From the Winemaker:
"The whole grape clusters were macerated by foot in oak tanks, and the free run juice was run into amphorae. A long, natural fermentation with native yeast ensued, with further conditioning on the lees.
It presents ripe notes of strawberry and watermelon, cherries, and a hint of maraschino. It's lent a further complexity from the growing region and the amphora; pronounced aromas of freshly broken river rocks, along with subtle hints of iron and a delicate savory aspect. Soft, but bold, with enough balancing acid to keep it refreshing, though serious.
No fining, no filtration, and no added yeast, nutrient or enzyme. Minimal sulfites were added, only at bottling.
Our practices of low intervention, manual processing, and avoidance of additives would likely resonate with those in a firmly natural camp. Really though, we're just trying to make the best wine possible."
See this link to read the Noteworthy Wine Journal article about de Garde Cellars:
de Garde Cellars – A Brand-New Winery on The Oregon Coast  https://www.culinarytreasure.com/de-garde-cellars-a-brand-new-winery-on-the-oregon-coast/