Go Take a Private Vineyard Hike in Oregon Wine Country – Knudsen Vineyards Dundee, Oregon
High atop the Dundee Hills, Knudsen Vineyards, one of Oregon's premiere wine growers, planted a seed that would bear fruit long into the future. Situated on a 200-acre plot of land, the Knudsen family planted some of the earliest Pinot noir and Chardonnay vines in the area, and in 1975, with 55 acres planted, they'd become the largest vineyard in the Willamette Valley.
Now planted to 75 acres (125 acres total planted including their adjacent vineyard), guests can explore this picturesque site with a private vineyard hike, wine tasting, and luncheon guided second-generation owner and founding partner Page Knudsen Cowles. Guests can choose which portion of the property they want to see as well as the intensity of their stroll. The more leisurely path through the Chardonnay block will take hikers on a 1.5-mile excursion, followed by wine tasting and a snack. Or, opt for the "Positively Pinot" experience featuring a vigorous one-mile hike through 50-year-old Pinot noir plantings, followed by wine tasting and lunch.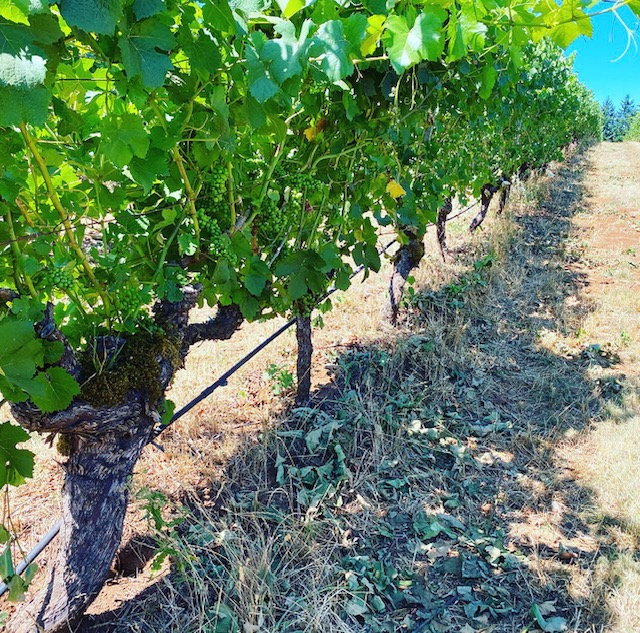 Some interesting facts visitors might find discover along the way (spoiler alert!):
There are 229,000 individual vines on the property.
They have one of the oldest blocks of French Dijon clone Chardonnay in the New World.
A human being touches each vine a total of 17 times during each growing season. Which is truly astonishing when one considers the first point here, that there are 229,000 vines.
Knudsen was one of the first to irrigate their vines in the Willamette Valley. And while dry farming has its merit, the irrigation is proving to be valuable insurance in this time of global warming and a changing climate.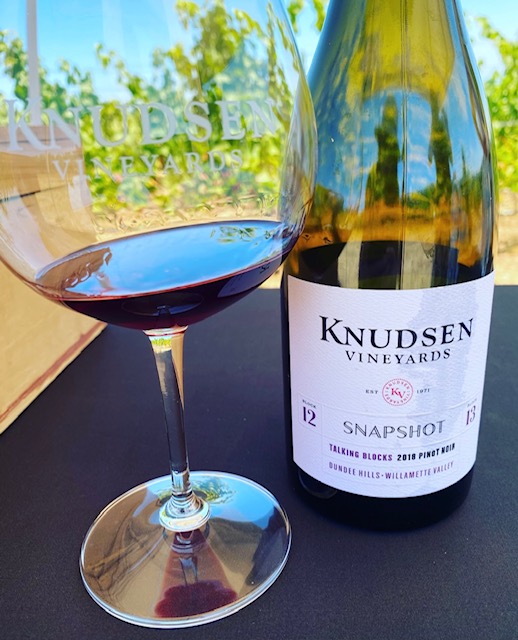 Aside from the expansive Valley views afforded guests from the top of the hike, at 1,000 feet elevation, Page strategically stops along the way for hikers to enjoy the wines from that specific area of the vineyard. Visitors might get to experience the Snapshot Pinot Noir, which is part of their Talking Blocks series of wines, wines that provide a snapshot of both time and place. This bottle looks through the eyes of Blocks 12 and 13, among the largest and youngest on the estate. 2018 was a roller coaster of a season: a mild spring and hot, dry summer eased into cooler August and September days. The rich, red clay volcanic Jory soil held moisture and slowed ripening to produce consistently high-quality fruit. The spicy and edgy Pinot noir is full of red fruit and beautifully expresses its distinctive influences.
Knudsen is a centerpiece in the history of the Willamette Valley, providing Pinot noir and Chardonnay to Argyle, Erath, and others for decades. They're celebrating its 50th anniversary in the Dundee Hills this year. Dick Erath, an early partner lived on the property for years and actually had the first bonded Oregon winery in that location. The Knudsen family remodeled the old home, converted it into a tasting room, now called The Outlook, which opened up to guests in 2020. So, if a hike through old vines with stellar views along the way isn't of interest to you, you can still relax and enjoy a wine flight on their deck.
Make your reservation for the vineyard guided hike or Outlook tasting experience here. Feel free to bring your own picnic to enjoy on their deck and stick around, there's often live music, and pets are allowed with advance notice.
Address
Knudsen Vineyards is located at 9419 NE Worden Hill Rd, Dundee, OR 97115
Follow Knudsen Vineyards
Website – https://knudsenvineyards.com/
Instagram – https://www.instagram.com/knudsenvineyards/
Facebook – https://www.facebook.com/knudsenvineyards/
Follow Tamara Belgard
Website – http://www.satiatepdx.com/
Instagram – https://www.instagram.com/tamarabelgard/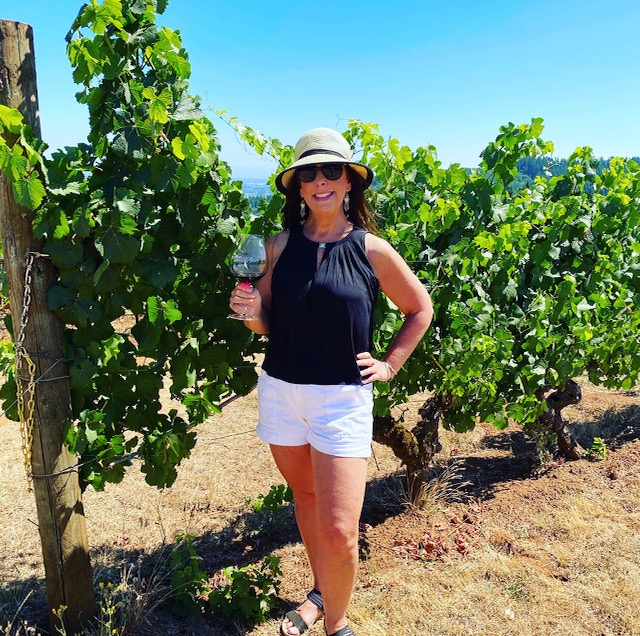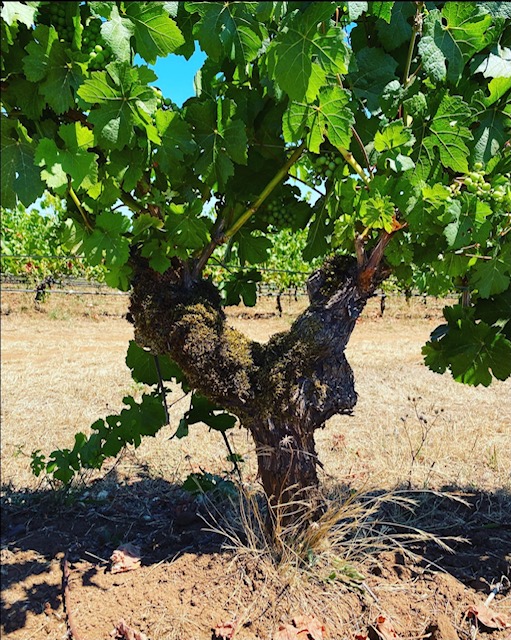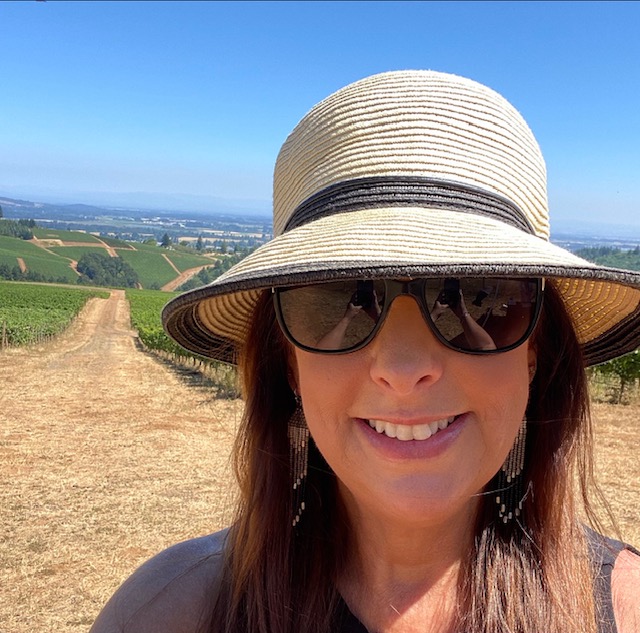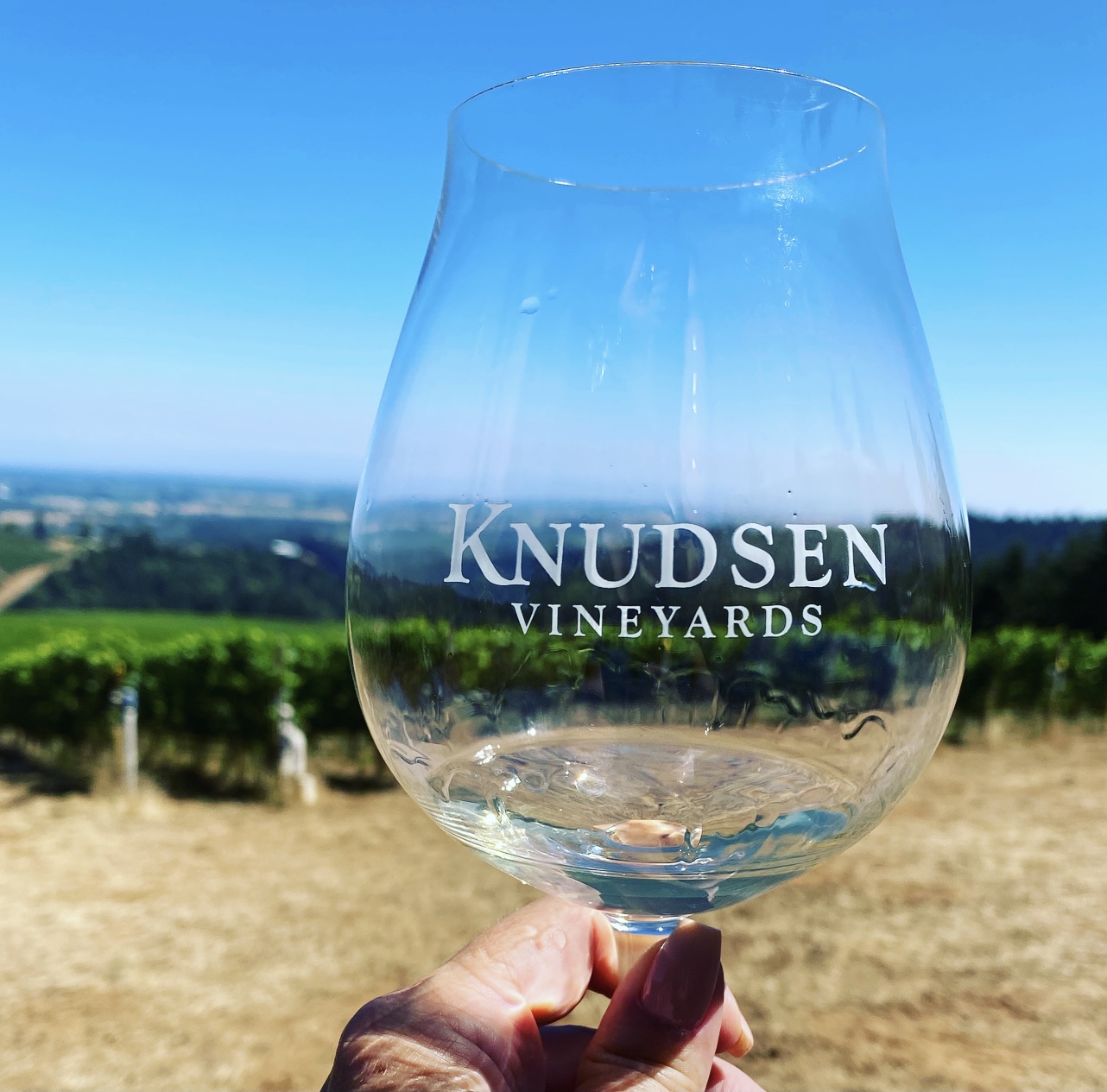 The Noteworthy Wine Journal  Celebrating Wine, Wineries, Winemakers, & More
Follow The Noteworthy Wine Journal
Webpage – https://www.culinarytreasure.com/noteworthy-wine-journal/
Please Note: For now, Noteworthy Wine Journal articles are posted to the This is Culinary Treasure website.
Facebook – https://www.facebook.com/NoteworthyWineJournal/
Instagram – https://www.instagram.com/noteworthywinejournal/
The Noteworthy Wine Journal is brought to you by the Culinary Treasure Network