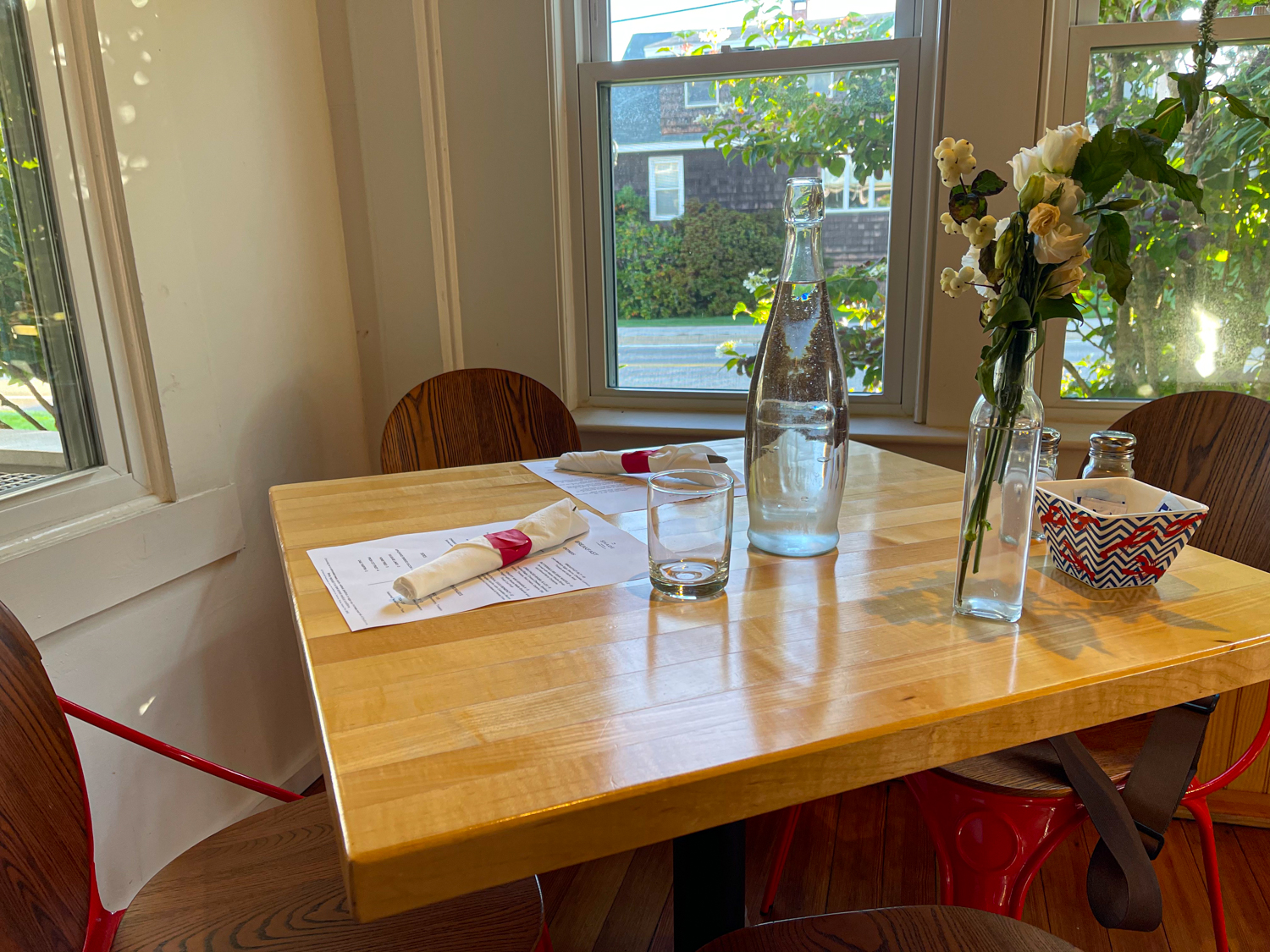 Breakfast at Shade: The Eatery at Higgins Beach Inn Portland, Maine – A Magnificent Meal!
In the fall of 2021, I took an 11-day work trip to the great state of Maine for the Culinary Treasure Network. I flew from the Portland International Airport in Portland, Oregon to the Portland International Jetport in Portland, Maine. It was very late on a Monday night, and we stayed at the Higgins Beach Inn.
For more info about my stay at Higgins Beach Inn go to my This is Travel Treasure article here – Higgins Beach Inn Portland, Maine – A Great Place to Stay! – https://www.thisistraveltreasure.com/higgins-beach-inn-portland-maine-a-great-place-to-stay/
Tuesday morning our schedule called for us to have breakfast at Shade: The Eatery at Higgins Beach Inn and then to have breakfast at Ruski's Tavern. I know – having breakfast followed up immediately by another breakfast is a very Hobbit like thing to do. What can I say – I love breakfast!
Breakfast at Shade
Let's get back to the stellar breakfast I had at Shade. Molly was my fantastic server. Molly was very helpful! She knew the menu very well. I ordered the French Toast, a Side of Bacon, and the Corned Beef Hash.
The French toast was as good at looks in the photos below. Ordering a side of bacon is something I often do. What can I say I love bacon. Also, I have found that doing that you will tell a lot about how breakfast good will be from how good your side of bacon is. And Yes! Many times, I have had very sad sides of bacon. this time, here at Shade, my bacon was perfectly cooked.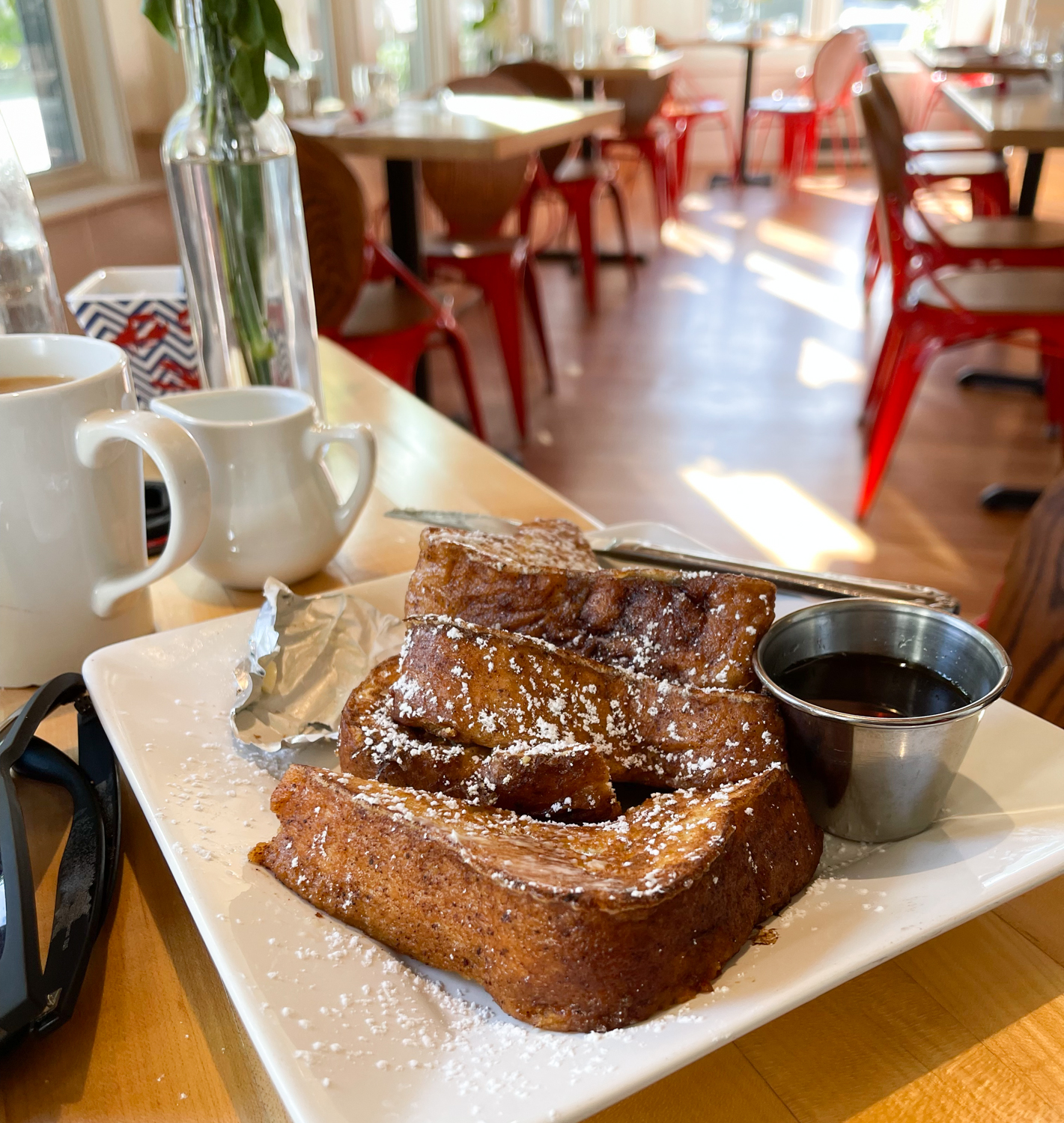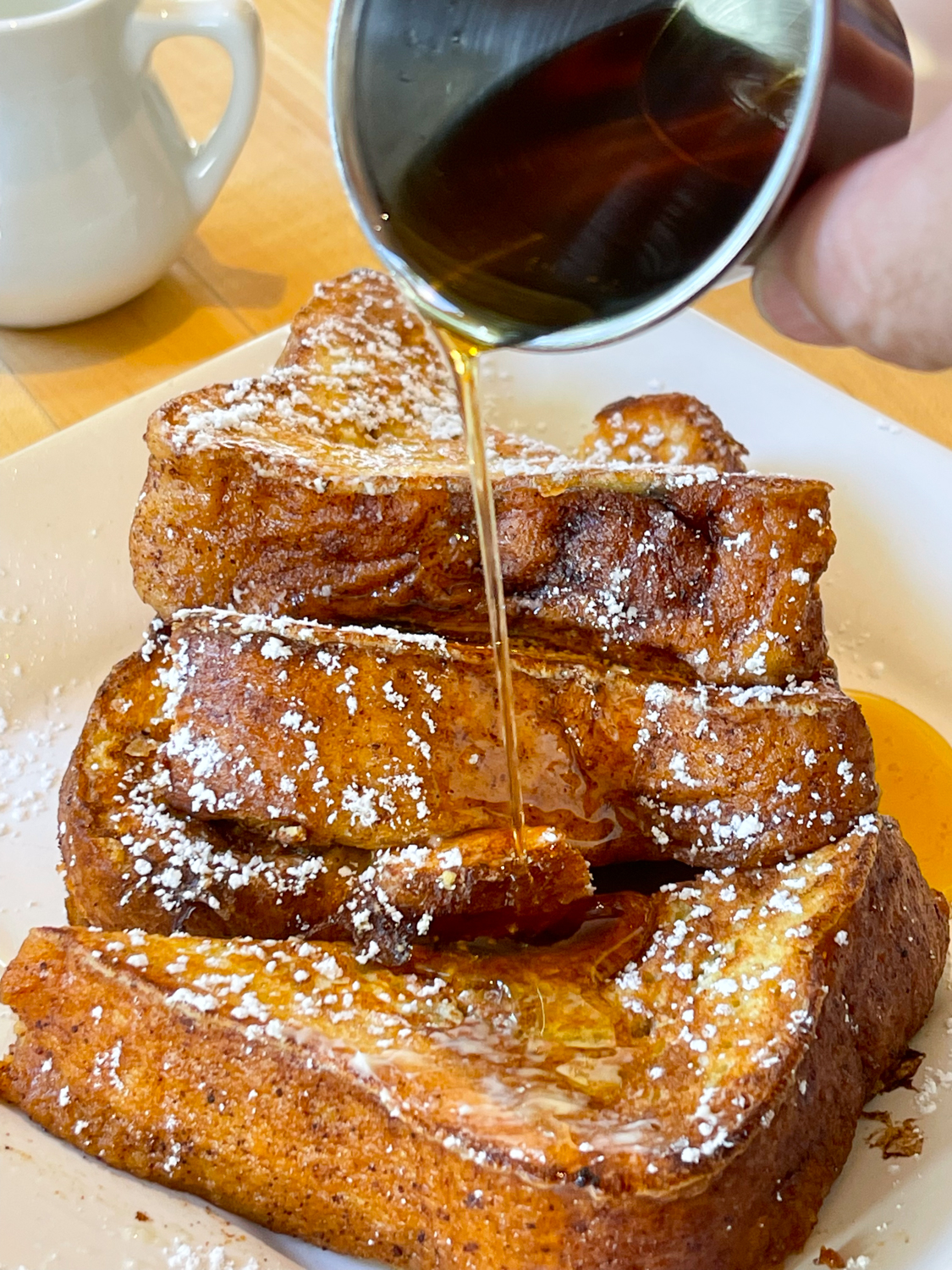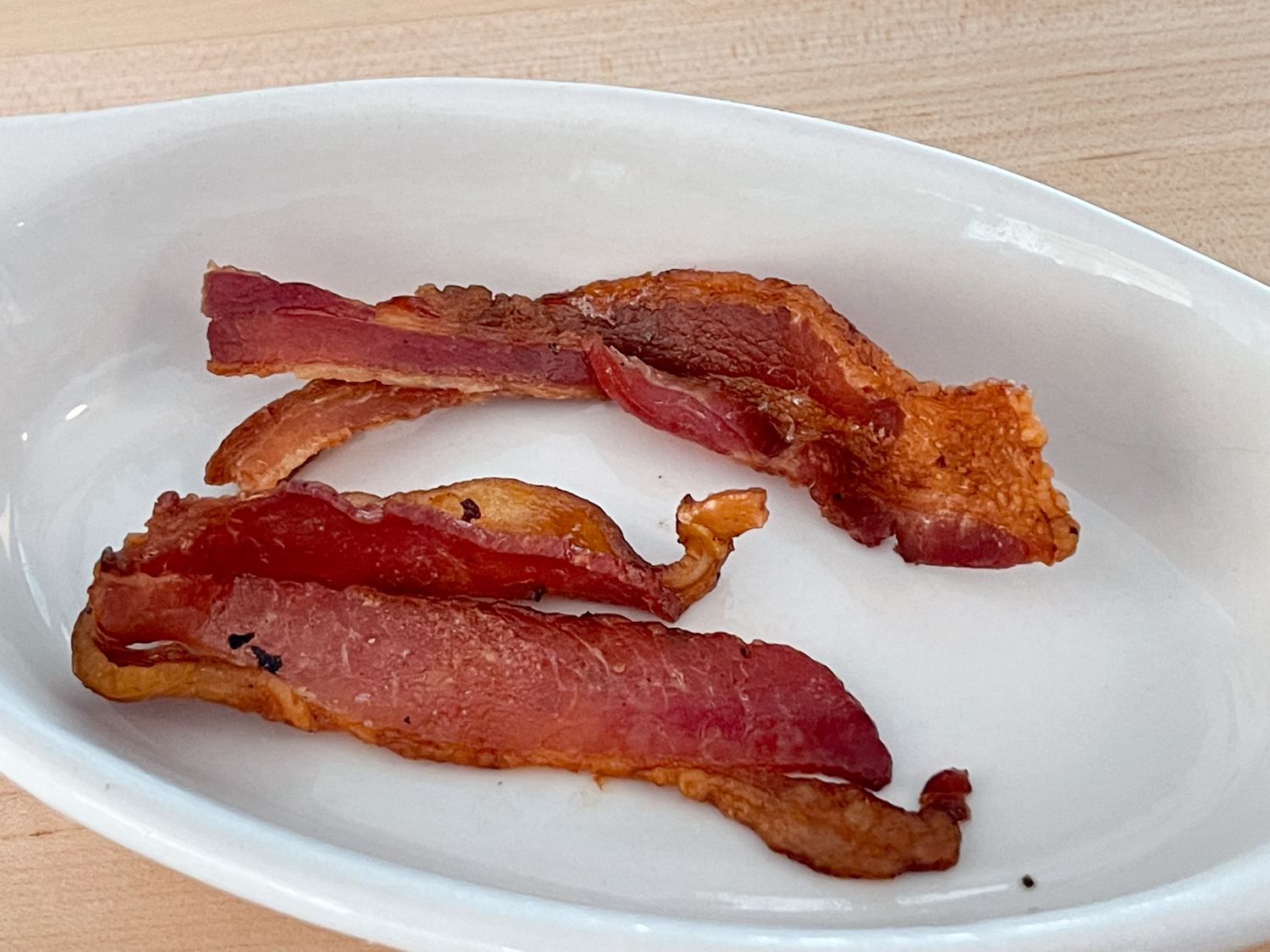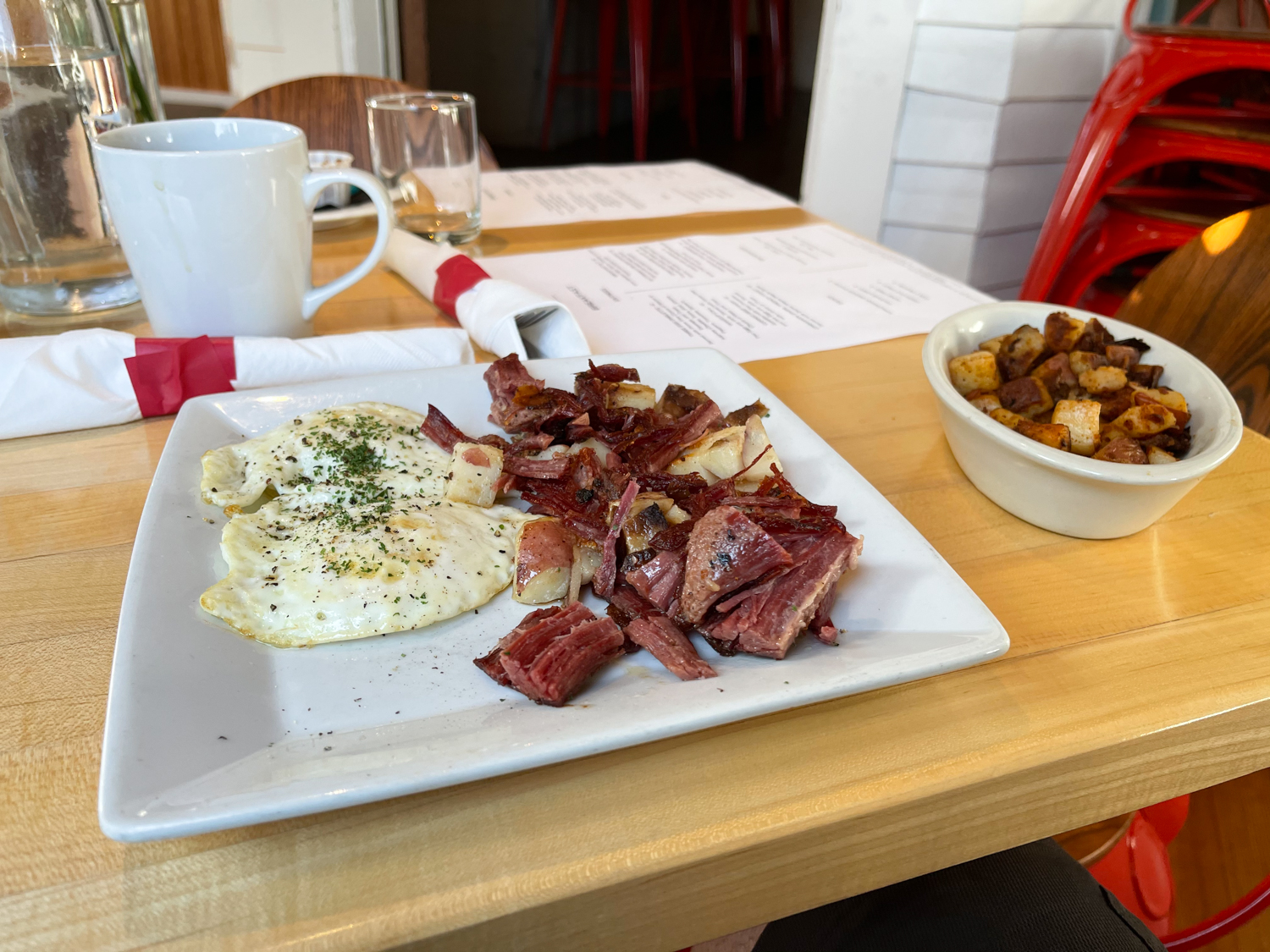 The Corned Beef Hash Blew My Mind! 
So far so good – French Toast – Yep! Side of Bacon – Yep! I would order both of them again in a heartbeat. That brings us to the Corned Beef Hash. Damn! This dish blew my mind.
The Corned Beef Hash dish came with two eggs, griddled red potatoes, toast and the corned beef hash itself.
The eggs were good, the griddled red potatoes were good. The corned beef hash – GOODNESS! Some of the best I have ever had! It was so good I asked if it was possible to talk briefly with the chef. Chef Kyle had a few minutes, and he graciously came out to my table.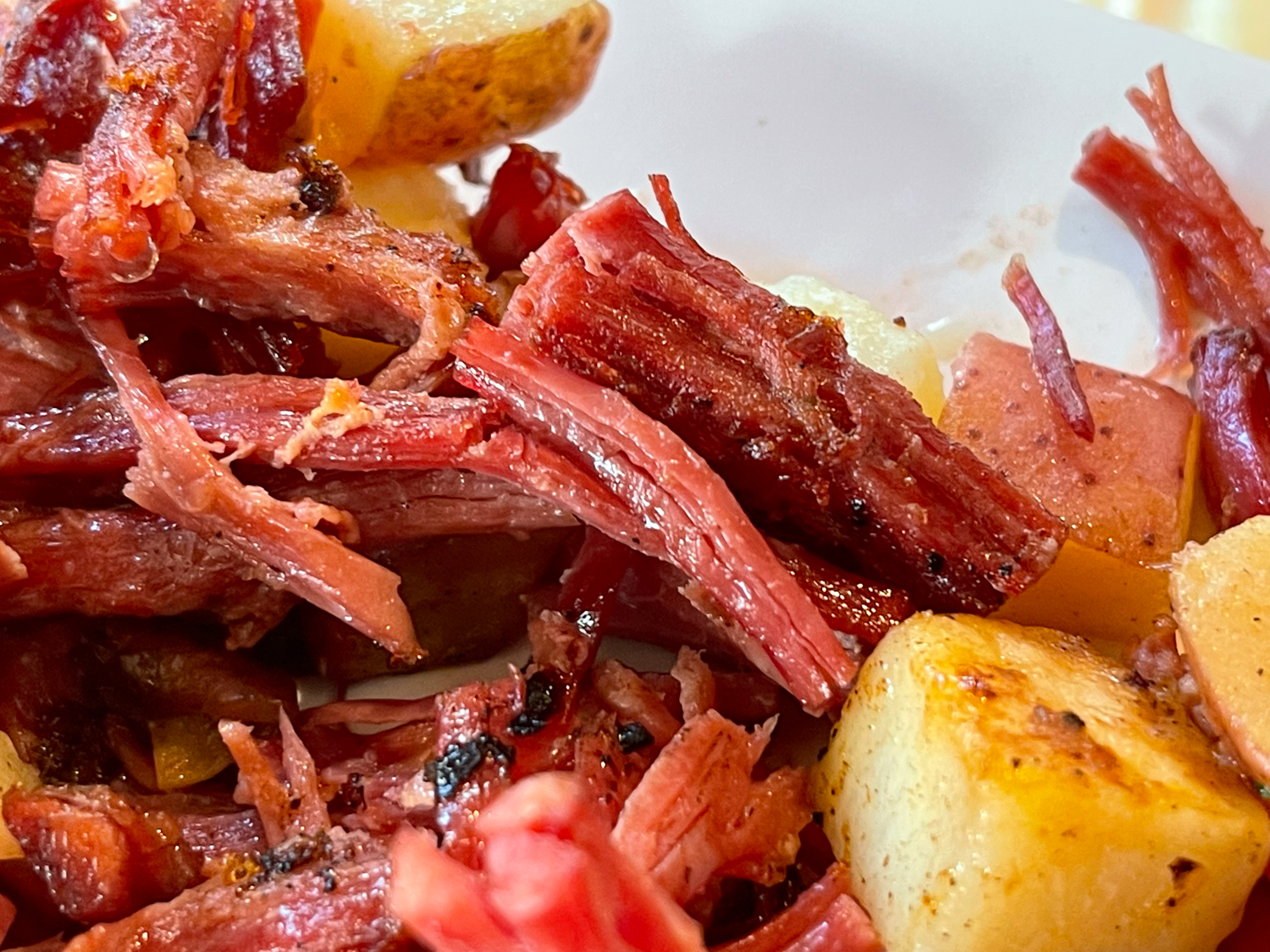 Chef Kyle went on to explain that the corn beef hash is made in-house right there at Shade. I eat professionally and I know that I really enjoyed a dish when my mind hearkens back to it. I often find myself thinking about this corned beef hash.
The good news is the that the corned beef hash is still on the menu! (the 2022 Shade breakfast menu photo is below)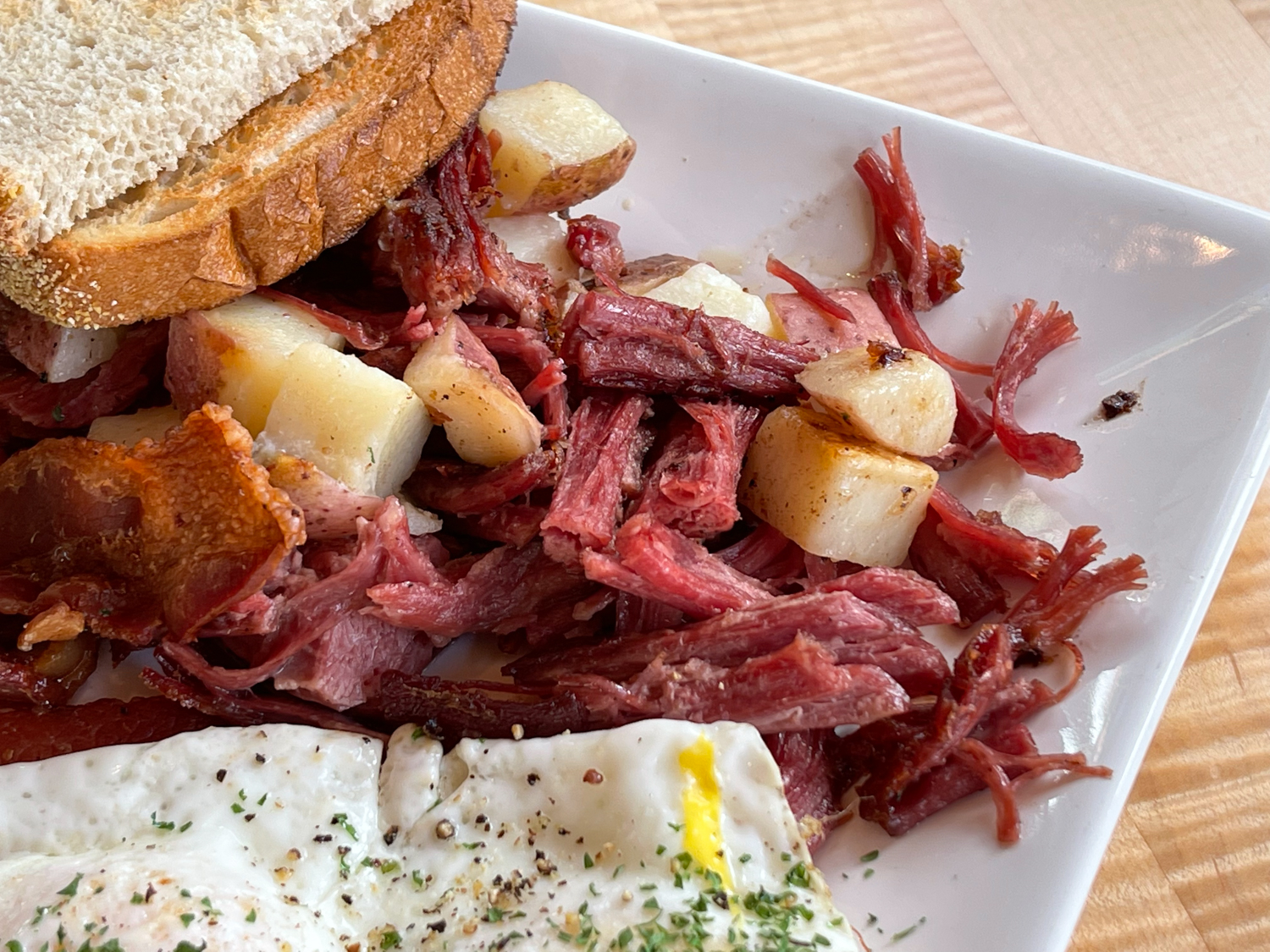 Get Yourself To Shade
I had spent the night at Higgins Beach Inn, however whether you are staying there or not you can eat at Shade.
Shade: The Eatery is about 16 minutes from the airport and the address is 34 Ocean Ave, Scarborough, ME 04074
Please Note: Shade: The Eatery is open the summer season from May to roughly the 3rd week in October.
Sadly my schedule had me leaving right after breakfast – I had to hit up Ruski's Tavern and Bow Street Beverage in Portland before heading north to Aragosta on Deer Isle. The dining opportunities at Higgins Beach Inn made me wish that we were staying another night.
I would have loved to have had lunch at the Shade Shack (2022 Shade Shack menu photo is below), and dinner at Shade looks simply scrumptious.
The small bar at Shade in very inviting and I certain that many joyous conversations have happen there over a cocktail. The first cocktail I would order would be the Gin Fix made with Maine's own Bimini Gin. After that the 1897 Old Fashioned is calling my name. (2022 Shade cocktail menu photo is below)
The wine list includes a number of biodynamic wines including Oregon's own Ovum Big Salt. For those who don't know here is a link to a Wine Folly article with info about these kind of wines – https://winefolly.com/deep-dive/biodynamic-wine-guide/ (2022 Shade wine menu photo is below)
When I look at the Shade dinner menu I want the oysters, the caviar, the baby gem Caesar, the whipped feta, the seafood croquettes, the creamy peppercorn pasta, and the steak frites! (2022 Shade dinner menu photo is below).
My advice – whether it is time for breakfast, lunch, or dinner  – if you are anywhere near the Portland metro area get yourself to Shade: The Eatery
Below you will find info about following both Shade and Chef Kyle and below that are a number of photos from my visit to Shade.
Cheers,
Steven Shomler
#GoHaveMagnificentMeals  #ShadeTheEatery #ThisIsCulinaryTreasure
Follow Chef Kyle Bauschat
Instagram https://www.instagram.com/kyle_bauschat/
Visit Shade: The Eatery at Higgins Beach Inn
34 Ocean Ave, Scarborough, ME 04074
Follow Shade: The Eatery at Higgins Beach Inn
Website https://www.higginsbeachinn.com/dining/
Facebook https://www.facebook.com/shadeeatery
 Instagram https://www.instagram.com/shadehigginsbeach/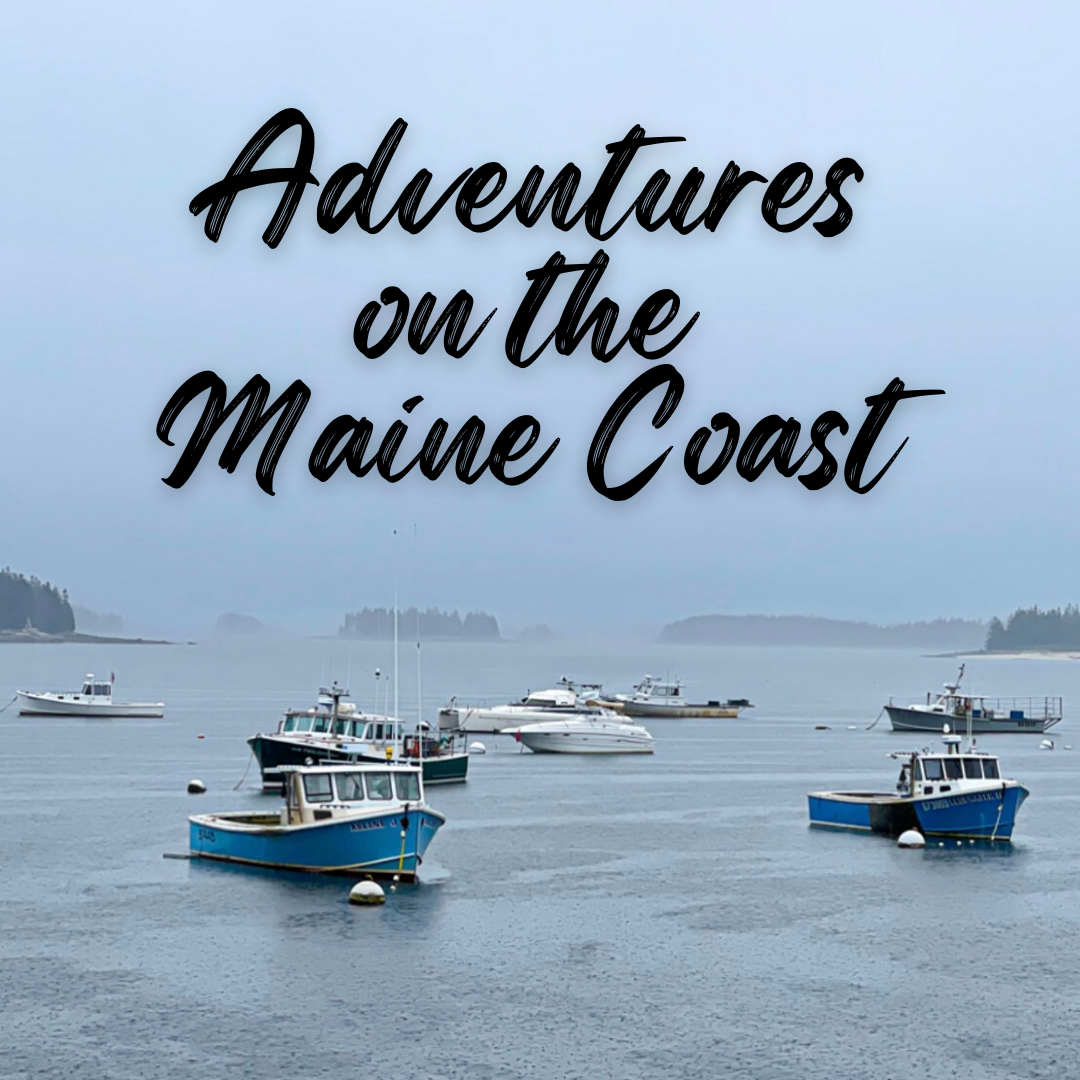 Adventures On the Maine Coast
To see all of the Culinary Treasure Network's Maine Coast content – Podcasts, Shows as well as This is Travel Treasure articles, and This is Culinary Treasure articles go to
www.AdventuresOnTheMaineCoast.com
Below Are More Than 40 More Photos From My Visit to Shade: The Eatery at Higgins Beach Inn