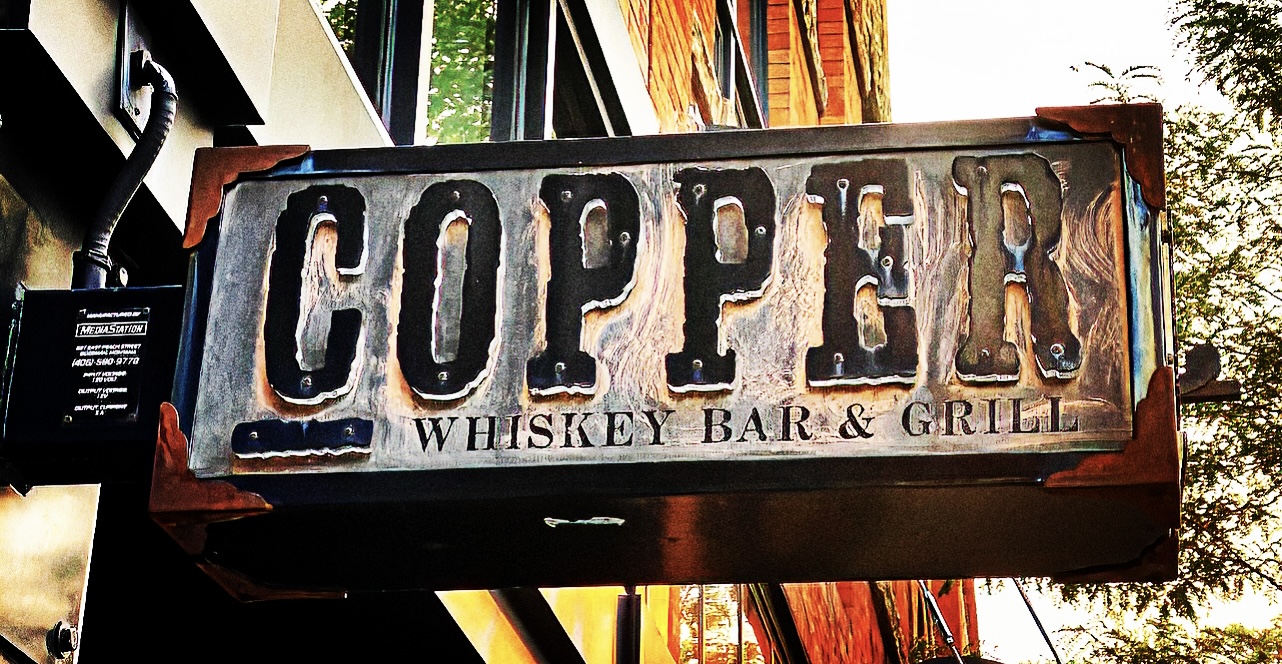 A Magnificent Meal at Copper Whiskey Bar & Grill Bozeman, Montana
Goodness! I am blessed to have the opportunity to enjoy some pretty damn fine meals. The best meals that I get to devour end up becoming This is Culinary Treasure A Magnificent Meal articles.
The dinner I had last fall at Copper Whiskey Bar & Grill Bozeman was one of those magnificent meals.
Copper Whiskey Bar & Grill is a fantastic place to have a cocktail, they have an amazing whiskey list, and the steaks at Copper are phenomenal!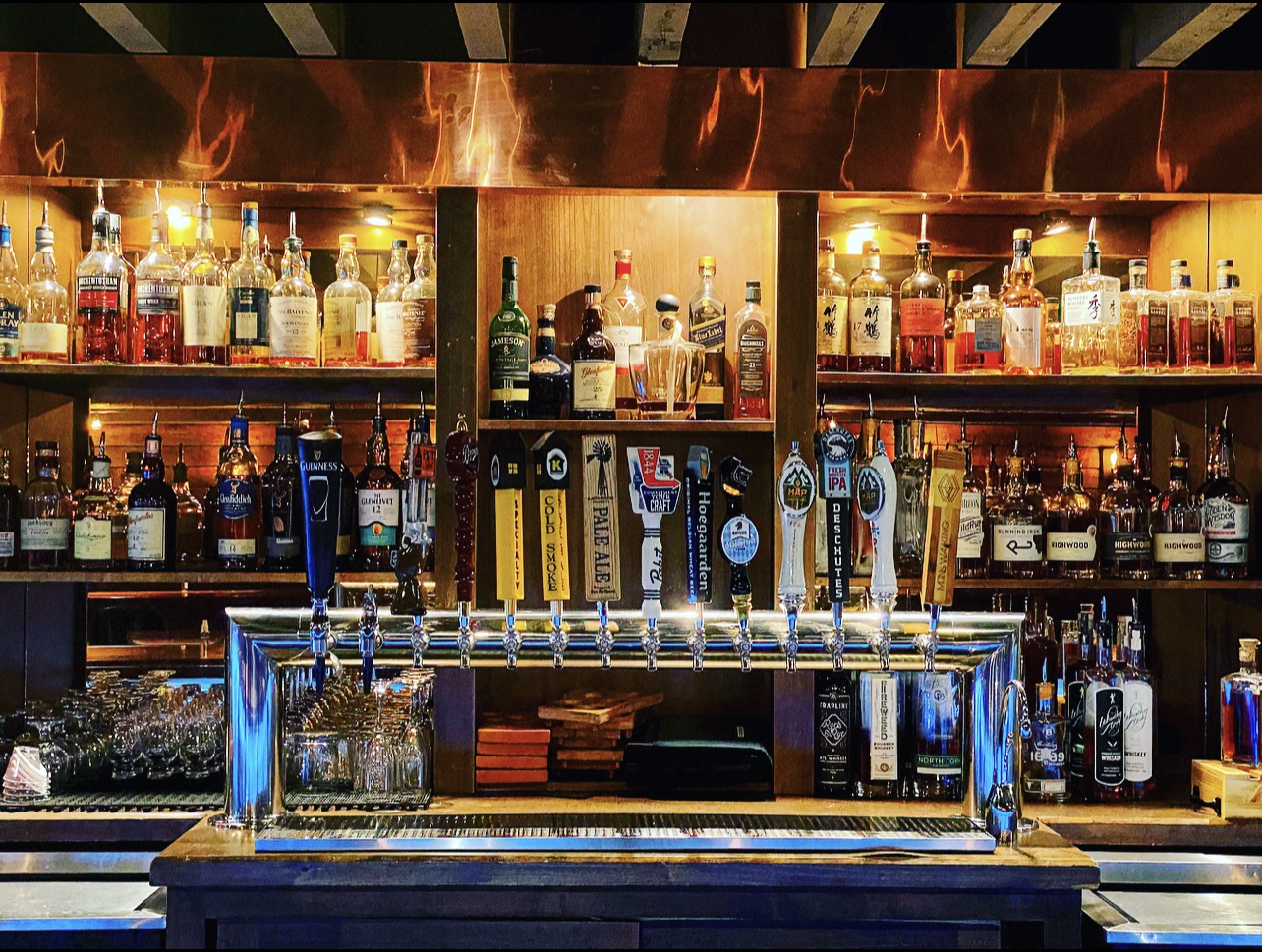 Appetizers and a Cocktail
The night I was there I started my evening off with a cocktail – the Dear Ol' Dad – Eagle Rare bourbon, sugar, bitters, orange twist, big ice.
I paired my cocktail with not one but two appetizers – the pretzel bites, and the fried pickles.
Why two appetizers? Because the pretzel bites were highly recommended, and I love fried pickles!
The pretzel bites are handmade in house, and they are served with a terrific jalapeño beer cheese. Seriously these pretzel bites are effing incredible. When you go to Copper Whiskey Bar & Grill make sure that you get yourself an order of them. You will be so grateful that you did.
The fried pickles plate arrives with both pickle chips and pickle spears on it. If you like pickles – don't hesitate to order this dish.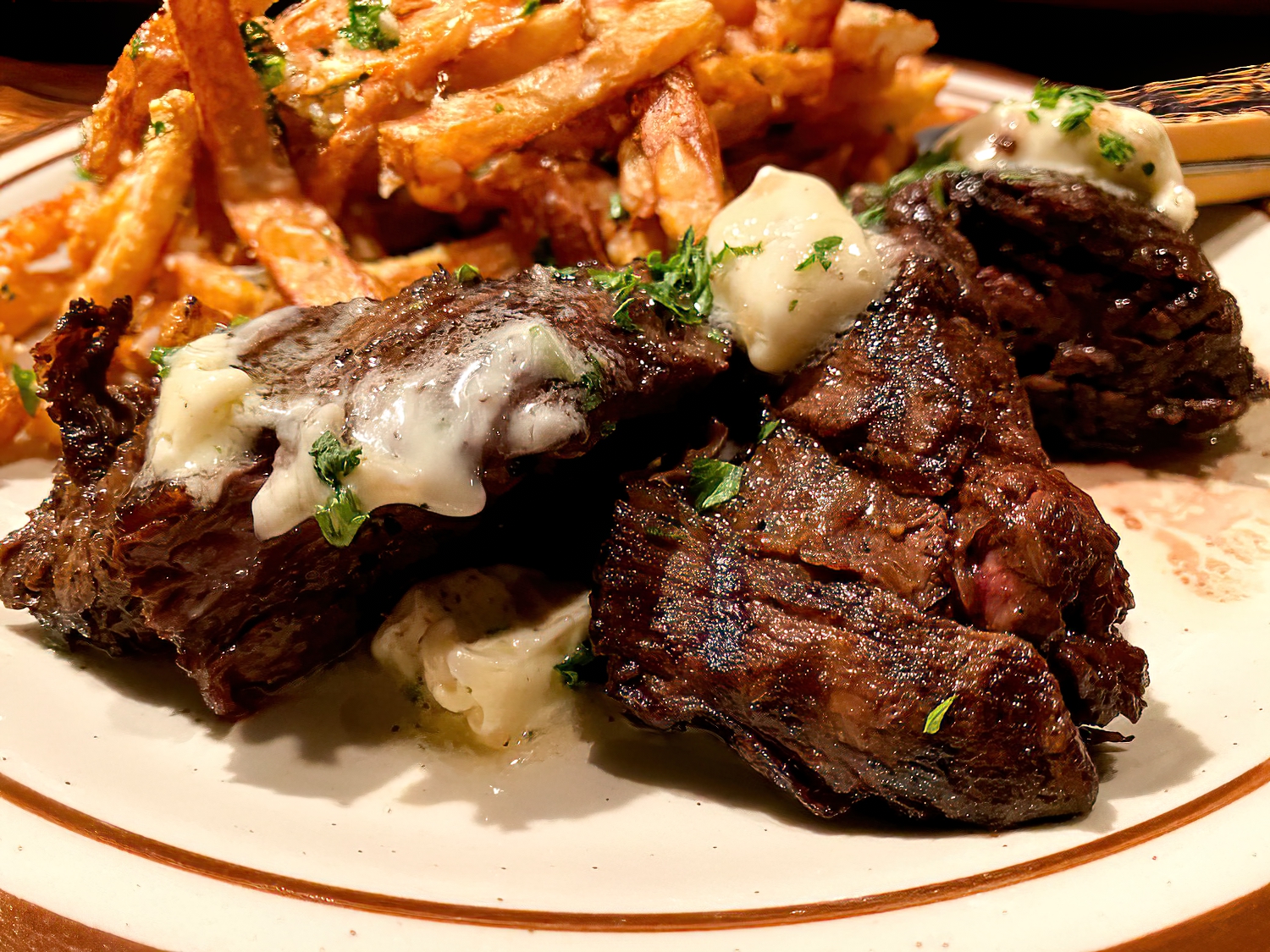 Two Stellar Entrees 
For my entrée I ended up having both the Ribeye and the Steak Frites. Yes, that's two entrees, but hey I am a highly trained professional.
I LOVE a good ribeye and the ribeye that Chef John Wallace serves up at Copper is everything that you want in a ribeye. I had my ribeye topped with sautéed mushrooms. I do love mushrooms.
About the Steak and Frites – I was blown away by how good this dish was! The steak was a marinated hanger steak and WOW! I still think about that steak.
I can't wait to get back to Bozeman, head over to Copper and order myself another plate of Steak and Frites. Not only was the steak outstanding, the fries were perfectly cooked.
I was pleasantly surprised with how incredibly good the wine by the glass offering were at Copper. I had a glass of a French malbec that I really, really enjoyed.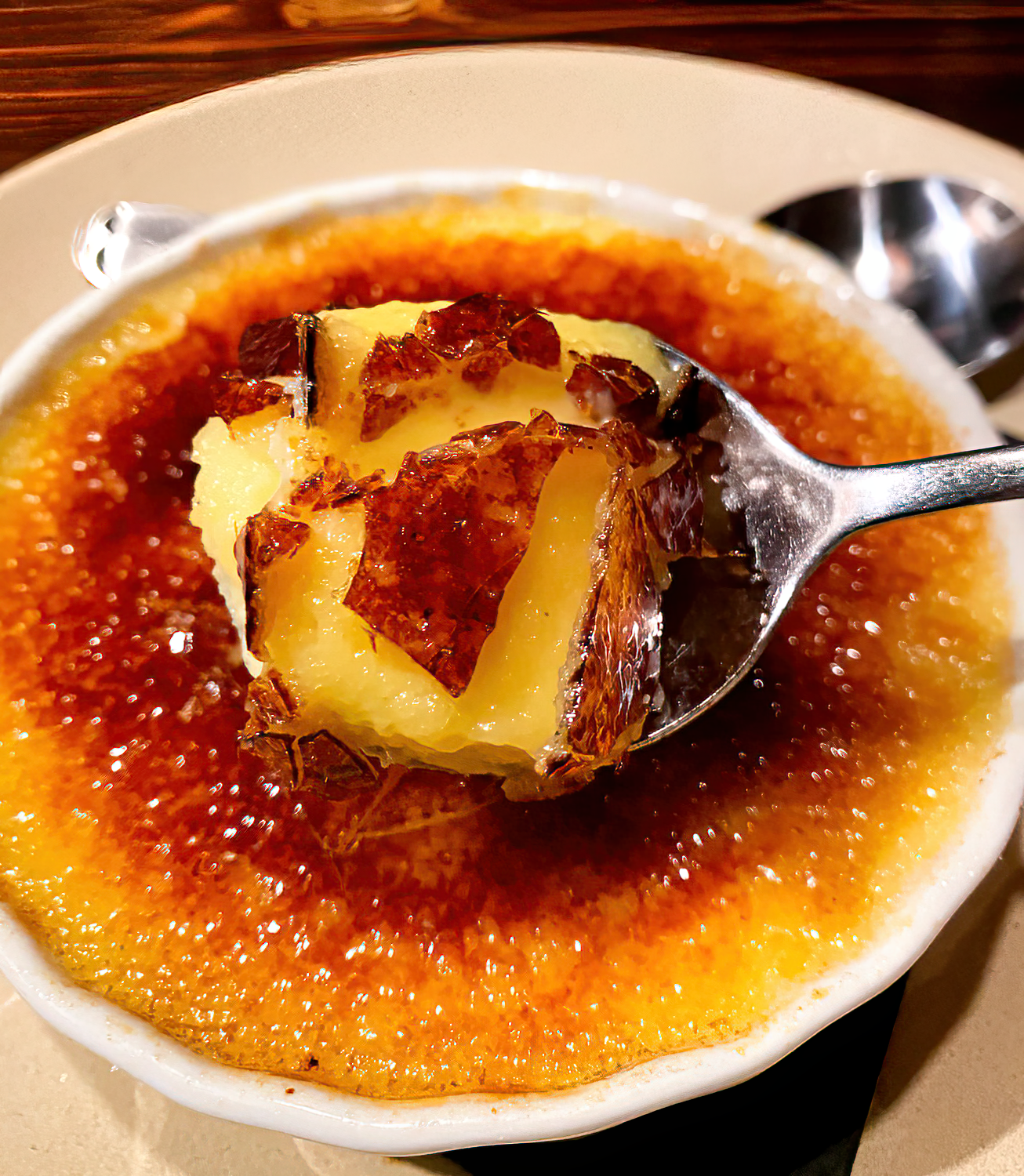 Dessert!
For dessert I had the Copper Old Fashioned and the vanilla bean crème brûlée.
The Copper Old Fashioned features Bulleit Rye, sugar, bitters, cherry, and orange. My two favorite cocktails are a Gin Martini and an Old Fashioned. I am pretty picky about both of those cocktails and my standard are very high.
The Copper Old Fashioned exceeded my standards and it was very well made.
The crème brûlée – Oh Baby! – my only regret is that I didn't order two of them.
Had I done that I would have enjoyed my second helping of crème brûlée with a shot of either Blanton's Single Barrel bourbon, or a shot of Nikka Coffey Grain whisky.Mamny
Many thanks to Miranda Elise Bond – Miranda was my server and she was both delightful and very knowledgeable.
Get yourself to Copper Whiskey Bar & Grill and have yourself a wonderful meal!
Below are links to the Copper website and social media accounts.
Below my signature is more than 30 photos from my visit to Copper Whiskey Bar & Grill.
Lastly when you visit the Copper Whiskey Bar & Grill sure to order the pretzel bites and thank me later!
Follow Copper Whiskey Bar & Grill
Website https://coppermontana.com/bozeman
Facebook https://www.facebook.com/CopperWhiskeyBarGrill
Instagram  https://www.instagram.com/copperwhiskey/
Address
Copper Whiskey Bar & Grill is located at 101 E. Main St Bozeman, MT 59715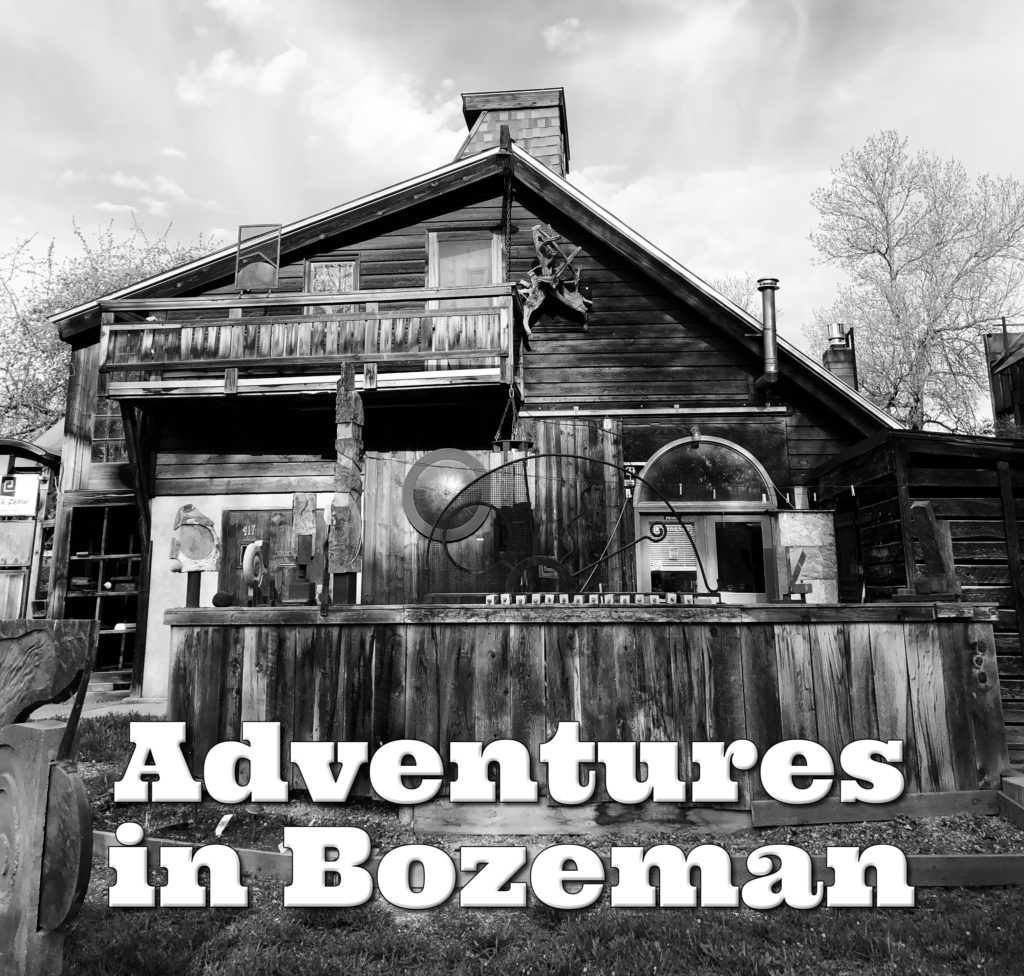 Adventures in Bozeman
To see all of my Bozeman centric content – Culinary Podcasts, Craft Beer Podcasts, as well as Travel articles, and This is Culinary Treasure articles go to www.AdventuresInBozeman.com
Cheers,
This is Culinary Treasure – Discovering and Celebrating Culinary Treasure You Will Love
#GoHaveMagnificentMeals