San Diego's Chicken Pie Shop ~ Chicken Pot Pie Hits the Comfort Spot Like Nobody's Business
I confess, I have a thing for chicken pot pie, ergo, this will be a heavily biased article.
I grew up in a healthy eating house with nary a processed meal in sight. For instance, my dad was partial to raw oats mixed with yogurt for breakfast, but I disliked breakfast food, so I was indulged toasted cheese sandwiches in the morning. But with real cheese, the kind you have to cut, not the tasty plastic wrapped slices.
I got bell peppers and apples in my lunch while everyone else had fruit pies and Snack Pack pudding cans. Fresh iceberg lettuce salad with cherry tomatoes and Catalina dressing or canned vegetables accompanied homemade proteins for every dinner. In short, nothing good to eat.
Discovering Chicken Pot Pie – The Joy of Salty Comfort in a Buttery Crust
My eyes were opened when I went to stay at my aunt's house. She was a working mom and took as much help as she could get in meal prep. At her place I discovered the wonderful world of convenience foods: All kinds of sugary cereals, Doritos, Hostess treats, TV dinners and the holiest of holies – the frozen chicken pot pie. Where had this delight been all my life? Salty comfort in a buttery crust with minimal annoying vegetables taking up space. Heaven.
After my last lost weekend spent in the loving arms of trashy food at Aunt Mary's, I pretty much reverted back to healthy whole foods. With occasional slides into Velveeta nachos or boxed mac and cheese territory, but for the most part, straight and narrow. No chicken pot pies for many years. Not sure why, just didn't have them.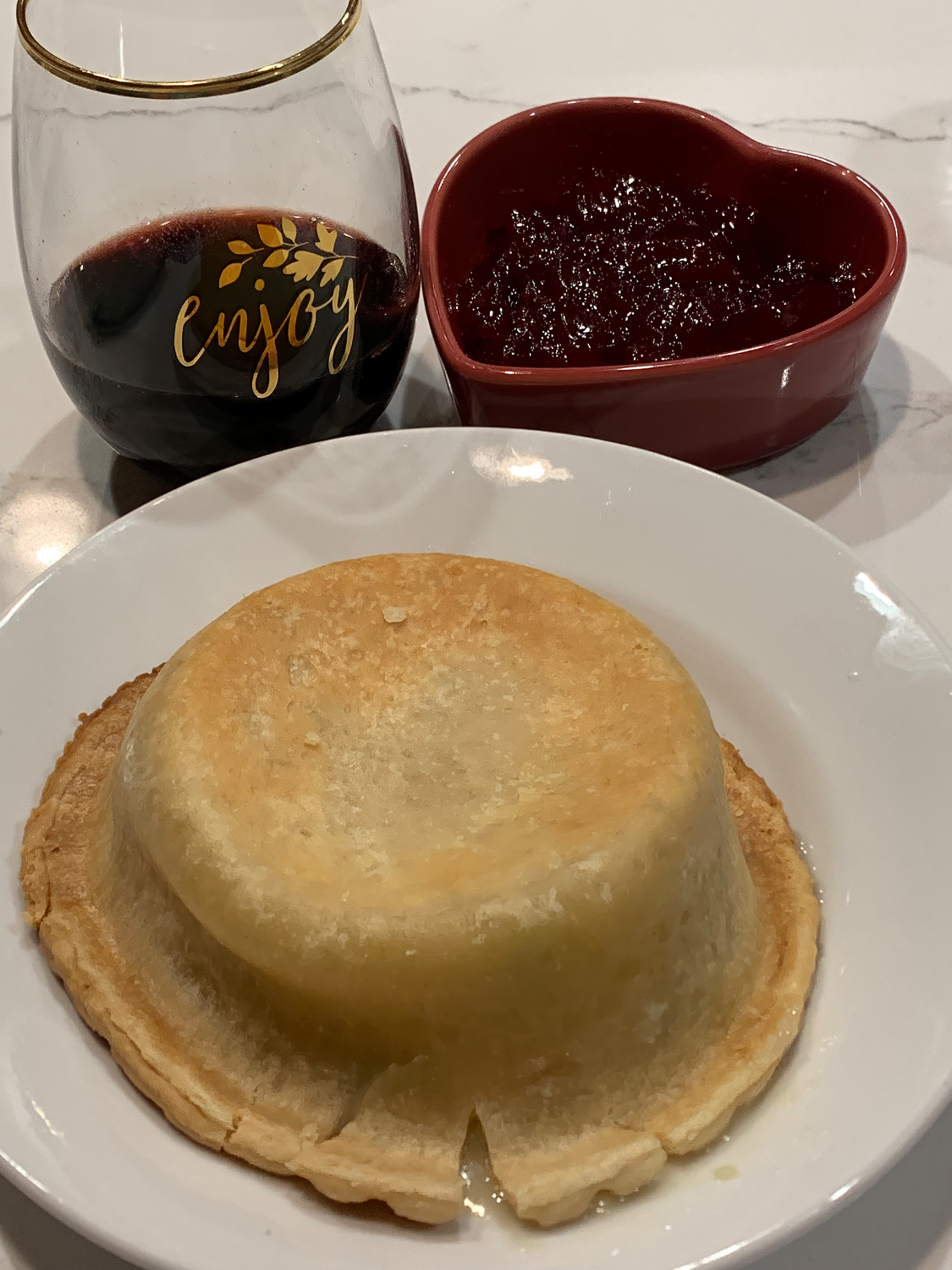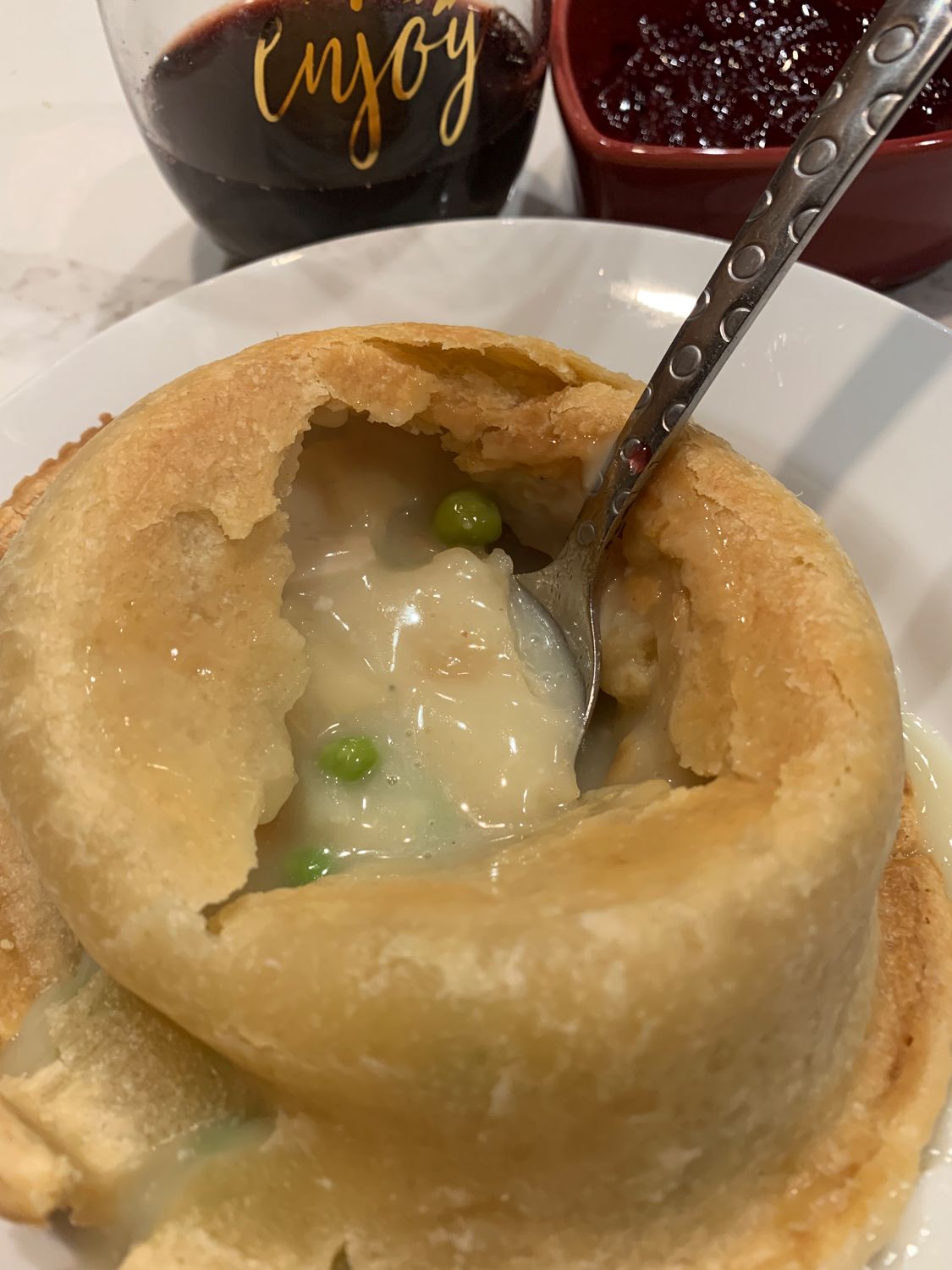 One Night Decades Later I Heard The Irresistible Siren Call of Chicken Pot Pie…
That all changed one cold and rainy night in my 40s. Not sure if it was the weather, seasonal affective disorder settling in or persistent career angst, maybe all 3, but I suddenly wanted, no, needed a chicken pot pie. I was dating a new guy then and it was early days. We were still in the fancy phase of our relationship – all nice dinners out, cocktails and extravagant home cooked meals. Was he going to think I'm a rube for wanting a freezer meal? I tentatively asked him how he would feel about chicken pot pies for dinner that night and his response was immediate and electric – "I am ALL in on that!" As it turns out, he loves them too. And that was one more sign for us that we were meant to be together –  a shared love of the occasional chicken pot pie.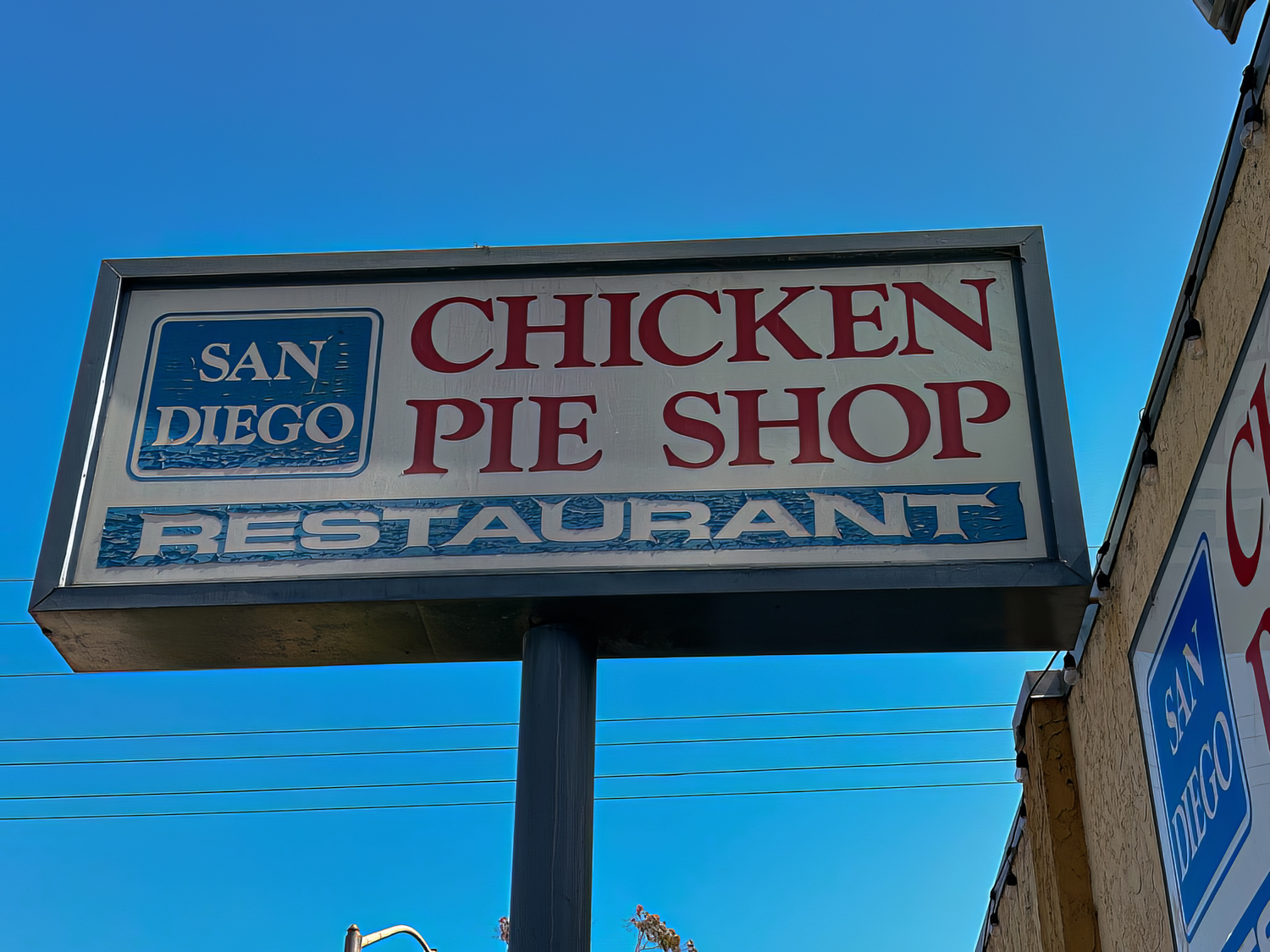 Shock and Disbelief – There's a Chicken Pie Restaurant??
But back to San Diego and The Chicken Pie Shop… I was dropping my baby off at college at SDSU and stayed at The Lafayette Hotel and Pool Bungalows. I like quirky places and that one definitely fit the bill, more on that in a different article I will someday write for This is Travel Treasure. But anyway, whilst staying there, I drove by The Chicken Pie Shop.
I felt like a cartoon character rubbing my eyes in shock and disbelief – there's a chicken pie restaurant?? I resisted the magnetic pull and kept the car on the road, vowing to go the next time I was in town, with my (then boyfriend and now) husband.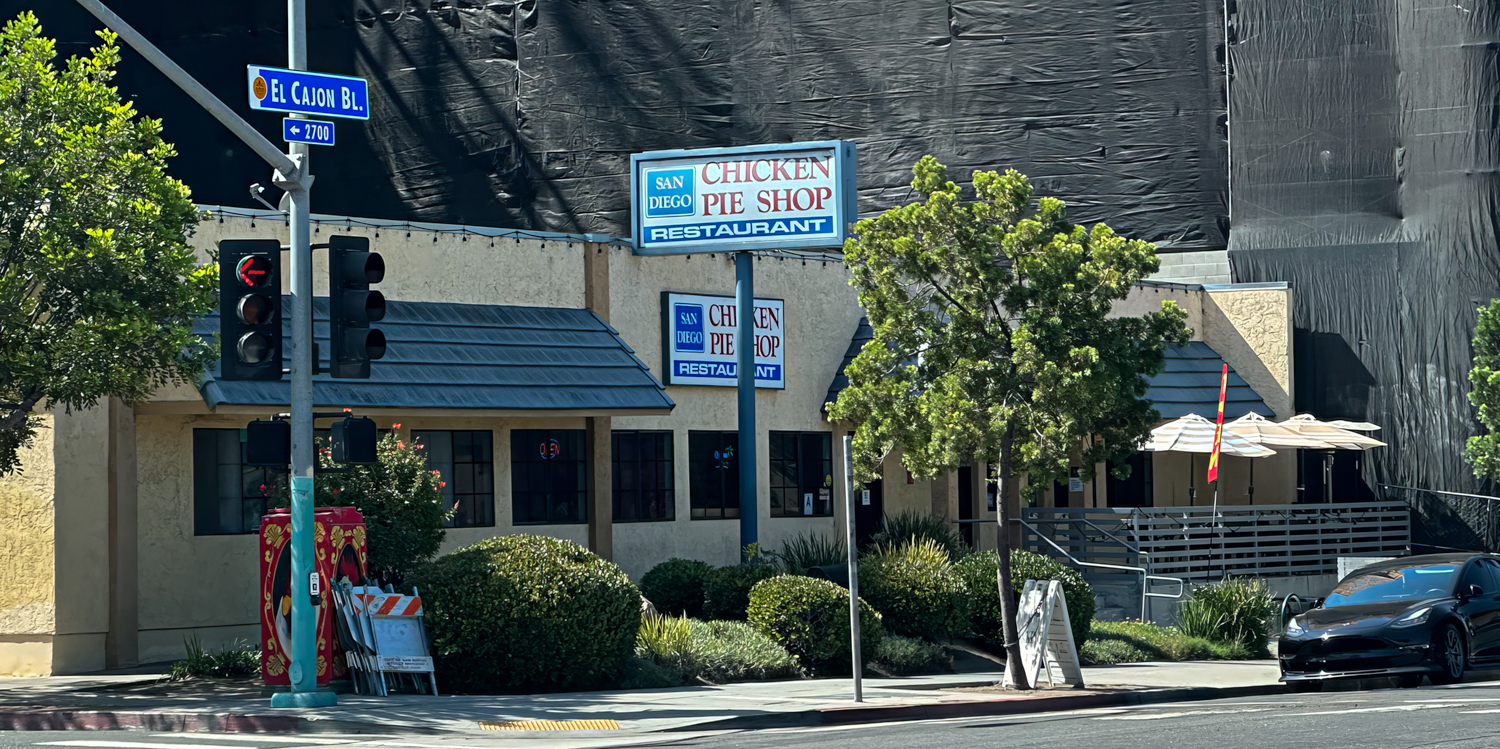 Two short months later, out first stop after getting off the plane and collecting the kid was right here. It is diner-y with counter seating, tables and booths, pies on rotation and a bustling take away shop where you can buy chicken pies by the dozen. Large, loud parties of locals in place for lunch. The service is efficient and friendly and the menu eclectic as all get out.
You can have breakfast all day, which might consist of a chicken pie smothered in sausage gravy and topped with an egg. What?! They have a bunch of the usual suspects too – sandwiches, soups, salads, the usual breakfasts, really good bacon, but why you would visit The Chicken Pie Shop and not get a chicken pie is beyond my comprehension.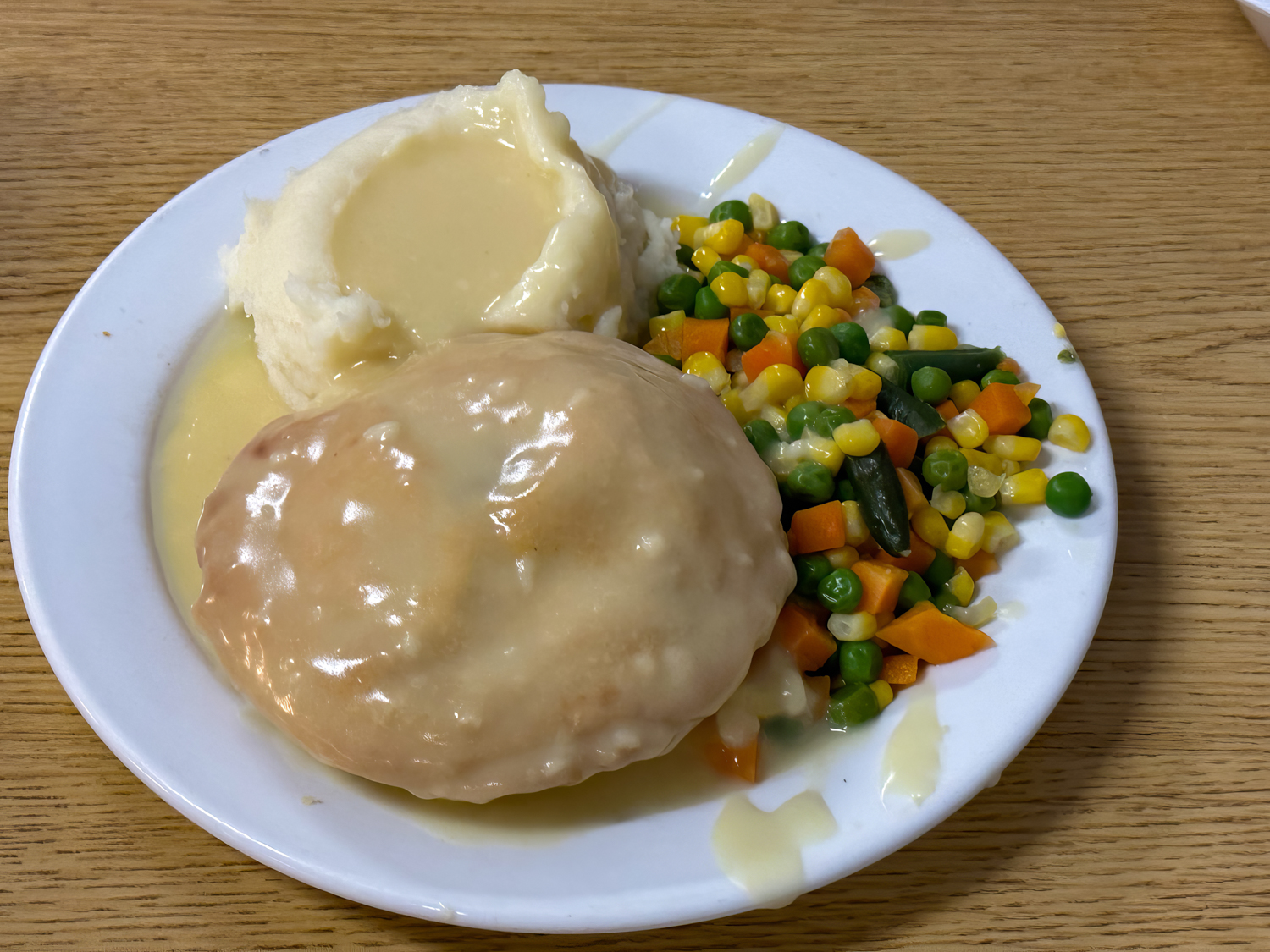 I got the full dinner, even though it was 11 am; when in Rome. My feast included a chicken pie (of course), mixed veg, mashed potatoes and gravy with coleslaw on the side, a roll with butter and a slice of pie for dessert. All for $12.95, at the time of this writing. It is the farthest you can get from fancy food (which I also enjoy) but hits the comfort spot like nobody's business. If I still drank to excess on occasion, this would be my hangover Sunday spot for sure. Plus, they have cool t-shirts.
KC Shomler
Follow KC Shomler on Instagram –  https://www.instagram.com/kc.is.me/
For more info on KC Shomler – https://www.culinarytreasure.com/kc-shomler-this-is-culinary-treasure-contributor/
Link to KC's latest This is Travel Treasure article – https://www.thisistraveltreasure.com/the-kimpton-everly-checks-all-the-boxes/
Scroll Down to See 20 More Chicken Pie Shop Photos
Chicken Pie Shop Info
Address: 2633 El Cajon Blvd, San Diego, CA
Neighborhood: North Park
Parking: Lot in back and limited street parking
Service: Friendly and warm
Can't miss items: Chicken pie, duh
Who eats here: Working and retired locals
Why eat here? It is iconic! And how often do you find a restaurant dedicated to chicken pie??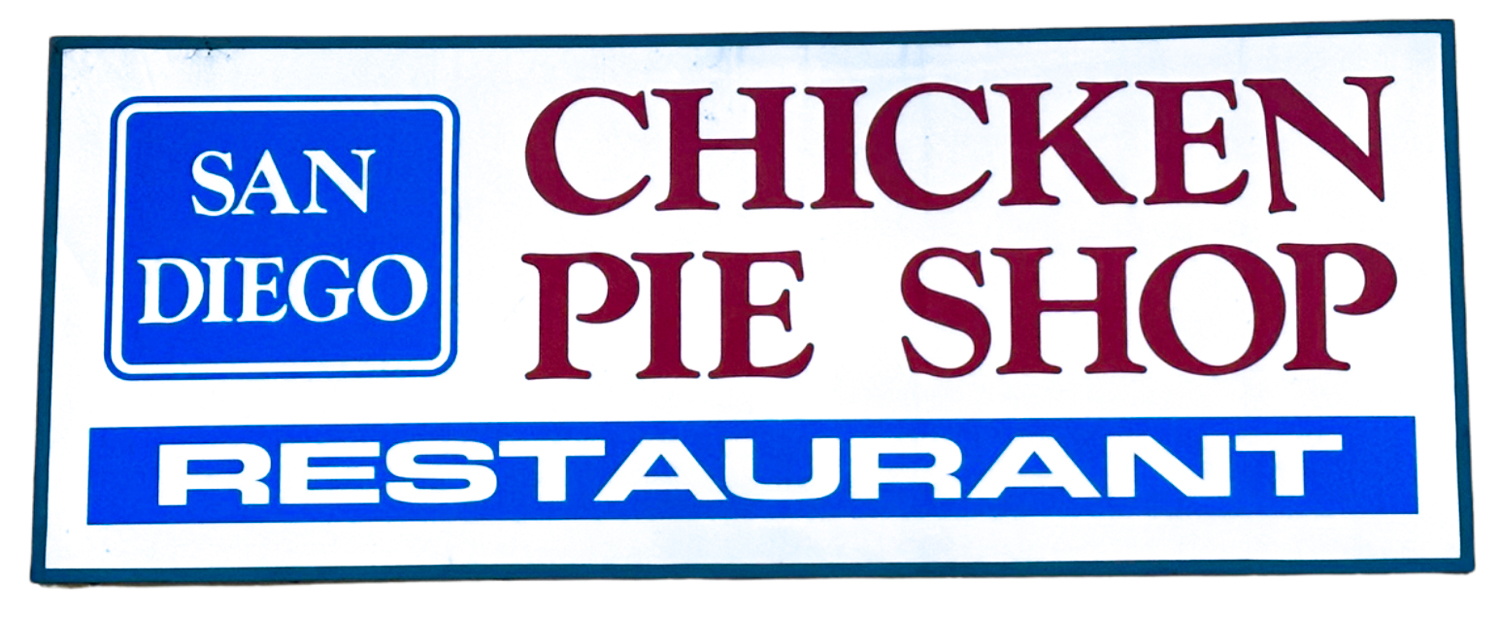 Follow The Chicken Pie Shop  
Website https://chickenpieshops.com/
Facebook https://www.facebook.com/ChickenPieShops
Instagram https://www.instagram.com/chickenpieshop/
Twitter https://twitter.com/chickenpieshops
Chicken Pie Shop Photos