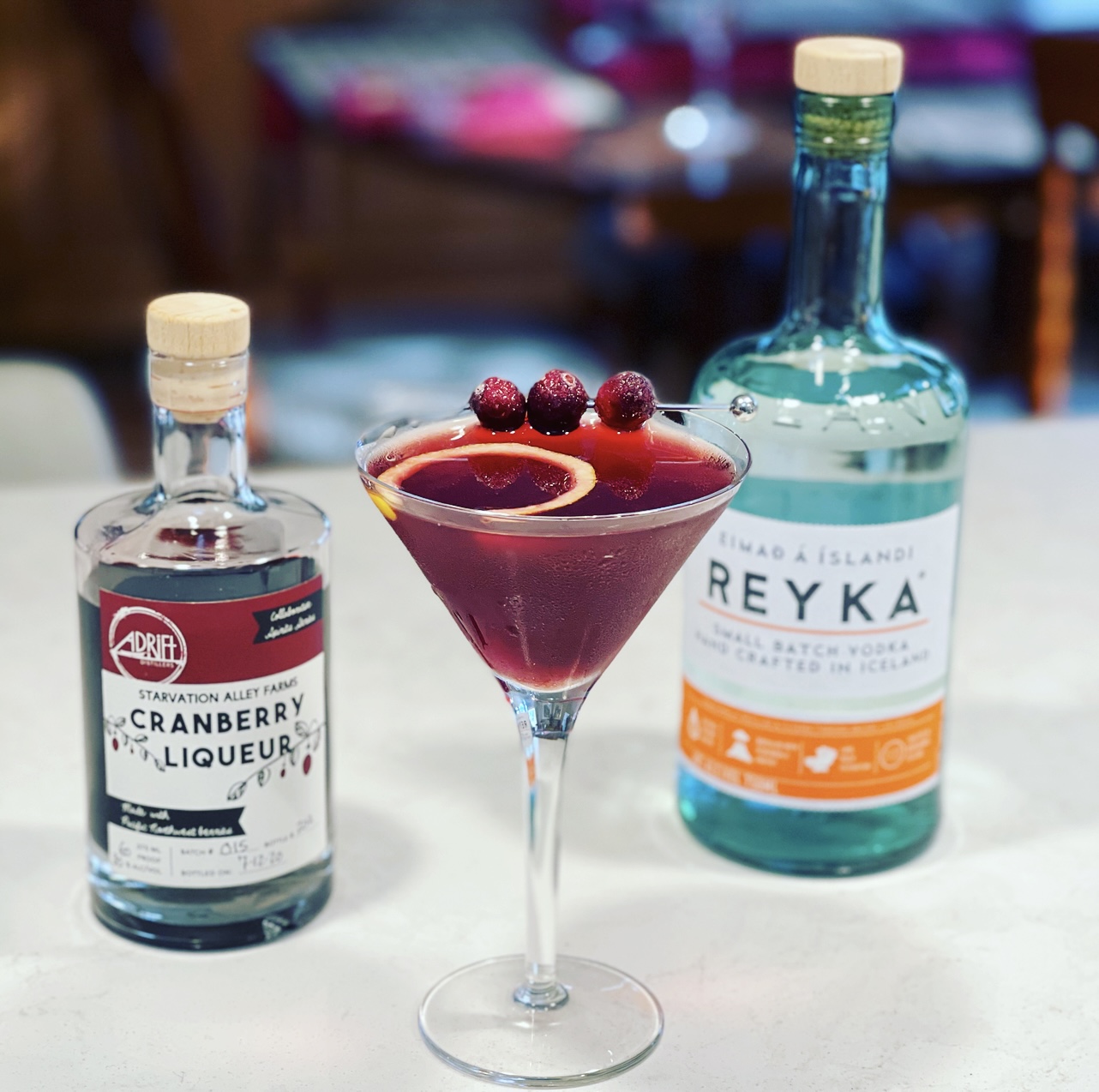 The Pacific Drift – An Exquisite Cranberry Martini
Earlier this fall I loaded up Luna Santorini (my beloved white RAV4) and headed north and then west.
Passing through Astoria, Oregon I crossed the Astoria-Megler Bridge over the Columbia River into Washington State where I spent a couple of utterly delightful days in and around the town of Long Beach.
While there I had some wonderful meals and incredible adventures – dinner at the Pickled Fish, hiking the next morning at Cape Disappointment State Park, lunch at the Old Fishtrap Dive Dar, I could go on. As I write those articles you can bet your bippy that I will put links here.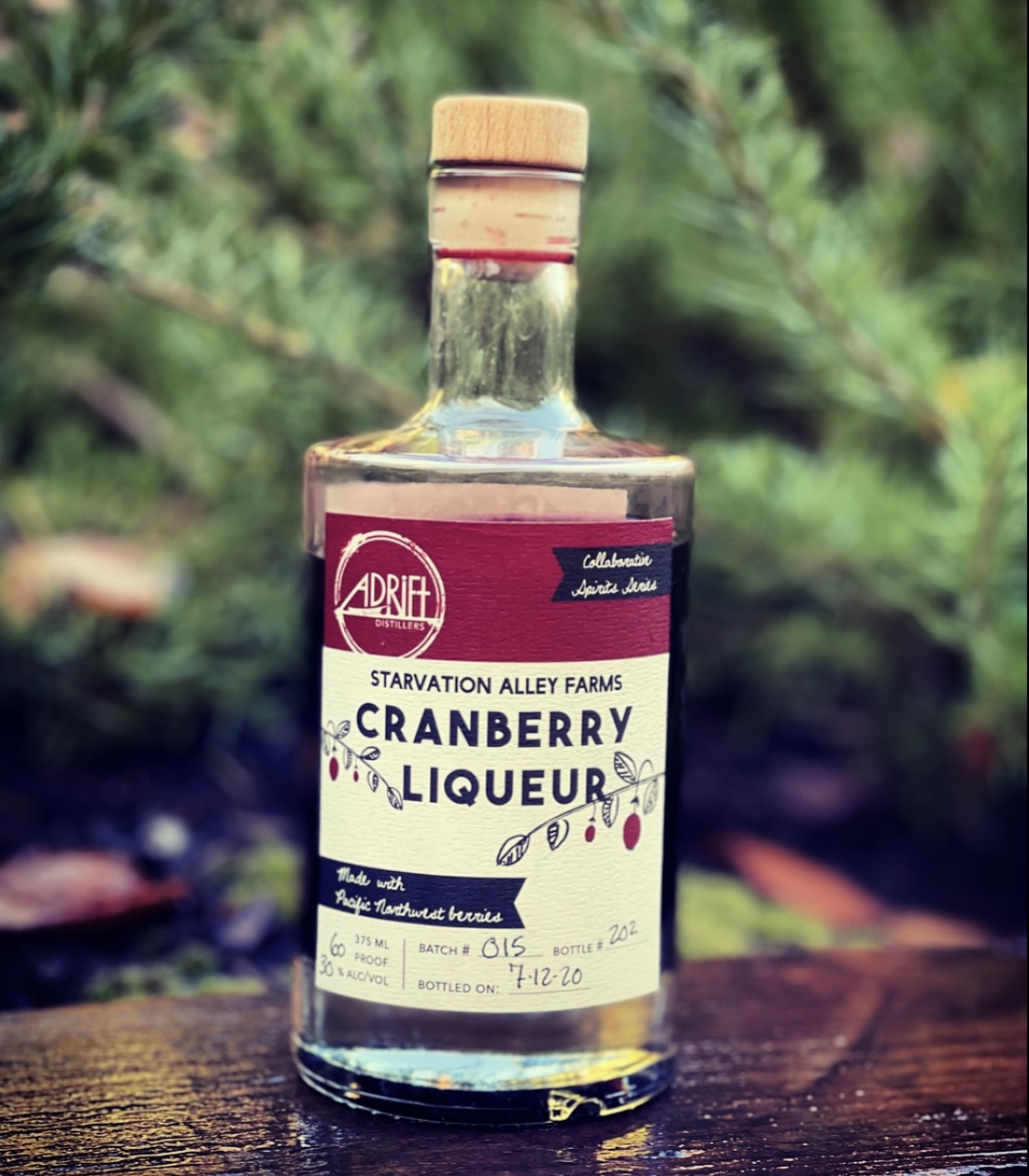 One my stops was at Adrift Distillers. While there I was blown away by their Cranberry Liqueur.  This spirit was developed in collaboration with Starvation Alley Cranberry Farms – Washington's first certified organic cranberry farm.
I picked up a bottle intending to use it to create a holiday cocktail.
Yesterday was Thanksgiving and I did that very thing.
The Recipe: The Pacific Drift – An Exquisite Cranberry Martini
Ingredients
Adrift Distillers Cranberry Liqueur (25%)
Reyka Vodka (75%)
Meyer Lemon Twist
3 Sugared Cranberries
Cocktail Tip – I sugared my cranberries by putting them into a small glass jar and filling it with sugar about 2 hours before making my martini.
Directions
Put on some Frank Sinatra Christmas music, sugar your cranberries, get your Meyer lemon twist into your chilled martini glass, run your sugar cranberries through with a cocktail pick.
Add  the cranberry liqueur and vodka to an ice filled shaker and shake with alacrity.
Pour into your chilled martini glass, carefully place your cranberries on the rim of the glass and enjoy!
Reyka Vodka has the cool crispness I was looking for to pair with the brightness & alluring tartness of Adrift's Cranberry Liqueur.
Needless to say, if you get the chance to explore the Long Beach Washington Peninsula you need to stop at Adrift Distillers.
As far as Reyka Vodka goes, I look forward to someday traveling to Borgarnes and recording an episode of the Culinary Treasure Podcast with their Master Distiller Thordur Sigurosson.
Thank You Emily!
Lastly I would be remiss not to thank Emily Ross-Johnson AKA "The Gal About Town" for introducing me to Reyka Vodka.
Emily is a spirit & cocktail wizard. Follow her on Instagram to see some of the most beautiful cocktails around – https://www.instagram.com/thegalabouttown/.
Emily is also the Founder of Fern and Shaker a wonderful Portland, Oregon based cocktail company – http://www.fernandshaker.com/
I invite you to enjoy the photos below.
Cheers,
Steven Shomler
This is Culinary Treasure – Discovering and Celebrating Culinary Treasure You Will Love
#EnjoyYourLife #DrinkGreatCocktails #LongBeachPeninsula