A Magnificent Meal at Pinky's Pizza In Portland, Oregon!
A few weeks ago I had a magnificent dinner in Portland, Oregon at Pinky's Pizza with my dear friend Erik Wolf – the Founder of the World Food Travel Association.
Erik was visiting the Pacific Northwest from Spain. Erik used to live in Portland and Pinky's is one of his favorite former haunts.
Wow! What an incredible meal we had!
Burrata and Then Pizza!
We started off with The Burrata Plate – Fresh Burrata, Extra Virgin Olive Oil, 10 Year Aged Balsamic, served with Pomodoraccio Tomatoes, and Pickled  Zucchini & Onions, and "Bread Sticks". I could have eaten two more plates of this special dish.
Then we shared two pizzas – the Meatball, and the Shaft.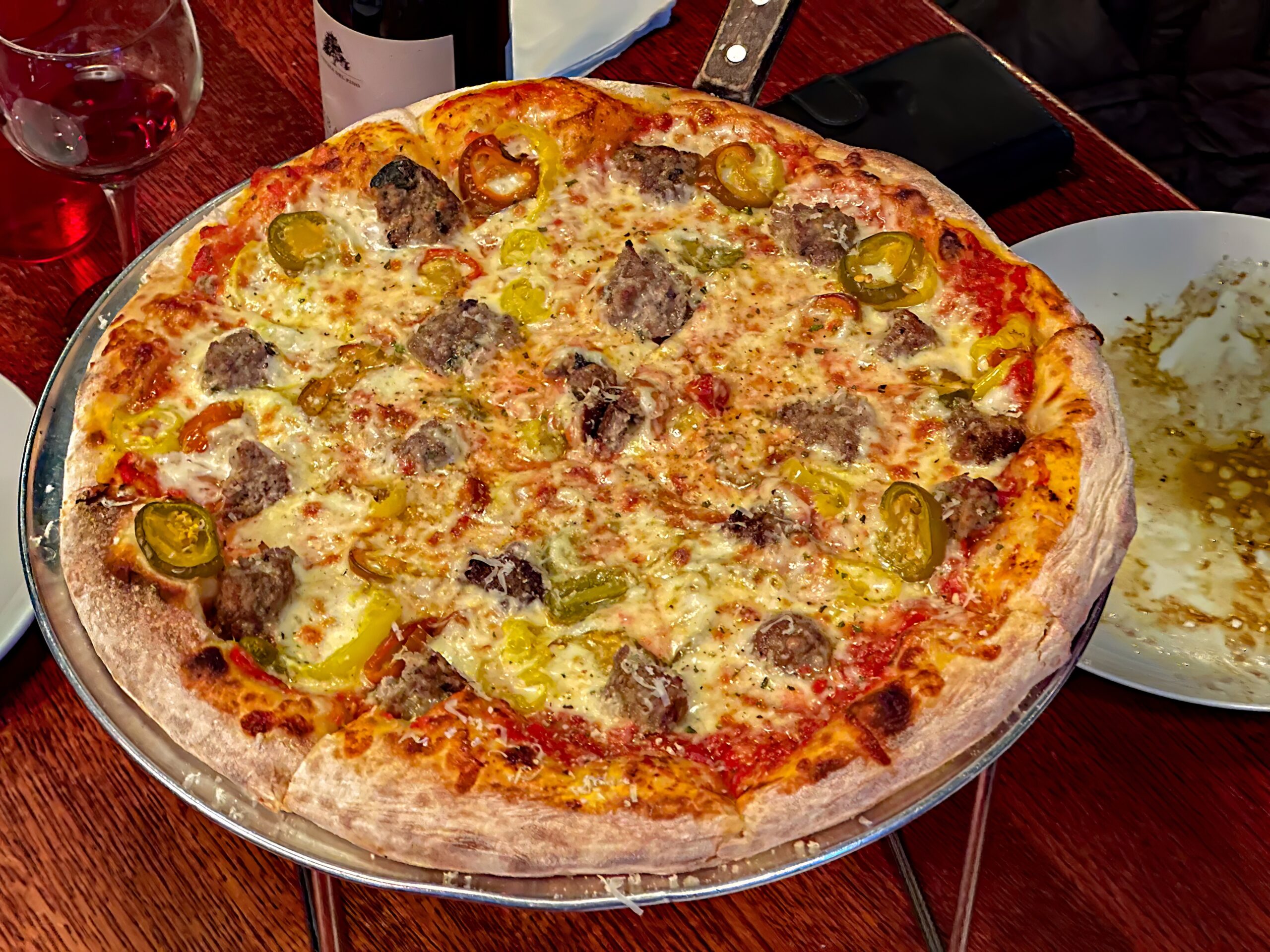 The Meatball has marinara, mozzarella, house made beef meatballs, banana peppers, cherry peppers, red onions, topped with loads of Grana Padano.
The Shaft has marinara, fresh mozzarella, pepperoni, Chop NY Italian sausage, bacon, mushroom, Italian olive mix, red onions, banana peppers, and bell pepper blend.
Both pizzas were great – that being said – I still think about the Meatball – it really was topped with "loads of Grana Padano" cheese. It was deliciously cheesy, it had just the right amount of spice, and the house made meat balls where amazing!


8 different Special Manhattans
They have 8 different special Manhattans at Pinky's, and I closed out my meal with their Astor's Patience Manhattan – James E Pepper 1776 Straight Rye, Bordiga di Torino Rosso Vermouth, orange bitters, angostura bitters, Luxardo maraschino cherry, and orange zest.
Best of all – during our meal Erik and I got to visit with Celeste Kiester who owns Pinky's. Not only does she have a wonderful restaurant, Celeste also has an awesome story! I am planning on recording an episode of the Culinary Treasure Podcast with her new early next year.
If you find yourself in the Portland, Oregon metro area do yourself a favor and head to Pinky's and have a Magnificent Meal of your very own.
Cheers,
#GoHaveMagnificentMeals #ThisIsCulinaryTreasure
Below are a few more photos from my visit to Pinky's Pizza
Visit Pinky's Pizza
3990 N Interstate Ave, Portland, OR 97227
Follow Pinky's Pizza
Website https://www.pinkyspizzeria.com/
Facebook https://www.facebook.com/pinkyspizzeria/
Instagram https://www.instagram.com/pinkys.pizza/
More Pinky's Pizza Photos