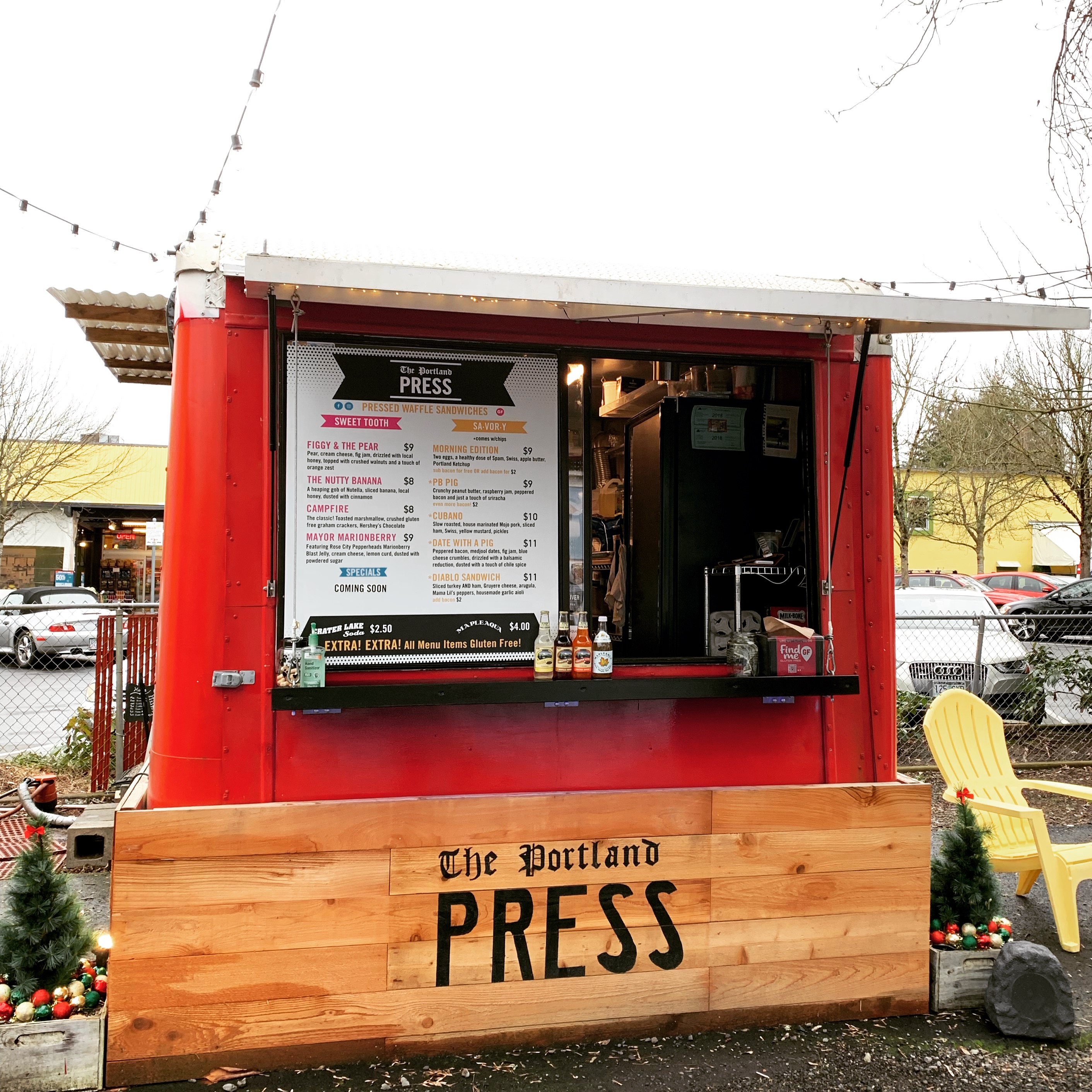 Two Brothers Making Portland Waffle Magic Happen!
I love waffles!
Here in Portland, Oregon we have a number of wonderful Waffle establishments that I can't say enough about including – Gigi's Café, Smakken Waffle Sandwiches Food Cart, Off the Waffle, and Puffle Waffle.
You can add The Portland Press to that list.
The Portland Press Food Cart serves "Pressed Waffle Sandwiches" and they are located in Portland's Sellwood neighborhood at the Piknik Park Food Cart Pod.
Their address is 1112 SE Tacoma St Portland, Oregon
 The Story
Brothers Aaron and Brandon Appel grew up Philadelphia, Pennsylvania.
Aaron studied journalism at Temple University before heading out to Los Angeles where he worked in the Food Truck community.
Aaron moved to Portland in October of 2017, and he came to Portland for the express purpose of opening a Food Cart and having a culinary business of his own.
Brandon moved to Portland in the summer of 2018 to join his brother's culinary endeavor.
Prior to moving to Portland, Brandon had spent a number of years in Florida. While there he was self-employed – Brandon owned a local tour company that featured bars, and restaurants.
Aaron and Brandon opened the Portland Press in October of 2018, just a few months ago.
Lastly – while she tried to stay in the background , I would bet my bottom dollar that The Portland Press would not be where it is today, were it not for Hillary Darling. She is the rose between the two thorns in the photo above.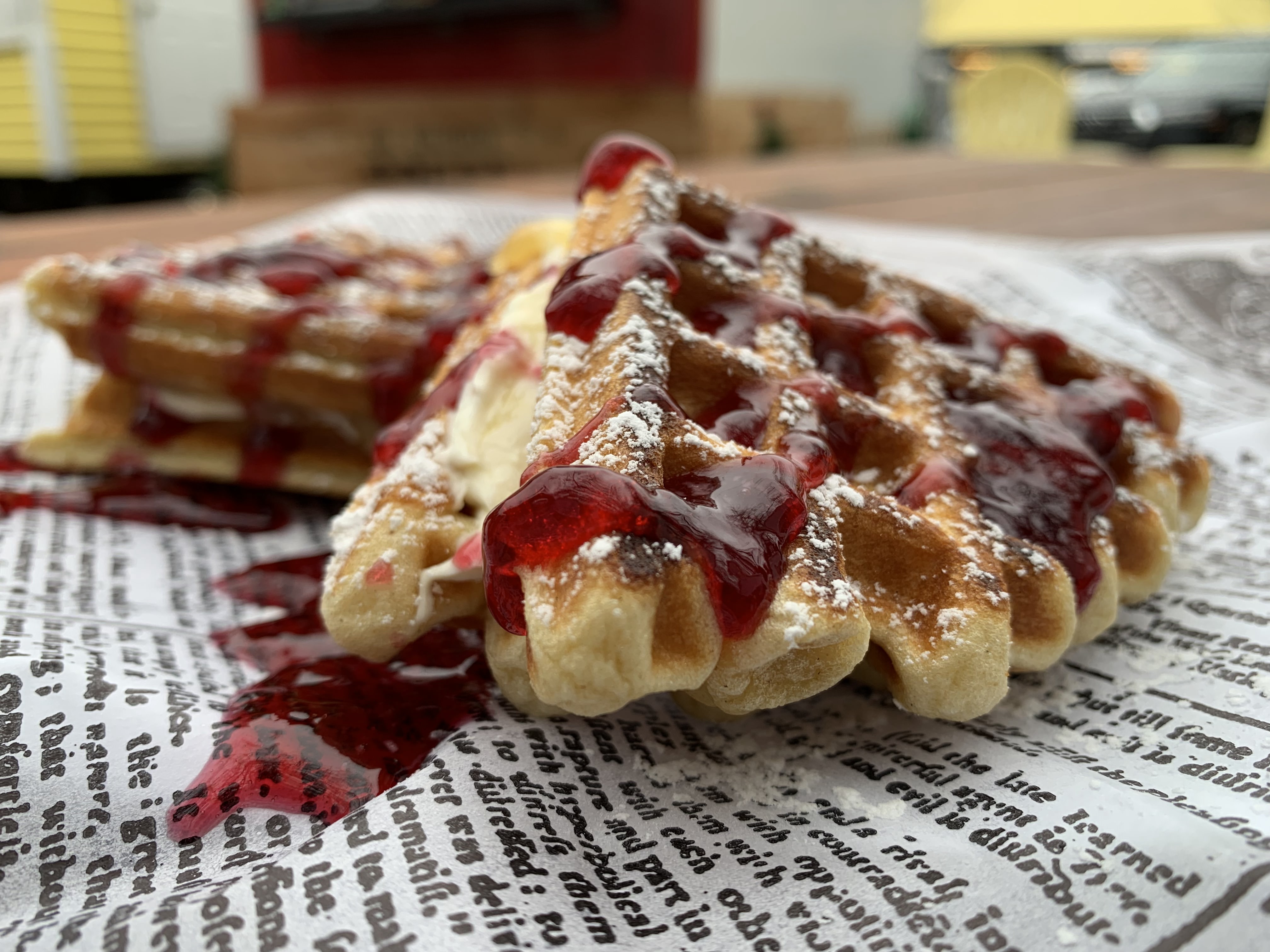 The Food
When you visit the culinary treasure that is the Portland Press you will be able to enjoy wonderful Pressed Waffle Sandwiches – both savory and sweet!
They make their own waffles right in there in the cart, create the sandwiches to order, and then they press them with a Lodge cast iron press.
During my visit to this great Portland Food Cart I enjoyed 5 of their dishes – the Morning Edition, the Cubano, the Date with a Pig, the Mayor Marionberry, and the Figgy & the Pear.
Goodness! I can't tell you how good the food is at The Portland Press!
I cannot wait to go back and try the Diablo Sandwich with bacon added.
I also want my sweetheart AKA KCisme AKA Diana Prince to try the Date with a Pig. She will love it!
One note of caution – these pressed waffles sandwiches are quite a bit more filling than you might initially think!

Random Reflections About the Food I Enjoyed
If you LOVE blue cheese as much as I do – get the Date with a Pig! That sandwich has copious amounts of blue cheese on it!!
The orange zest on the Figgy and the Pear brings this whole fantastic dish together.
The Cubano pairs perfectly with a beer from the Dive Bar Beer Cart! Kevin – who owns the Dive Bar Beer Cart, always has a great selection of craft beer on tap!
I keep thinking back to the Mayor Marionberry. For my money it's a great dessert item!
At The Portland Press you can buy yourself a bottle of Mapleaqua – a "Chaga + CBD + Yerba Mate Maple Sap Elixir" that appears to be made right here in Rhododendron, Oregon. I am going to have find out more about this beverage.
Lastly – the entire menu at The Portland Press Food Cart happens to be Gluten-Free. Don't let that fact stop you from going there!
Go to This Food Cart!
The Portland Press Food Cart is a Culinary Treasure and I recommend you visiting it as soon as you can!
Below the "Follow" links is the short video  I shot while I was at The Portland Press and quite a number of photos.

Follow
Follow The Portland Press
Website – www.theportlandpress.com
Facebook – www.facebook.com/ThePortlandPress
Instagram – www.instagram.com/theportlandpress
Follow Culinary Treasure
Website – www.CulinaryTreasure.com
Facebook – www.facebook.com/CulinaryTreasure
Instagram – www.instagram.com/ThisIsCulinaryTreasure
Follow Steven Shomler
Website – www.stevenshomler.com
Facebook Page (Click "Like") – www.facebook.com/StevenShomler
Facebook Profile – (Send a friend request) — www.facebook.com/shomler
Instagram – www.instagram.com/stevenshomler
Twitter –  www.twitter.com/stevenshomler
YouTube – www.youtube.com/channel/UCcAYSEJf4XHjkTMYyUO6bnQ
Portland Beer Podcast www.PortlandBeerPodcast.com
Portland Culinary Podcast www.PortlandCulinaryPodcast.com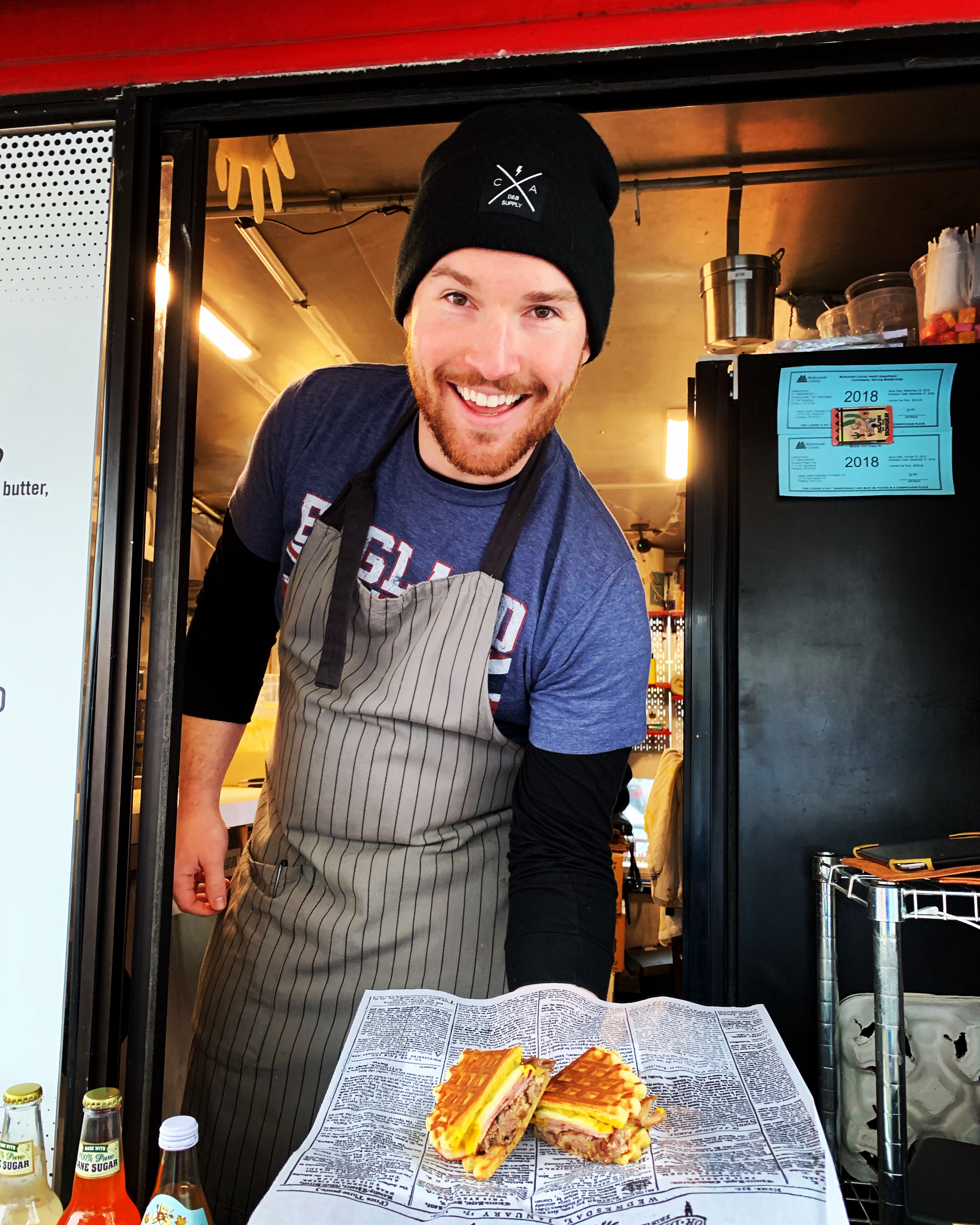 Video
Here is short video I made during my visit to The Portland Press
Photos
Below are quite a number of photos from my visit to The Portland Press!
Cheers!
Steven
Steven Shomler